Frank Giles: Newspaper editor who serialised the fake Hitler diaries
A surprise appointment to The Sunday Times in 1981, his career was derailed by the fiasco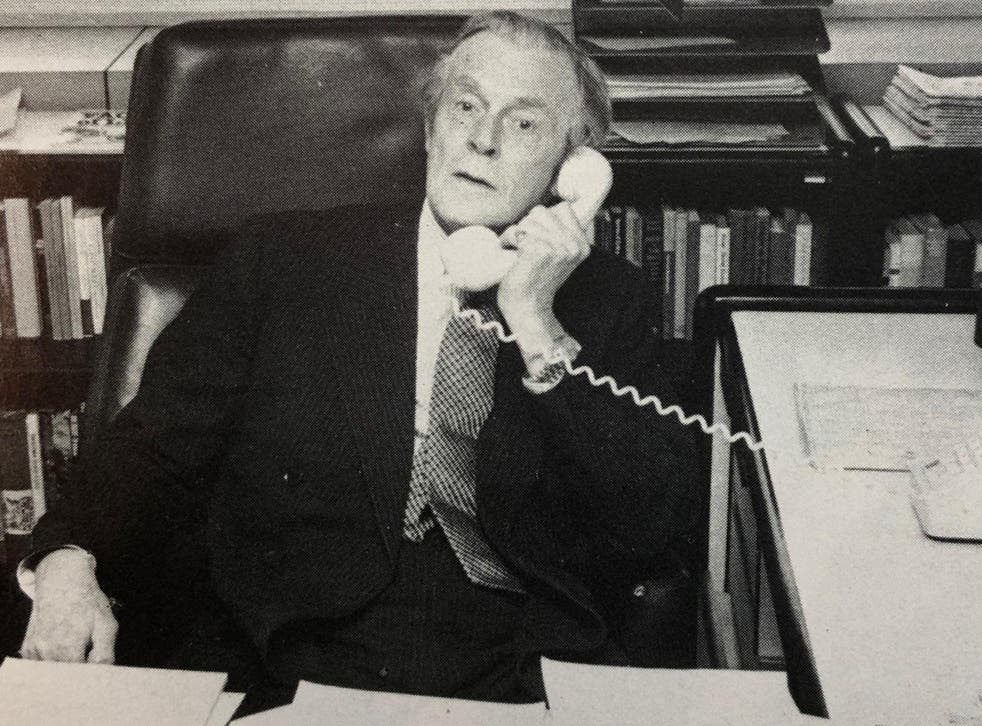 When Rupert Murdoch bought The Sunday Times in 1981, and invited Frank Giles – who has died aged 100 – to become its editor, everybody was surprised, not least Giles himself. He had coveted – and expected – the job 15 years earlier, when it went instead to the raw young northerner Harold Evans. Since then Giles had served loyally as Evans' deputy and now, at 62, he assumed that was how he would end his career. He had certainly not anticipated that his urbane and courtly manner would appeal to the blunt and outspoken Murdoch.
He accepted the appointment, although Murdoch warned him that he was essentially a stopgap and could expect to keep it for only about two years. Yet not only did his elevation come 15 years too late, it also proved to be a poisoned chalice; for his brief term as editor will be remembered principally for his paper's falling victim to one of the most spectacular hoaxes in newspaper history.
Giles was born near Aldershot in 1919, the son of an officer in the Royal Engineers who died when he was 10. Educated at Wellington College – of which he was later a governor for 24 years – he won an open scholarship in history to Brasenose College, Oxford, but the Second World War was declared before he could complete his degree.
He spent the first few years of the war in Bermuda, as aide-de-camp to the governor, then in 1942 returned to London for a desk job in the War Office. He found he enjoyed the world of Whitehall, and at the end of the war he joined the Foreign Office, hoping for a life as a diplomat. But he failed the Civil Service entry exam and took up his second choice of career, journalism. Beginning as a foreign sub-editor on The Times, he became its deputy correspondent in Paris, correspondent in Rome and then back to Paris as chief correspondent.
To report on the reconstruction of post-war Europe was exciting for a young journalist, as it was to be living in two historic capital cities before they had been compromised by mass tourism. Giles acquired an enduring taste for the social life, the busy round of diplomatic parties that a Times correspondent was in those days expected to attend. He learned to appreciate fine wines and good food. In 1946 he married Kitty, the daughter of the 9th Earl de la Warr, and they had three children.
In 1960, after 13 years abroad, Giles thought it time to return with his family to London, to avoid becoming what he termed a "professional expatriate". The Times had nothing suitable to offer him so, on the recommendation of his friend Ian Fleming, author of the James Bond novels, he joined The Sunday Times as foreign editor.
Roy Thomson bought the paper in 1966 and promoted Denis Hamilton, its editor, to editor-in-chief. Giles was seen as the heir apparent and was confident that he would be chosen to succeed Hamilton. But the post went to Evans, a big disappointment for Giles, as he recalled in his 1986 autobiography Sundry Times. He spent the next 15 years travelling the world and interviewing grand figures, including three American presidents. Between trips, he and Kitty would entertain ambassadors, politicians, artists and intellectuals at their house in Little Venice, by Regent's Canal in London.
On learning that The Sunday Times and The Times were to be acquired by Rupert Murdoch, and that Evans was to move over to the daily paper, Giles' first reaction was that it would be a good time to take early retirement. His surprise at being offered the editorship, and his doubts about Murdoch's reputation and motives, did not deter him from accepting the post with alacrity.
Under the terms of the takeover, the editors of both papers were supposed to operate free of proprietorial influence. But that has never been Murdoch's way and Giles – like Evans – soon found himself fighting a rearguard action against pressure to hire and fire specific journalists and to take a more conservative line editorially. Realistically, the alternatives were to give way to the pressure or resign. Too often, as he later recognised, he settled for the unheroic course, and it was this which contributed to the fiasco that would capsize his career.
In 1983 Stern magazine in Germany claimed to have discovered Hitler's diaries. Murdoch authorised the purchase of the British rights to these sensational documents for serialisation in The Times and The Sunday Times. Experienced journalists on Giles's staff wrote him memos expressing their doubts as to the diaries' authenticity but the eminent historian Lord Dacre (Hugh Trevor-Roper, also a director of Times Newspapers) said he believed they were genuine.
The first extracts were to be serialised in The Sunday Times. Just as the first edition was going to press, Dacre changed his mind and said he thought the diaries could after all be fakes. Giles knew that the responsible course would be to halt publication but Murdoch, contacted in New York, instructed him to go ahead. ("F*** Dacre. Publish.") The diaries were quickly shown to be an elaborate fraud. Two months later Murdoch dismissed Giles and appointed an outsider, Andrew Neil, in his place.
Giles's departure was not wholly a result of the Hitler disaster. He had served the predicted two years and Murdoch was impatient to instal an editor with right-wing political leanings more compatible with his own. Yet it was a cruel mischance that the career of an accomplished and conscientious journalist should have ended on such an inglorious note.
His wife and one daughter predeceased him. He is survived by two children.
Frank Giles, journalist and newspaper editor, born 31 July 1919, died 30 October 2019
Join our new commenting forum
Join thought-provoking conversations, follow other Independent readers and see their replies