Frank Parr: Lancashire cricketer and trombonist with George Melly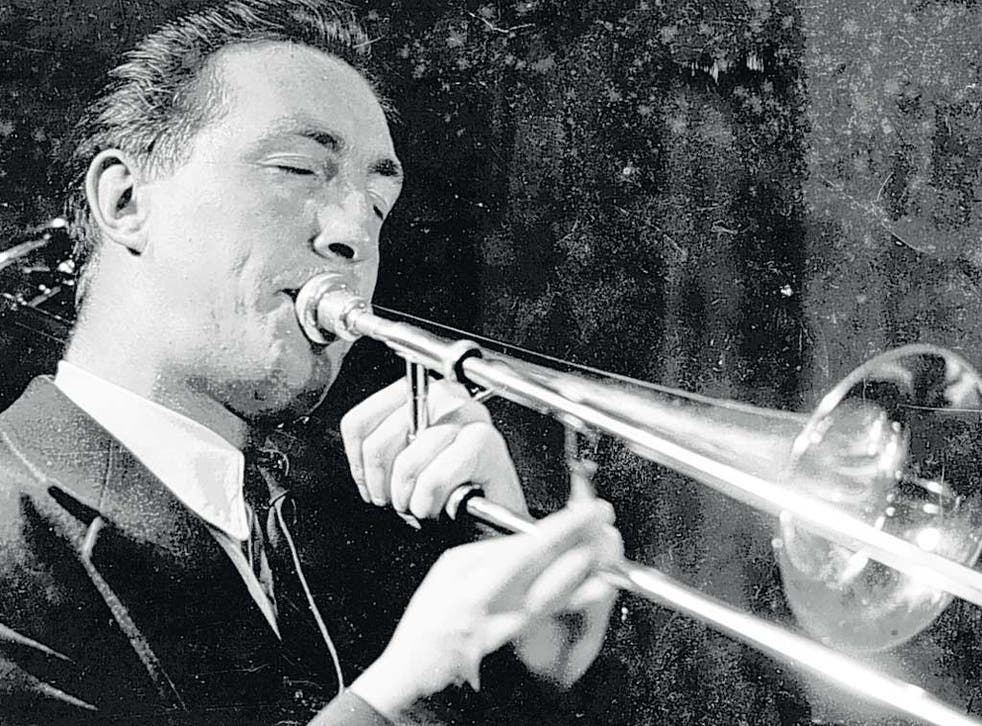 If things had worked out differently, Frank Parr could have been one of the great characters of post-war English cricket. An acrobatic wicketkeeper, he caught the eye almost as soon as he appeared in the Lancashire side. At The Oval in 1952, in only his second county match, he was tipped by The Times to be Godfrey Evans' successor in the England side. Herbert Strudwick, England keeper in the 1920s, thought he was very special. The following year Parr came close to being selected for the winter tour of the West Indies.
Parr, however, was an eccentric on the county circuit. A grammar school boy from Wallasey, he combined his cricket with playing trombone in the semi-pro Merseysippi Jazz Band and, to the distaste of some at Old Trafford, he brought too much of the anti-establishment scruffiness of that world to his day-time job. On one occasion, at a House of Commons reception, he turned up – horror of horrors – in a blue shirt. "Frank was a fine wicketkeeper," the fast bowler Brian Statham wrote, "but he was an arty, untidy type who looked what he was, a spare-time musician. Even in flannels, walking on to the field, he still managed to look anything but a cricketer."
As long as the easy-going amateur Nigel Howard was captain, these eccentricities were no problem. But in 1954 the "no-nonsense" professional Cyril Washbrook, a narrow-minded snob, took over, and Parr had no chance. He was dropped after five matches, never to return. In the second XI he kept superbly – "I was at my best at that time," he reckoned – and Worcestershire offered him a job. Then Washbrook wrote to them – "I should inform you that he can be a grave social risk" – and his days as a professional cricketer were over.
He was distraught – "I thought it was the end of the world; it's probably why I took up serious drinking" – but soon he found himself in London, where he joined the Mick Mulligan Band, with its lead singer George Melly. For several years he lived a wonderfully chaotic life on the road, letting out all his inner demons through his trombone. "All jazzmen are kicking against something," he said, "and it comes out when they blow. If they knew what they were kicking against, they wouldn't blow nearly so well."
Melly devoted six pages of his autobiography Owning-Up to Frank: his untidiness, his lack of personal hygiene, the dark, sweat-ridden holes that appeared under the armpits of his sweaters and the dramatic speed with which he would pass through the stages of drunkenness: "wild humour, self-pity and unconsciousness, all well-seasoned with the famous Parr grimaces."
In his early days with the Merseysippis his trombone playing had been, by his own admission, "more attitude and enthusiasm than skill. I shudder to think what my standard was." Yet, as the surviving CDs of the Mulligan Band testify, he was a gifted performer by the late 1950s. Unfortunately their revivalist jazz went out of fashion, as they discovered in a South London cinema. They played their set to an unenthusiastic teenage audience, who then screamed the house down when the young rock-and-roller Tommy Steele appeared. In the bar Parr knocked back whiskeys in utter despair. "I remember declaiming, and one did declaim in those days, 'He'll put us all on the breadline.'"
They finished in 1961 and, after a brief spell with the Clyde Valley Stompers, Parr put away his trombone. For 10 years he was Acker Bilk's manager, then he worked for a company that sold advertising space for charities. He lived for some years in the 1970s with an actress, Christine Dunbar, railing against the "bourgeois pretentiousness" of her dinner parties. He never gave up his own flat, though, eventually returning to life on his own, determined to the end to make no concession to cleanliness or tidiness.
He had many friends in the jazz world, regularly attending London clubs, but it was cricket that was always closest to his heart. He played till the age of 65 for a team of jazzmen – "just piss-artists" – called The Ravers, and he occasionally walked down the road to Lord's. Mostly, though, he sat with the curtains drawn in his council flat, watching the games on television.
He would have been a wonderful breath of fresh air in English cricket in the 1950s, an entertainer with a bohemian streak, but it was not to be. Jazz and cricket did not make easy bedfellows, certainly not with a conventional man such as Cyril Washbrook in charge. On one occasion, at Oxford, Parr played his trombone in the dressing room, with a team-mate beating time with a stump: "Much to Washy's disgust." Washbrook's vitriolic words, on the racial origins of jazz music, were never forgotten.
Parr was not bitter, though. He was too intelligent, too independent for that. "I've been extraordinarily lucky," he would say. "I've made a living out of the two things I loved."
Francis David Parr, cricketer and musician: born Wallasey 1 June 1928; died London 8 May 2012.
Join our new commenting forum
Join thought-provoking conversations, follow other Independent readers and see their replies