George Fernandes: Socialist Indian politician who forced IBM and Coca-Cola out of India
A union militant stirred by socialist principles, he was also a pragmastist who became India's defence minister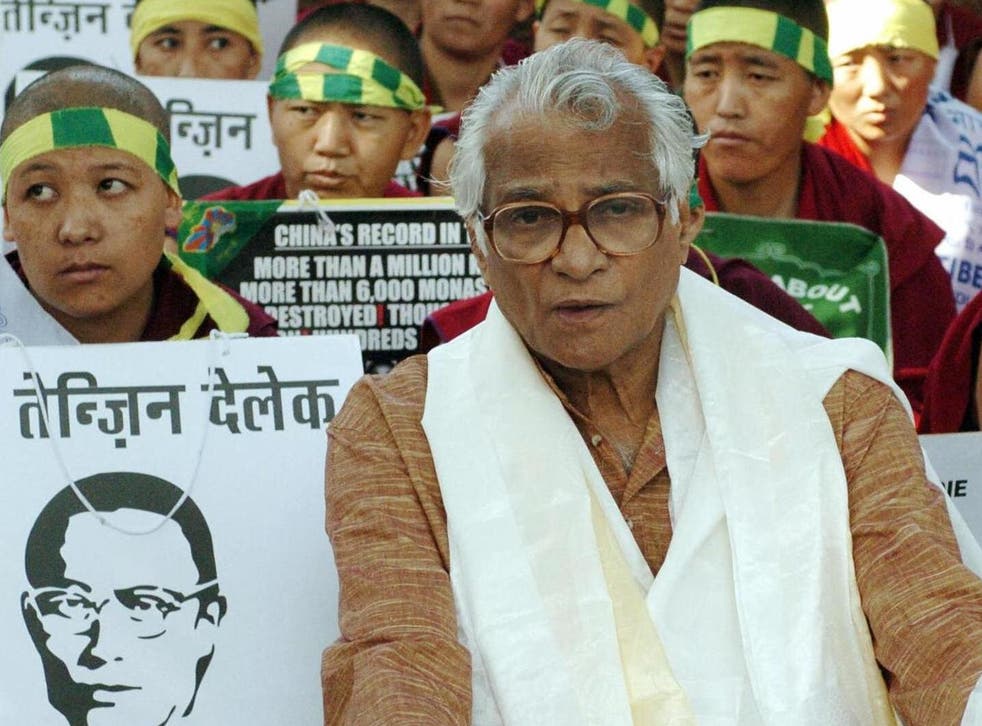 George Fernandes was an Indian socialist politician and trade union organiser who served in a number of ideologically disparate governments over the course of more than 40 years in national politics, most recently as India's defence minister from 1998 to 2004.
Fernandes, who has died aged 88, was born in in the port city of Mangaluru in 1930 – then Mangalore in British India. He was the first of six children born to parents from the Mangalorean Catholic minority who named him after the reigning emperor of India, King George V.
Despite a keen intelligence (he was reputed to have learned 10 languages), Fernandes left school aged 16 in order to train as a Catholic priest.
His father had wanted him to study the law, handy for managing tenants on the family's land.
Towards the end of the 1940s, however, disillusionment with the hierarchies and hypocrisy of the church, coupled with the young Fernandes' waning religious convictions, led him to abandon his studies once more and travel to Bombay (now Mumbai).
Life in the big city was difficult at first, sleeping on the benches at Chowpatty beach until he was able to find a job.
Then he met veteran union leader and fellow Mangalorean Placid D'Mello who took him under his wing.
Notable deaths in 2019

Show all 30
Over the course of the 1950s, Fernandes gained a reputation as a powerful and impassioned voice in the socialist labour movement, leading the Bombay Taxi Unions Association among others, and experiencing jail for the first time as his members came to blows with police and company security.
In 1961, Fernandes was elected to Bombay Municipal Corporation – an early taste of political office – but this would prove to be a mere prelude to his dramatic entrance into national politics in 1967.
When the Samyukta Socialist Party selected Fernandes as their candidate for the Bombay South constituency, pitting him against the leading Indian National Congress figure and three-times mayor of bombay SK Patil, few would have predicted a victory for the newcomer over this "uncrowned king of Bombay".
However, Fernandes's charisma coupled with his unrivalled influence over the city's union members brought him 48.5 per cent of the vote and the first of nine seats won in the lower house of India's parliament, the Lok Sabha. (Patil's career would never recover.)
Having risen through the ranks of party politics to lead first the Samyukta Socialist Party and then the reconstituted Socialist Party of India, by 1974 Fernandes was president of the All India Railwaymen's Federation with responsibility for 1.4 million workers. It was in this capacity that, in May of that year, Fernandes organised a nationwide railway strike – or bandh – that brought the country to a standstill. Thousands of protestors, including Fernandes himself, were jailed and tortured by police and government forces working for then-prime minister Indira Gandhi.
The All India Railway Strike of 1974 formed part of a wider backdrop of political unrest and resistance against the authority of Gandhi's government and, in 1975, she responded by declaring a state of national emergency, imprisoning large numbers of political leaders and dissenters on questionable pretexts.
As a political dissident, Fernandes was under immediate threat of arrest and incarceration, but was able to elude the authorities for a full year by going into hiding, disguising himself variously as a fisherman and beneath a Sikh turban.
While a fugitive, Fernandes conspired to procure explosives with the intention of targeting railway tracks, government buildings, and meetings where Indira Gandhi would be in attendance, in what became known as the Baroda dynamite case.
Before these plans could be carried out, Fernandes was arrested in 1976 on charges of attempting to topple the government by force and by conspiracy, and subsequently imprisoned without charges being formally brought.
While Fernandes was clear that he intended only to sow fear and not to hurt anyone, he would later remark that "anything is justified to save democracy".
In early 1977, Indira Gandhi's emergency was halted and elections were called. Despite being stuck in jail and unable to run a full campaign, Fernandes was returned by a landslide as the member for Muzaffarpur in Bihar, as Gandhi's government was swept aside by a coalition led by Morarji Desai.
On his release from jail, Fernandes took up the post of union minister for industries in Desai's government, and was credited with forcing IBM and Coca-Cola to cease trading in India by charging them with foreign exchange violations. Coca-Cola would not return for two decades.
However, Desai's coalition – the Janata Party – was a broad and uneasy marriage of smaller parties, incorporating leftists such as Fernandes and Hindu nationalists with links to a right-wing paramilitary organisation, the Rashtriya Swayamsevak Sangh. Fernandes was not one to hold his tongue simply to keep the peace and, in 1979, the Janata Party began to disintegrate. In 1980, Fernandes found himself returned as the member for Muzaffarpur, but out of government. Worse was to follow in 1984, as Fernandes contested the seat of Bangalore North and lost.
In 1989, Fernandes was returned to the Lok Sabha once again as the member for Muzaffarpur, briefly taking up the post of union minister for railways in VP Singh's government, and playing a key role in the birth of the Konkan Railway that would eventually link Mumbai with Fernandes's hometown of Mangalore.
In 1994, Fernandes would co-found the socialist Samata Party, which would return him to government briefly in 1996 – linking up again with the right-wing Hindu nationalists of the Bharatiya Janata Party (BJP) – and then once more as defence minister between 1998 and 2004, joining the BJP and numerous other small parties in the centre-right National Democratic Alliance.
It was during this time that Fernandes oversaw India's participation in the Kargil war with Pakistan and vocally supported nuclear tests in Rajasthan, abandoning his career-long opposition to nuclear weapons and damaging his credibility in the eyes of some of his former supporters.
In 2009, Fernandes was elected for the final time, unopposed, this time to the upper house of India's parliament, the Rajya Sabha. However, a year later he would retire from public life for good, and was soon reported to be suffering from Alzheimer's disease and Parkinson's disease.
In the last eight years of his life, Fernandes was largely a private figure, cared for by loved ones away from the public gaze. He left one son – Sean Fernandes, a US-based investment banker – by Leila Kabir, whom he married in 1971.
Paying tribute, Indian prime minister Narendra Modi described Fernandes as "frank and fearless, forthright and farsighted", while president Ram Nath Kovind called him a "champion of democracy" who "epitomised simple living and high thinking". Also among those offering their condolences was the Dalai Lama, a friend of five decades who called Fernandes a "great humanitarian" and "a voice to millions of poor and needy people of the country".
George Fernandes, Indian politician, born 3 June 1930, died 29 January 2019
Join our new commenting forum
Join thought-provoking conversations, follow other Independent readers and see their replies