Hector Camacho: Flamboyant and hard-living boxer who won world titles at three weights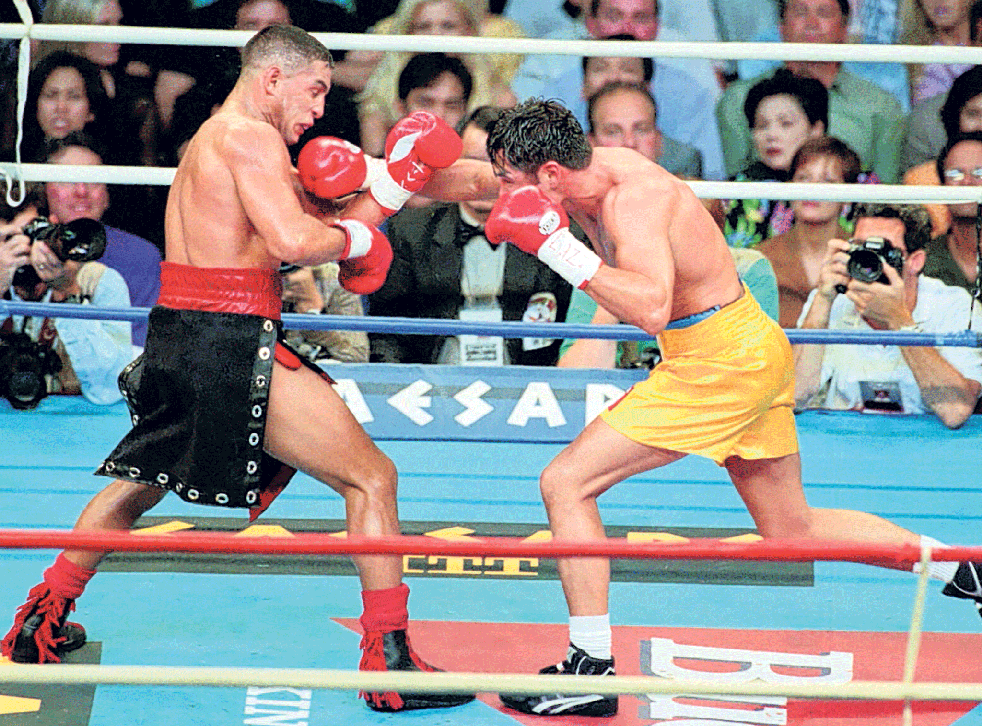 Hector Camacho was always known as "Macho Man", and if you had any doubts, there was a 10-inch gold pendant invariably hanging from his neck consisting of the word "MACHO" in capital letters. His shirt and his mouth were always open and he never escaped his sartorial Spanish Harlem roots; he seemed to forever look like an extra from Saturday Night Fever, a hustler on his way to a midnight fitting at an all-night tailors.
Camacho often wore sequinned loin cloths as his boxing shorts, arrived in the ring dressed as a Roman gladiator or Darth Vader and revelled in the love/hate relationship he shared with fighters, fans, promoters and writers. "He dressed like Tarzan, he fought like Jane," was one quote, which was attributed to the boxing writer Bert Sugar after a Camacho fight.
However, Macho Man was never stopped in 88 fights and he met some of the very best of his generation when they were at their right weights, at their peaks and, more importantly, unbeaten. Felix Trinidad had knocked out 19 of his 22 victims, Oscar De La Hoya was on a run of 25 and the legendary Mexican Julio Cesar Chavez had not lost in 81 fights. Forget the glitzy image and the irritating spit curl: Camacho was fearless.
His resilience under pressure and his chin are often overlooked, which is understandable because he could annoy people. "Camacho's great dream is to someday die in his own arms," said Irving Rudd, a New York fight-publicist leftover from the Damon Runyon days of selling a scrap.
He was born in Bayamon, Puerto Rico, and moved with his mother to Spanish Harlem in New York when he was still young. He started to box at the La Sombra sporting club and by 1980 had won three New York Golden Gloves titles. He was slick and fast and turned professional without fanfare in late 1980, becoming a regular at the famous Friday night fights at the Felt Forum, the venue in Madison Square Garden's basement. The Forum nights remain shrouded in glorious boxing folklore.
In 1983, when Camacho won his first world title, there were a lot of wise men in the boxing business calling him "the lightweight Ali" and predicting great things. Budd Schulberg, a veteran of eight decades at ringside, said that he was the best super-featherweight he had ever seen and by 1986, with wins against some tremendous fighters in championship fights, it looked like it really would be Macho time.
Camacho was unbeaten in 38 fights until 1991, having at that stage won world titles at three different weights, before losing for the first time, to Greg Haugen. He reversed the decision a few months later, but a bit of his swagger had faded and he was falling short of being "the lightweight Ali".
Away from boxing he was using too much cocaine, drinking too much and running to hide from a depression that sucked at his energy. He would occasionally vanish, go to a strange city and remain alone in a hotel room for days just to try to clear his head. He also liked women, they liked him, and the press loved tales of his sexual exploits. He was asked about abstaining at a press conference and replied, without a smile: "I stop two hours before a fight." In 1991 the Florida police stopped him for speeding in his Ferrari, his girlfriend, Amy Torres, astride him. A son was born the following year, a result, he insisted of the "vehicular wild thing".
"Hector is not the bad Macho Man," he said in the early 1990s. "Macho Man is the performer, the boxer. Hector is the humble nice guy who lends money out on the street of Spanish Harlem." Macho Man was, certainly by about 1992, one of boxing's bad boys, but he could still fight when he had to.
He beat a faded and jaded Roberto Duran and Sugar Ray Leonard in twilight fights for all involved and remained competitive at a high level until about 2000, his 20th year as professional. His last fight, which was only his sixth defeat, was a few days before his 48th birthday in 2010.
The carnage of his private life continued with drug use, arrests, disputes with girlfriends and wives, and last year somebody took a few shots at him outside a housing project in San Juan, Puerto Rico. He remained high profile, starring earlier this year in a dating show called Macho Time, where women competed for the former Playgirl centrefold. His look was the same as it had been in the late Seventies, when New York was the world, and a just a few year before he boldly claimed that he was boxing.
Camacho was shot in the chin in Bayamon, the city of his birth, as he waited with a friend outside a club. His friend died at the scene from his wounds. The whole of Puerto Rico, a nation devoted to its fighters, waited for three days for updates from the hospital.
Camacho once defended his crazy lifestyle by telling a reporter: "One day the light goes dead and people forget you." Camacho's ring legacy will surely make part of that statement a lie.
Hector Camacho, boxer and showman: born Bayamon, Puerto Rico 24 May 1962; married; four children; died Bayamon 24 November 2012.
Join our new commenting forum
Join thought-provoking conversations, follow other Independent readers and see their replies