James Nicholas: Poet, teacher and Archdruid of Wales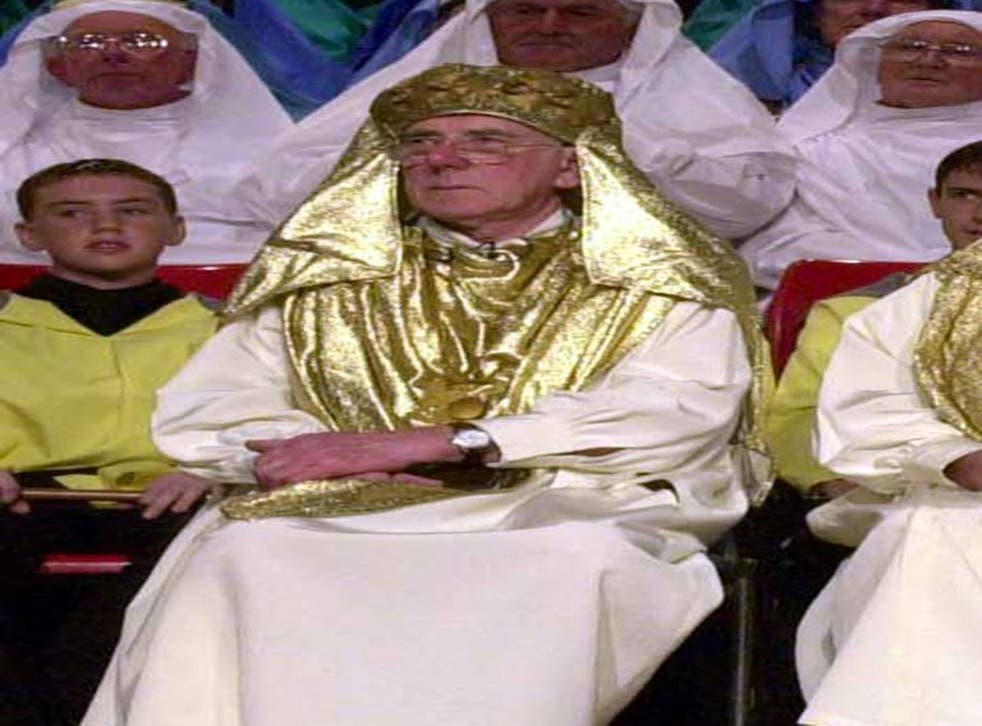 The Assembly of Bards of the Isle of Britain (to render Gorsedd Beirdd Ynys Prydain in English) is perhaps the most picturesque of all Welsh institutions. Every August, as part of the festivities of the National Eisteddfod, its members parade in their robes, its officials carrying the regalia and banners that proclaim "Y gwir yn erbyn y byd" ("The truth against the world") in an impressive display of neo-druidic ritual and bardic fervour.
The man or woman who presides over this arcane pageantry is the Archdruid, elected from among the serried ranks of the Gorsedd and usually a distinguished writer, whether of prose or verse, who has achieved the feat of carrying off one of the major prizes such as the Chair (for verse in the traditional metres), the Crown (for free verse) or the Prose Medal (for a novel, short stories or essays).
James Nicholas, who served as Archdruid from 1981-84, was well within this illustrious tradition. He had won the Chair at the National Eisteddfod of 1969 and was a poet of rare sensibility and high learning. He was, moreover, a patriot who was unafraid of speaking his mind from the Logan Stone on events affecting the civilisation of Wales and the wider world. At home, he lent his support to the law-breaking campaigns of the Welsh Language Society and, further afield, the horrors of apartheid and the plight of the Third World were always prominent on his agenda.
In these concerns Nicholas was influenced by the great pacifist poet Waldo Williams (1904-71), with whom he had a close personal friendship. He wrote percipiently about Waldo's mysticism and attraction in later life to Quakerism, delivered a moving funeral address, edited a volume of memorial essays and, in many public lectures, explained the cultural background to some of his finest poems, particularly their roots in the rural, co-operative and radical society in which both had been brought up. His monograph on Waldo in the Writers of Wales series is still the best introduction in English to the poet's life and work.
James Nicholas was born in St David's in Pembrokeshire in 1928. He had first begun reading poetry when, as a schoolboy, he spent two years in a sanatorium. This meant that he was 20 before he left St David's Grammar School for the University College of Wales, Aberystwyth, where he took a degree in mathematics.
His first teaching post was at Bala in Merioneth, one of the heartlands of Cerdd Dafod, as the writing of poetry in the strict metres is known, and there he came into contact with country poets who taught him the refinements of traditional verse which, with his quick mathematical mind, he soon mastered. Some of his poems in this mode are comparable with the work of medieval masters and yet wholly contemporary in their preoccupations and allusions.
But it was not long before the magical landscape of Dyfed, land of the Mabinogion, beckoned him home. He was appointed head of mathematics at Pembroke in 1959 and headmaster of Ysgol y Preseli at Crymych in 1963. In the same year he married a colleague, Hazel Griffiths, who was to become his muse and helpmeet in all his ventures. Many of the finest poems in his two collections, Olwynion (Wheels, 1967) and Cerddi'r Llanw (Poems of the Tide, 1969), are about his love for her and their life together, while those in Ffordd y Pererinion (The Pilgrims' Road, 2006) address the numinous with an attractive lightness of touch.
They had two daughters, one of whom, Branwen, as a leading member of the Welsh Language Society, has served prison sentences for her part in campaigns for official recognition of Welsh. Their other daughter, Saran, is a member of the Royal College of Physicians.
Nicholas was a staunch member of the Welsh Baptist Union, which he served as president, and was immersed in contemporary theology and philosophy. During his time as headmaster at Crymych he was awarded a fellowship in the philosophy department at the University College, Swansea, and was thus able to pursue his interest in Rush Rhees, friend and disciple of Wittgenstein. He was also steeped in the work of Christian poets such as TS Eliot, David Jones and RS Thomas, and the Marxist TE Nicholas, as well as in music and the visual arts.
From 1975 until his retirement in 1988 Nicholas was a member of Her Majesty's Inspectorate of Schools and based in Gwynedd. He once told me that, whereas he had enjoyed being a master because he had direct contact with his pupils, he was unsure of his mandarin role as an inspector. He was nevertheless able to maintain his links with the Gorsedd, having been elected to serve as Recorder in 1980, a post to which he returned after his stint as Archdruid in 1984.
He took the Gorsedd seriously and brought to both posts a dignity that won him many admirers, even among those cynics who never tire of pointing out that the ceremonies are, in fact, the fruit of the febrile genius of Iolo Morganwg, a Glamorgan stonemason who invented them in 1792. Nicholas proved a pillar of common sense and the utmost integrity while acting as Recorder.
A modest, genial, eirenic man, Nicholas was a good listener, though some found his habit of looking up at the ceiling when engaged in conversation, as if for heavenly guidance, a trifle disconcerting. The beatific grin that lit up his features seemed to reflect something of the innocence of a child, which, in his poems, shines like a ray of God's amazing grace. To be in his company was to be reminded of the famous lines by his friend Waldo Williams: "To live; what is it? /Having a great hall between cramped walls / Being a nation, what is it? / A gift in the depths of the heart. / Patriotism, what's that? / Keeping house in a cloud of witnesses."
Meic Stephens
James Nicholas, Archdruid of Wales, poet and teacher: born St David's, Pembrokeshire 19 March 1928; married 1963 Hazel Griffiths (two daughters); died Bangor, Gwynedd 29 September 2013.
Join our new commenting forum
Join thought-provoking conversations, follow other Independent readers and see their replies