Jan Brittin: record-breaking cricketer who advanced the women's game
Latterly a teacher, her record of five Test hundreds remains unbeaten in women's cricket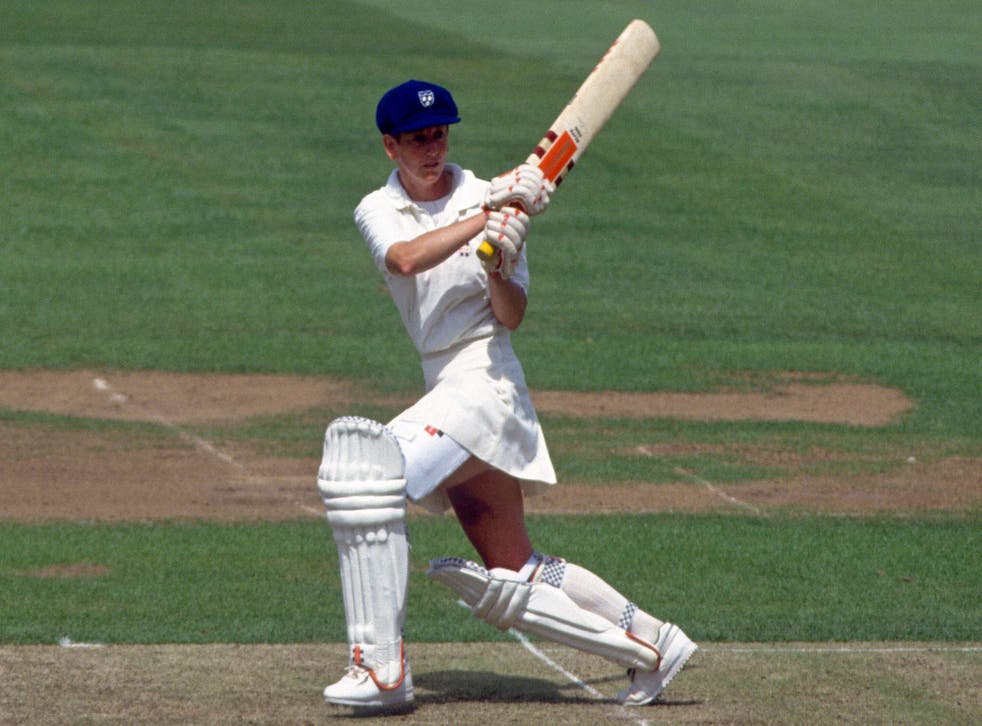 Jan Brittin, who has died of cancer aged 58, was one of England's finest woman cricketers, a record-breaking player who represented the country in 63 one-day internationals and 27 Test matches between 1979 and 1998. Clare Connor, director of England Women's Cricket, said of her: "JB was one of the most quiet and unassuming cricketers you could meet, but she was pure class. In a year when England have again won the World Cup at Lord's, we should not forget the huge contribution JB made to the development and success of women's cricket in this country."
Brittin was born in Kingston upon Thames in 1959 to Maggie and Kevin Brittin, and grew up in Chessington. She attended Fleetwood County secondary school and at first played cricket for the local Tadworth club, later joining the Purley Redoubtables Women's Cricket Club. She made her debut Test for England against the West Indies in 1979, aged just 19, alongside Rachael Heyhoe Flint.
Interviewed by Thames Television News in 1984 in the run-up to the men's Test against New Zealand, she was asked if she would ever consider playing for the men's team, if it were possible. She responded: "I think it's something you always dream of ... going out at Lord's and that sort of thing. But realistically I don't know whether I would relish it." She went on to make 144 not out in the drawn first Test that year.
In 1993, while the England men's team suffered a 4-1 loss in the Ashes, Brittin helped the England women to victory over New Zealand at Lord's. As opener, she made 48 runs. Then, in a dramatic finale to the game, she ran 30 yards to take the winning catch of Catherine Campbell's ball, falling into the arms of jubilant supporters spilling onto the pitch.
Brittin scored her Test best, 167 runs, in her penultimate game, playing against Australia at Harrogate and opening alongside Charlotte Edwards. By the end of her career, in 1998, she had scored 1,935 runs in 27 Test matches and established a record of 2,121 runs in one-day internationals, a record not broken until five years later. Her record of five Test hundreds remains unbeaten in women's cricket. She was made MBE in 1999 and given honorary life membership of the MCC the following year.
After two decades working in the sports department of British Airways, Brittin had latterly taught at Danes Hill School in Oxshott, Surrey, and had maintained her passion for cricket. For her fellow players it was her sense of fun and generosity of knowledge, especially as a coach later in her career, that stood out.
Surrey CCC paid tribute by flying their flag at half mast during their championship match against Yorkshire last week. Ebony Rainford-Brent, director of women's cricket at Surrey, said: "JB was such an inspiration to me and many others growing up who were able to watch or play with one of the greatest female cricketers of all time. Her records speak for themselves the class of player she was and will stand the test of time."
Janette Ann Brittin, cricketer, born 4 July 1959, died 11 September 2017
Register for free to continue reading
Registration is a free and easy way to support our truly independent journalism
By registering, you will also enjoy limited access to Premium articles, exclusive newsletters, commenting, and virtual events with our leading journalists
Already have an account? sign in
Register for free to continue reading
Registration is a free and easy way to support our truly independent journalism
By registering, you will also enjoy limited access to Premium articles, exclusive newsletters, commenting, and virtual events with our leading journalists
Already have an account? sign in
Join our new commenting forum
Join thought-provoking conversations, follow other Independent readers and see their replies