Jiri Novak: Violinist who eschewed a solo virtuoso career to lead the Smetana Quartet for more than 30 years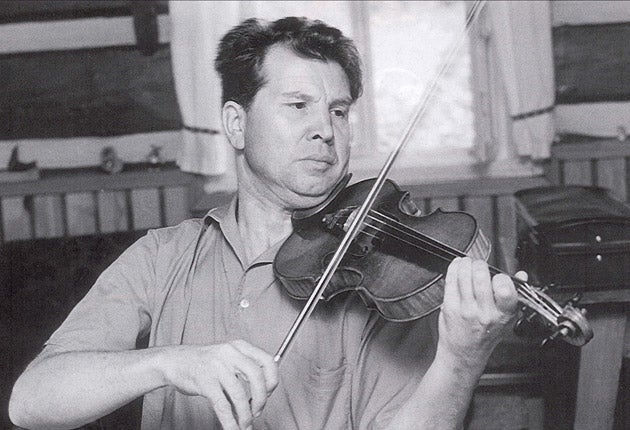 Jiri Novak, the leader of the celebrated Smetana Quartet, was considered to bethe foremost string-quartet leader of his time, and was one whose modesty concealed an enormous talent and profound musicianship.
He was born in Horni Jeleni, some 125km east of Prague, and began violin studies at the age of six. Encouraged by his musical family, his early promise and natural ability brought him to the attention of eminent teachers in Prague including Karel Hoffmann, leader of the legendary Czech Quartet, and violinist Emil Leichner, founder member of the Czech Nonet.
Attending the Prague Conservatoire from 1939, he graduated from its master class in 1948 and entered the new Academy of Music for study with Jaroslav Pekelsky until 1952. But by this time he had come to wider attention in Czech musical life to the extent that, even by 1945, the eminent Vaclav Talich had chosen him to be concertmaster of his Czech Chamber Orchestra, which position he held until 1948.
Many expected Novak to embrace a career as a virtuoso soloist, but in 1947 he took the all-important decision to abandon a solo career to become the primarius. or leader, of the Smetana Quartet, which position he held with great success to the end of the quartet's life, in 1989. Very occasionally he would be persuaded to take on a solo engagement and examples of this may be heard in a recording of Mozart's Violin Concerto No 4 in D (KV 218) that he made in 1955 with the Czech Philharmonic Orchestra under Vaclav Talich and the Paganini Violin Concerto in D with the Prague Symphony Orchestra under Václav Smetacek.
The Smetana Quartet had been founded at the Prague Conservatory in 1945 with Jaroslav Rybensky as leader, but after little more than a year he took the viola chair when Vaclav Neumann decided to concentrate on conducting. At this point Jiri Novak joined as leader and so began a remarkable association.
International recognition came in 1950 with a first tour to Poland, and in 1955 the Quartet toured Britain starting with a concert in the Royal Festival Hall. From then until the last tour here in 1987, the Quartet played in more than 75 British towns and cities, broadcasting regularly for the BBC and appearing also at every major music festival. All four players soon endeared themselves to audiences, and although Novak had the least-good command of English, he was never without people wishing to talk to him and with whom he managed to communicate, aided by his gentle manner and quiet sense of humour.
His contribution to the interpretative aspect of performance was as strong an input as that of his apparently more dominant colleagues. This I witnessed at first-hand when the Quartet were our guests. After breakfast they would retire to the music room and rehearse solidly until early afternoon. Ever self-critical, the playing was occasionally interrupted as debate, often heated, broke out over some point in a quartet they had been playing together for the past 40 years, thus ensuring that each performance was fresh, full of interest and musically rewarding. This was so even after thorough preparation at home where, each July and August they would repair to their summer homes in Lucany in northern Bohemia where the next season's programmes would be diligently studied between times of relaxation with families. Here, too, Novak led by example with his consummate musicianship, his mild and non-controversial nature in marked contrast to the more voluble input of his three colleagues.
Novak's technique was absolutely secure and his sound beautiful,conjured from his favourite instrument made by Premysl Otakar Spidlen, and for 10 years from a Stradivarius of 1729 (the "Libon") loaned from the state collection. Aspects which coloured and marked his playing included his subtle control of vibrato, bow pressure and angle, coupled with an upright posture and relaxed approach even in the most difficult passages. Like the Quartet's viola, Milan Skampa, he had perfect pitch, accuracy of intonation being central to both his playing and teaching.
In 1967 all four members of the Quartet were appointed professors of their instruments at the Prague Academy of Music, but Novak was perhaps the least sucessful in this role. As someone for whom playing the instrument had come naturally and without great difficulties, he often had problems understanding the difficulties of others and he could be uncompromising. Nevertheless, his even temperament and kindly nature meant that he was fondly regarded by colleagues and students, his own talents admired and appreciated. Among his successful pupils are Jiri Panocha (Panocha Quartet), Leos Cepicky (Wihan Quartet), Jan Kvapil (Talich Quartet) and Radek Krizanovsky (Apollon Quartet).
Very occasionally he was persuaded into the soloist's role, playing both Bartok violin concertos, as well as that of Stravinsky, with the Czech Philharmonic Orchestra under Vaclav Neumann. After the final concerts of the Smetana Quartet in Prague and Brno in 1989, Novak retired from public life and was seldom seen at concerts, although he took a great interest in the career of his violinist daughter, Dagmar Virtova, whom he had successfully initially taught and with whom he would occasionally perform the Bach Concerto in D minor for two violins (BWV 1043). She is now a professional orchestral violinist.
In addition he joined old friends and colleagues, including the viola player Jaroslav Motlik and violoncellist Viktor Moucka, for occasional concerts. He also served on a number of international violin competition juries and in 1996 gave his last concert at Ceske Krumlov, part of which is preserved in a film about the members of the Smetana Quartet made by Jaromil Jires.
Jiri Novak, violinist, teacher and quartet leader: born Horni Jeleni, Czechoslovakia 5 September 1924; married 1964 Dagmar Dvoráková (one daughter); died Prague 10 September 2010
Join our commenting forum
Join thought-provoking conversations, follow other Independent readers and see their replies