John Sessions: Stand-up comedian who found fame on TV in 'Whose Line Is It Anyway?'
He had his own sketch programmes and showed his skills as an actor in satire and period dramas, from 'Porterhouse Blue' to 'Victoria'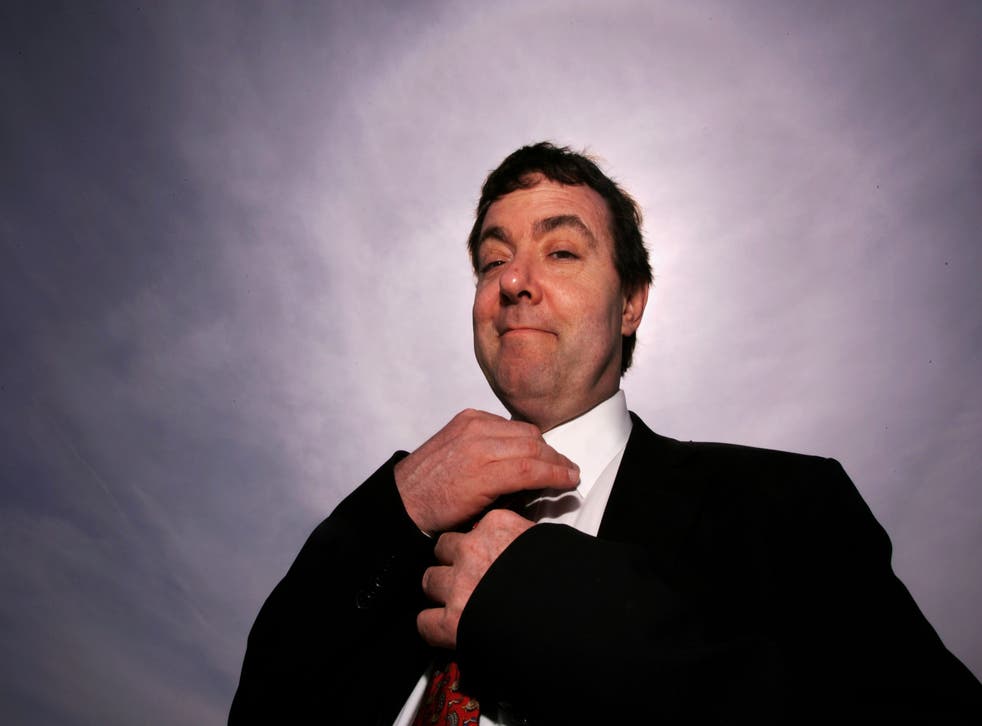 John Sessions, who has died of a heart attack aged 67, was an actor and stand-up comedian whose diverse work included one-man stage shows and screen portrayals of famous British politicians such as Harold Wilson and Edward Heath following his rise to fame in Whose Line Is It Anyway?.
He and Stephen Fry were regular panellists on the game show, improvising scenes suggested by the studio audience or presenter, Clive Anderson, during its single series on BBC radio in early 1988.
When the programme switched to television later that year, on Channel 4, Sessions and Anderson went with it, but Fry bowed out.
Sessions thrived on the challenge of ad-libbing, alone or with his fellow performers, but preferred to be the one in the spotlight. "You have to keep the engine running," he said, "and it's irritating when you have to hold back while someone else has a go. Basically, I'd like to be doing the whole programme myself.
"I once said jokingly that the reason I did one-man shows is that in plays you spend too much time standing around on stage waiting for other actors to finish speaking!"
Whose Line Is It Anyway? ran until 1999, also making stars of Josie Lawrence and Paul Merton, but Sessions left after three series (1988-91).
His straight acting career had already been given a boost when he landed the role of a sexually frustrated postgraduate student in Porterhouse Blue (1987), Tom Sharpe's satire of upper-class elitism in an Oxbridge college.
He played Lionel Zipser, who lusts after his cleaner and provides one of the most memorable scenes in the series, dubbed "the night of the flying condoms". To dispose of several hundred, Zipser fills them with gas from his fire and floats them up the chimney. When they land on the college lawn, Skullion, the priggish head porter played grumpily by David Jason, goes into a frenzy trying to puncture them.
Meanwhile, Zipser's sexual desires appear to be satisfied when his cleaner seduces him, only for their night of passion to be terminated after she turns on the gas fire, killing both of them.
Sessions had come to Porterhouse Blue from a 1986 stint providing voices for Spitting Image puppets during a golden age for satire. His vocal dexterity meant he was heard as a wide range of characters, from Norman "Get on your bike" Tebbit and Ian Paisley to Laurence Olivier and Keith Richards.
From 1989, his own increasing fame led the show to introduce a John Sessions puppet, usually seen with the Brit Pack of luvvies led by Kenneth Branagh, a former fellow Rada student. It emanated from a view among some of his peers that he was a "smart alec", contriving displays of erudition.
This attitude was perpetuated when, in the first episode of QI in 2003, hosted by Fry, he was able to reel off Michelangelo's birth and death dates. "1475 till 1564," he said. "I hate myself for saying that, but those are his dates." Fry responded: "Five points to Johnny Sessions… We also have to hate him, incidentally."
Sessions brought many talents to screen and stage, displaying an adeptness for strong dramatic roles as well as comedy. He played James Boswell in Boswell & Johnson's Tour of the Western Isles (1993), alongside Robbie Coltrane's Dr Samuel Johnson, Henry Fielding in The History of Tom Jones, a Foundling (1997) and Lord John Russell in the 2019 series of Victoria.
His penchant for acting eccentric characters also saw him appear in Gormenghast (2000), a fantasy based on Mervyn Peake's novels, as Dr Prunesquallor (the castle's resident physician with a hyena laugh and thatch of bristly hair), and a 2007 adaptation of Oliver Twist as undertaker Mr Sowerberry.
Sessions was born John Gibb Marshall in Largs, Ayrshire, in 1953 to Esmé (née Richardson), a Glaswegian Catholic, and John Marshall, a Protestant gas engineer.
They attended a Protestant Presbyterian church, a weekly event described by Sessions as bringing "a funereal misery" to every Sunday and creating in him a lifetime's inability to enjoy himself, relieved only by his performing.
The family moved to Bedfordshire when he was three and, by the age of 10, he was writing essays on Dr Johnson, Lord Byron and others, as well as poetry. "I would sit in the garden surrounded by research books," he recalled. "I must sound like a complete swot."
Later, on moving to St Albans, Hertfordshire, he attended the town's grammar school (now Verulam School). While studying English literature at the University College of North Wales, he performed one-man comedy shows and, following a short time teaching in Ontario, Canada, trained at Rada. With another performer already called John Marshall, he adopted the stage name Sessions.
He then hit the comedy circuit, once appearing on a double bill with French and Saunders, performed at the Edinburgh Festival and mounted a 1987 one-man show, The Life of Napoleon, in London's West End.
After Porterhouse Blue and the first series of Whose Line Is It Anyway?, he starred in his own TV show of solo improvisations, John Sessions on the Spot, in 1989. It was followed by John Sessions' Tall Tales (1991) and John Sessions' Likely Stories (1994).
Other real-life roles he took on television were in Margaret as politician Geoffrey Howe (2009), Mr Selfridge as Sir Arthur Conan Doyle (2013) and We're Doomed! The Dad's Army Story as Arthur Lowe, the classic sitcom's Captain Mainwaring (2015).
He was seen on the big screen when Branagh cast him as Macmorris in Henry V (1989) and Terry Du Bois/Queen Gertrude in In the Bleak Midwinter (1995). His other film roles included Philostrate in A Midsummer Night's Dream (1999) and Harry Watkins in Gangs of New York (2002), directed by Martin Scorsese.
Sessions, who was outed as gay in 1994, is survived by his brother and twin sister.
John Sessions, actor and comedian, born 11 January 1953, died 2 November 2020
Register for free to continue reading
Registration is a free and easy way to support our truly independent journalism
By registering, you will also enjoy limited access to Premium articles, exclusive newsletters, commenting, and virtual events with our leading journalists
Already have an account? sign in