Johnny Silvo: Folk singer who worked with Sandy Denny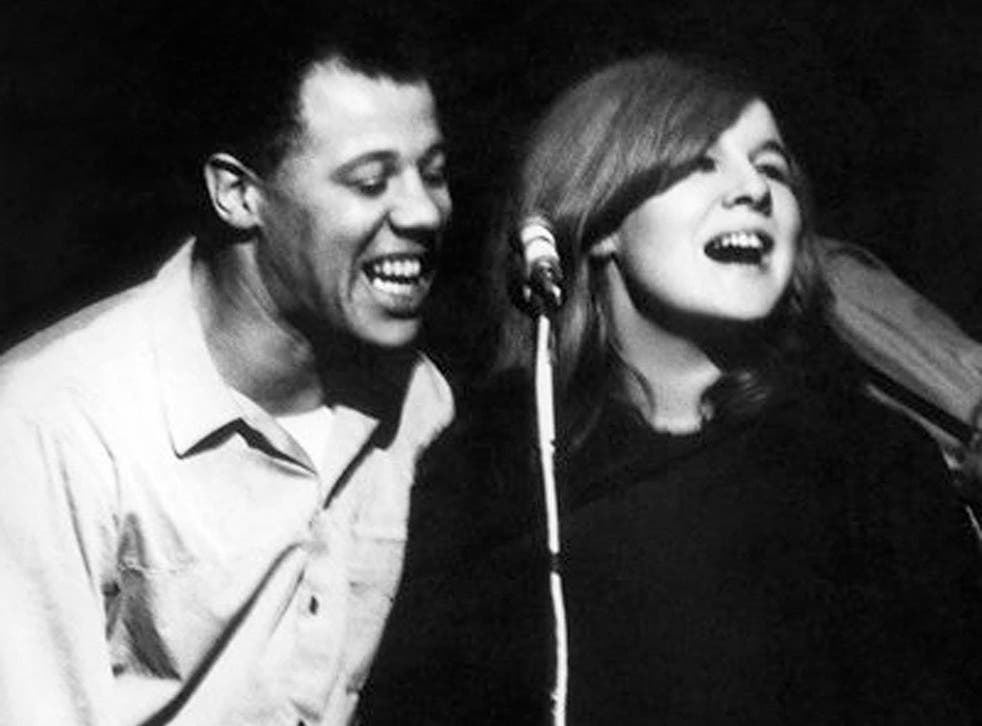 Johnny Silvo was the sort of populist folk singer for whom Britain's folk scene coined the expression "folk entertainer". He was an old-school folkie whose repertoire of folk and folk-blues standards, jazz and blues material chimed with the country's folk scene in the 1960s and 1970s in particular. His name seldom figures in accounts of the subject, except maybe as a marginal note associated with Sandy Denny – the female lead singer of Fairport Convention and Fotheringay and Led Zeppelin IV guest vocalist – through her time singing with the Johnny Silvo Folk Four and their joint album Sandy & Johnny (1967). Silvo's audience, concentrated in Western Europe and Scandinavia, did not care and stayed true to the end.
Born John Woods in Wimbledon, like the notable guitarist, composer and vocalist Davey Graham he was mixed-race. Supposedly, his mother was from Ireland and his father was an African-American serviceman. The story goes that his mother was killed in an air raid, so he grew up as a Barnardo's Boy. The historical record shows that it was hard enough being placed with a family after the war if white; getting adopted as a mixed-race child in post-war Britain was harder still. He lived in a succession of Barnardo's homes in Surrey and Hertfordshire. Both he and Denny shared Wimbledon and Kingston upon Thames connections.
He adopted the name Silvo, a sylvan wordplay on his real name, and gravitated to playing skiffle, trad jazz and folk. Contrary to popular perception, the folk scene was far from wholly white in complexion. In the 1950s the Trinidadian musician Fitzroy Coleman had worked with Alan Lomax and Ewan MacColl, while in the 1960s the British Honduras-born Nadia Cattouse, the Cuban-born Jamaican Cliff Hall of the Spinners, and the US-born Dorris Henderson were his contemporaries.
Marcel Rodd, who later capitalised on reggae's breakthrough on theTrojan label, was a budget-labelmaestro who learned his lessons and earned his spurs with the Saga label. He brought Silvo and Denny together on disc. Alex Campbell and His Friends and Sandy & Johnny (both 1967), forever a source for compilers of Denny retrospectives, had them in similar company but on segregated, solo tracks. Both added to the bargain-bin back-legend after her triumphs with Fairport Convention's Unhalfbricking and Liege and Lief (both 1969).
Silvo sang clearly and from the heart, personable talents that landed him appearances as guest and presenter on BBC radio's Country Meets Folk and BBC television's Play School. Based in Norway from the 1980s, having met his wife there, he lived in Sola near Stavanger. His repertoire proved Euro-friendly. It contained folk-blues, jazz and spiritual staples such as "Midnight Special", "Freight Train", "San Francisco Bay Blues", "Careless Love", "Frankie And Johnny", "Glory Of Love", "Wild Mountain Thyme" and "Nobody Knows You When You're Down and Out" rather than the weighty ballads of Francis James Child's collections or the lucubrations of other folk revivalists.
His was populist fare and he delivered it brilliantly. A barnstormer of a performer, he had a trademark trick on songs such as Don Williams' "My Best Friend", "Black Girl" – Leadbelly's 'In The Pines" – or the spiritual "I'll Fly Away" of holding back vocally for most of the performance before going for a soaraway vocal climax. Notable later releases include his own label debut Midnight Special (1998) with Arvid Lone, his and Diz Disley's Blues In The Backyard (1999) and Live At Last (2009) with Hans Graasvold.
Ken Hunt
John Frederick Woods (Johnny Silvo), guitarist, folk singer and entertainer: born Wimbledon 2 December 1936; married Berit (one son); died Stavanger, Norway 18 December 2011.
Join our new commenting forum
Join thought-provoking conversations, follow other Independent readers and see their replies