Kenny Ball: Trumpeter who spearheaded the Trad boom and toured for over 40 years
Thursday 07 March 2013 19:30 Comments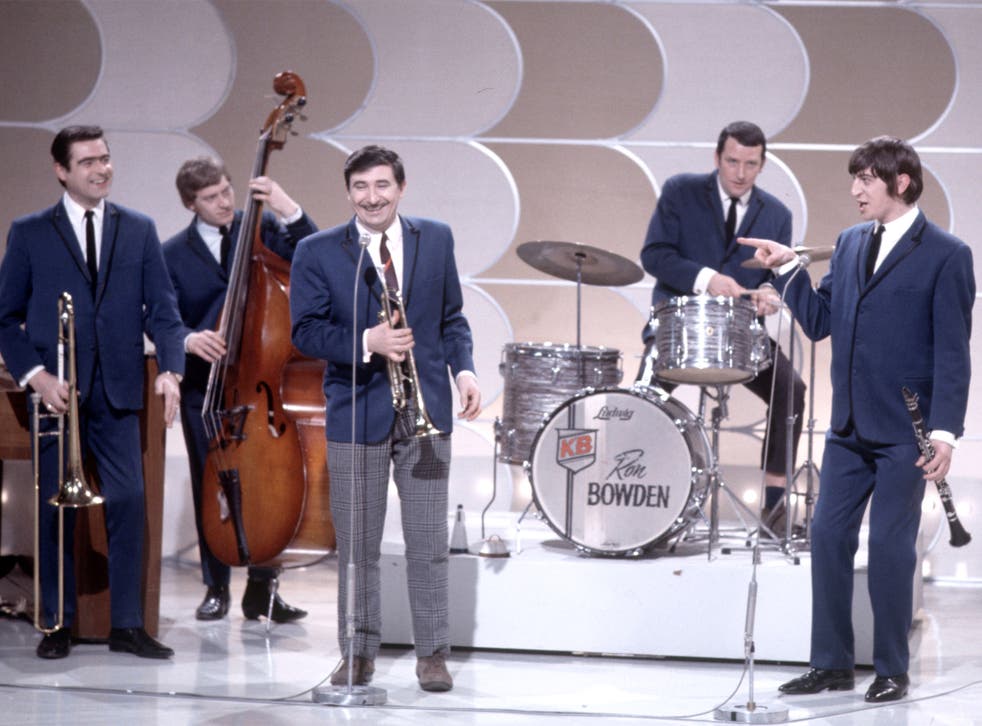 The most commercially successful band of the Trad boom of the early 1960s was Kenny Ball and his Jazzmen. Their four Top 10 hits included the internationally successful "Midnight In Moscow", and for over 40 years they were among the busiest of touring bands. With a huge sense of fun and joie de vivre they entertained thousands who otherwise would never have thought of going to a jazz concert.
A witty and engaging raconteur, Kenny Ball, who was born in Ilford in 1930, told me how he got started. "In 1943, I joined the sea cadets and got a bugle, but you can only play five notes on a bugle. I thought of playing a trumpet instead because Betty Grable had just married Harry James. I picked up the trumpet to get the crumpet."
After National Service, in 1950 Ball played with local jazz bands. He turned professional with Sid Phillips in 1953 and moved to Eric Delaney's band in 1956. "I had a flirtation with rock'n'roll with Eric Delaney. He wanted some silly sod to sing 'Giddy Up A Ding Dong' and 'Rock Around The Clock', and I did quite well and got my clothes ripped off on a few occasions."
In 1958 he joined Terry Lightfoot and his New Orleans Jazzmen but Ball, trombonist John Bennett and pianist Barney Bates got bored with only playing New Orleans music and so Kenny Ball's Jazzmen started at a jazz club in Southend that October. Ron Bowden came from Chris Barber's band and remained Ball's drummer for nearly 40 years. In 1961, Terry Lightfoot's brother Paddy joined on banjo. Melody Maker jazz critic Steve Race wrote, "If the band can swing in a studio the way it does in a British legion hall, some bright recording company could have a new Barber band on its hands."
Lonnie Donegan saw their audition for an ITV children's programme and invited them on his show Putting On The Donegan and arranged a record contract with Pye. "Riverside Blues" and "South Rampart Street Parade" from their first album Invitation To The Ball (1960) remained in their repertoire. "I should have stayed longer," said guitarist Diz Disley, "but I got fed up doing novelty numbers like 'Teddy Bear's Picnic' and 'Hawaiian War Chant'. It was mickey-mousing the band and I didn't like it."
The band had its first hit with Cole Porter's "Samantha" in 1961. "A piano player called Cecil came up to me after a show at the Mardi Gras in Liverpool," said Ball, "and he said, 'You should record "Samantha" from High Society.' Its chord sequence is so lovely. It's different to any other chord sequence in the key of C and the first chord is a B 7th, a semitone below the major, which is an intriguing start to any tune. In the film, Louis Armstrong starts to play it quickly and then grimaces and says, 'No, man, that's not made to play fast.' David Jacobs used a slow version for his signature tune but we were steaming wrecks and nearly everything we did was very fast. We took 'Samantha' up in tempo and I sang it in a shrill, high-pitched voice and added a growl mute solo. The band swung like the clappers and it was a hit for us."
It was followed by "I Still Love You All" but even after 40 years, Ball had problems remembering all the girls' names in the lyric. Louis Armstrong's "Someday (You'll Be Sorry)" came next. "Louis Armstrong is my absolute hero," said Ball, "I can play the notes close to his timing but I can never get the same tone. He was incredible."
The Trad boom was spearheaded by Ball, Chris Barber and Acker Bilk, and "the 3Bs" appeared in Richard Lester's film It's Trad, Dad! In 1962, Ball went to No 2 in Britain and the US with "Midnight In Moscow", written as "Leningradskie Vechera" seven years earlier. Its success led to them playing to ecstatic crowds in the Soviet Union.
The band had further hits with "The March Of The Siamese Children" from The King And I and "The Green Leaves Of Summer", written by Dimitri Tiomkin, a Russian who had settled in America and become a film composer. The Weimar cabaret song "So Do I" became the band's opening number with Ball singing the amended lyric, "You like to get pissed, well, so do I".
Their third album, The Kenny Ball Show, was a recording from the Liverpool Empire on April Fool's Day, 1962. "I've met Paul McCartney a few times and he told me that he was at that concert," said Ball. "He went with his dad and he said that it was fantastic. We sounded great that night."
"It was a terrific concert," said John Bennett. "The show overran by half an hour and the audience carried on stomping even after we'd played the National Anthem."
In 1963, Pye's managing director, Louis Benjamin, returned from Tokyo with Kyu Sakamoto's "Sukiyaki". Ball had a hit single with the melody in both the UK and Japan and as a result, he made the album Tribute To Tokyo. He also recorded an album of marches for the Japanese market. "We did a week at the Tokyo Prince Hotel," he recalled, "then we toured all over Japan. We made an album on our day off and they wanted marches. It didn't matter where the marches came from but I'm not sure how the Singing Nun got in there with 'Dominique'. Maybe that's because we did it all in 12 hours with a lot of beer."
The band recorded "Hello Dolly in competition with Louis Armstrong and Frankie Vaughan and its success led to Ball recording "Mame" and "Cabaret". He also had success with Lennon and McCartney's "When I'm 64", a song he re-recorded at the age of 70. ""I always felt that McCartney had a feeling for trad jazz," he said. "'When I'm 64' is rather like a tune called 'Jazz Me Blues' from the '20s."
With clarinettist Andy Cooper joining in 1967, and adding the show-stopping "I Wanna Be Like You" to their repertoire, Ball and his Jazzmen developed a terrific stage act and played at the wedding reception for the Prince and Princess of Wales in 1981. Despite their success, did it bother Ball that they hadn't had acclaim from more serious quarters? "Not at all, because we're working musicians and even jazz musicians have to pay the rent. All I could do was play the trumpet and I'm still learning that bugger."
Spencer Leigh
Kenneth Daniel Ball, bandleader, trumpeter and vocalist: born Ilford, Essex 22 May 1930; married (three children); died Basildon, Essex 7 March 2013.
Register for free to continue reading
Registration is a free and easy way to support our truly independent journalism
By registering, you will also enjoy limited access to Premium articles, exclusive newsletters, commenting, and virtual events with our leading journalists
Already have an account? sign in
Join our new commenting forum
Join thought-provoking conversations, follow other Independent readers and see their replies