Lord Carr of Hadley: Highly regarded Conservative minister whose Industrial Relations Act provoked bitter controversy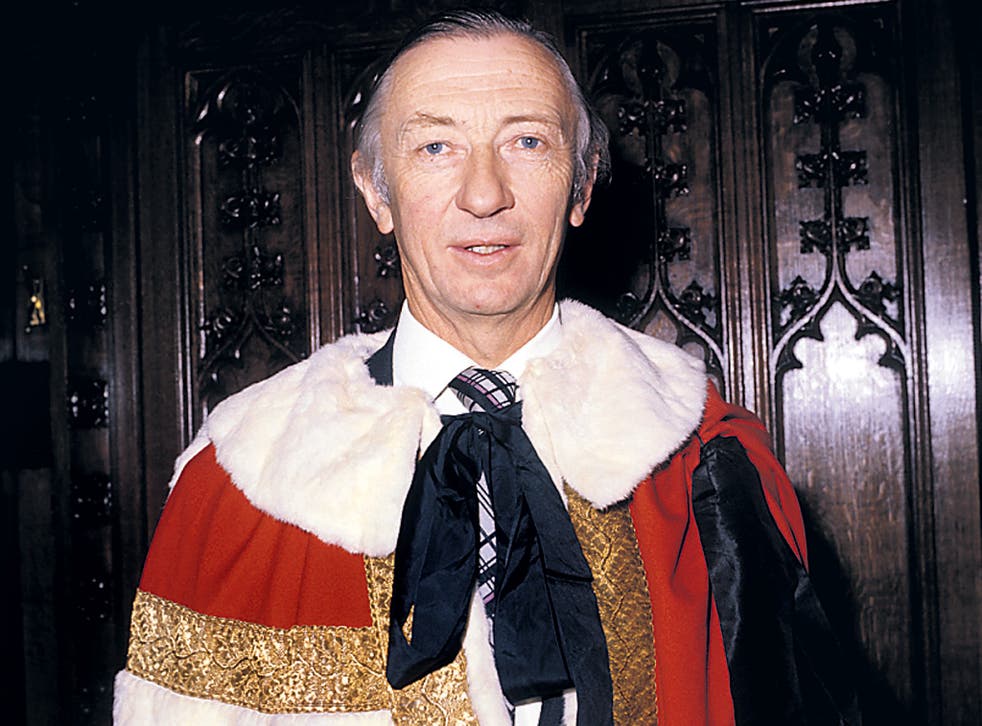 Robert Carr was the most self-effacing and conciliatory of men. Yet in the decade from 1965 to 1975 he helped, however inadvertently, to shape the history of the Conservative Party and the perception of that party's members of themselves and of their role in the life of the nation.
The decade was a particularly rough and strident one, to which his placable and socially concerned nature seemed wholly unsuited. There were ugly industrial confrontations, bombings in Northern Ireland and on the mainland, and accelerating inflation. Some commentators wondered if Britain was still governable. In 1971, while he was in the Cabinet, the anarchist Angry Brigade sent two bombs to his home; 30 years later a member of the group sent him a note of apology.
In two periods during these turbulent 10 years, it is not clear Carr realised what the consequences of his actions and attitudes would be: he was no intellectual in politics, but reacted to crisis and challenge with an innate decency of nature, often finding it puzzling that in the rough and tumble of events his motives and attitudes were misunderstood and, indeed, often derided.
Carr did not come from a particularly political background. He was born in 1916 into a well-to-do family, and educated at Westminster School and Gonville and Caius College, Cambridge. In 1938 he graduated in natural sciences, became a metallurgist, and his first job with John Dale Ltd (of which he later became chairman) was in that discipline. He never lost his interest in the subject and maintained contact with science to the end of his life.
A keen sportsman and member of the All England Lawn Tennis Club, he was an umpire at the annual Wimbledon tournaments. He took the chair for the finals of the 1949 men's doubles, the 1950 men's singles and the 1953 mixed doubles.
In 1950 he found himself a Conservative candidate for Mitcham in that year's general election. He was chairman of Barnet Young Conservatives and had tried and failed to be selected as candidate for the constituency (it went to Reginald Maudling, later a good friend and Cabinet colleague). Carr was surprised to be invited to apply for Mitcham and even more surprised to be selected when he had told the committee that he would not give the association any money and would not move to the constituency; both suggestions were often pressed on Tory candidates at the time. He was elected MP.
He came into contact with the young Margaret Roberts (later Thatcher), who had failed to be returned for Dartford. She did not warm to him and recalled in her memoirs that she had found him "somewhat aloof and alone". It was not a good harbinger for later relations between them.
He was a founder member of the remarkable One Nation Group, along with Edward Heath, Enoch Powell and Iain Macleod. They were part of the vintage intake of young Tories at the 1950 general election and sought to bring the party into tune with post-war social aspirations. In the famous collection of essays One Nation, Carr contributed a chapter on industrial relations and the need for reform of the trade unions, unknowingly addressing what was to be the major theme of his political career.
Carr had a good start in Parliament. In 1951 he became Parliamentary Private Secretary to Sir Anthony Eden, then Foreign Secretary. He remained with Eden when the latter succeeded Churchill as Prime Minister in 1955. In the same year he was made Parliamentary Under-Secretary at the Ministry of Labour. During a stint of nearly three years in the post he was confirmed in his view that British industrial relations desperately needed reform, to reduce the power of the union barons and to hand it instead to ordinary workers.
The Conservatives narrowly lost the 1964 general election and the 1966 one more decisively. In 1965 the party had acquired a new leader in Edward Heath and it now faced a long period inopposition, with Heath determined to subject every area of policy and organisation to the most searching review. Heath placed general economic policy in the care of Shadow Chancellor Iain Macleod, and reform of trade-union law in that of Robert Carr.
At the Conservative ResearchDepartment (then a large and powerful organisation) Carr found an intellectual and moral supporter in Stephen Abbott, a researcher who had worked in industry. Abbott was a veteran of the war in Burma, where he had suffered dreadfully in Japanese prison camps. He and Carr set to with a will to draw up a massive and complex document, called Fair Deal at Work which would put flesh on the ideas Carr had sketched out in his earlier years at the Ministry of Labour.
When the Conservatives won the 1970 general election ministers declared they had a mandate for their programme. Carr became Secretary of State in the Department of Employment and Productivity, armed with draft legislation; the unions dismissed the promise of consultation as a farce. The resulting Bill promised to end the closed shop, set up an industrial relations court with powers to intervene in disputes, and introduce a cooling-off period. But the legislation suffered as a result of the unions' non co-operation and the work of the parliamentary draftsmen. Carr lost control as it ran to 160 pages and 163 clauses. He later admitted that it was so sweeping and complex that his advisers had to explain parts to him.
The Industrial Relations Act became law in August 1971. It turned out tobe a disaster. It was supposed toimprove industrial relations andreduce the number of stoppages at work. But in the first full year of its operation more days were lost to strikes than in any year since 1926, the year of theGeneral Strike. The trade unions' power appeared to be greater than ever.Plans to place industrial relations in a legal framework were aborted as trade unions refused to register and employers and unions often formally agreed not to regard collective agreements as legally binding.
The Act became virtually inoperable, and the government set it aside as it sought to combat inflation with the co-operation of trade unions for its wages policy. One of the first steps of the Labour government elected in 1974 was to repeal the hated law. It was Carr's misfortune to experience an earlymanifestation of the organised disruption of law and the Parliamentary process that was to be a feature ofthe decade. The Heath government in 1974 and the Callaghan government in 1979 found their anti-inflation policies openly defied and broken by powerful trade unions.
The Conservative party learnt a lesson. In the 1980s Thatcher's government tackled union power and industrial relations on a legal footing by moving step by careful step. In private she came to think the 1971 measure had been ahead of its time.
Between 1970 and 1972 the government's economic policy also unravelled. Rising inflation and unemployment gave greatly increased influence to trade-union leaders, who blamed all the ills of their members on an (to their minds) Tory anti-union policy. In 1972 Heath decided to reverse all the fiscal and monetary policies on which Macleod had laboured so assiduously: it abandoned free collective bargaining and moved to an incomes policy and began to intervene in industry. This was the moment when Harold Wilson brought the pejorative phrase "U-turn" into British political parlance.
Carr gave a television interviewin which he detailed the major economic mistakes the government had made and apologised to the electorate for them. He saw the new policies – with which he did not disagree – as arepudiation of the terms of the 1970 Conservative manifesto and, unlike any other ministerial colleague, was not afraid to say so.
He was moved in April 1972 to be Lord President and Leader of the House of Commons. But he lasted only a short spell because in July he became Home Secretary, in succession to Reginald Maudling, who resigned. At the Home Office he continued his predecessor's policies and was probably even more liberal. At a time when Enoch Powell had a strong following among Toryactivists for his opposition to immigration, Carr courageously insisted that Britain had a moral obligation to allow Asians expelled from Uganda by the thuggish Idi Amin to enter Britain.In government Heath relied on a group of senior ministers, including LordCarrington, William Whitelaw, James Prior and Carr. Carr gained much praise from officials and colleagues for the calm and unfussy way he chaired Cabinet committees.
The trade unions, notably the National Union of Mineworkers, challenged the Cabinet's incomes policies again and again and, in late 1973, the Prime Minister declared a state of emergency. With the quadrupling of Arab oil prices and the miners working to rule, Britain faced an energy crisis and was on a three-day week. In February 1974 the Heath government went to the country in defence of its anti-inflation policy and lost narrowly. Harold Wilson was back in office Unexpectedly returned to opposition, Conservative MPs were demoralised and beginning to form the opinion that they needed a new leader. But Harold Wilson, leading a minority Labour government, was sure to call another general election soon. Heath invited Carr to be Shadow Chancellor. Carr and his team did not do well in debates against the formidable Labour Chancellor, Denis Healey.
Labour won another general election in October 1974 and Carr retained the economic portfolio, but he doubted he possessed the forensic skill to take on Healey. He sought help, and Heath invited him to name his second in command. Carr chose a bright female barrister whose combative behaviour in Cabinet had impressed him. Heath - who had no fear of Margaret Thatcher, whose name was already being bruited as a challenger for his office - agreed.
Unknowingly, Heath sealed his own fate and Carr, equally unknowingly, gave an opportunity to shine to the woman who was to become such a successful Conservative Prime Minister. In the 1975 Budget debates, Thatcher (a former tax lawyer) assailed Denis Healey and overshadowed Carr. They were an uneasy couple. She offered guarded support to the free market and monetarist views expressed by her close friend Sir Keith Joseph; Carr and Heath were aghast at his views.
Many Conservative backbenchers who wanted shot of Heath, but who had never regarded Thatcher as more than an eccentric candidate of the right, began to look on her with fresh eyes. Somebody who could take on the government with such panache and spirit deserved serious consideration as potential leader and, sure enough, she succeeded Heath shortly thereafter. In the week between the first leadership ballot, when Thatcher defeated Heath (and he promptly resigned as leader), and the second when she won an outright majority, Carr acted as party leader.
When Thatcher formed her first Shadow Cabinet in February 1975 Carr misjudged both his own strength and, perhaps, her opinion of him. Clearly unhappy with the economic brief and the likely changes in the party's economic policy, he pressed for foreign affairs or nothing. She refused and offered nothing. He was finished. He was not a plotter and had no great following on the back benches. She did not relent when Anthony Eden reminded her that Carr had served as his PPS for four years when he had been Foreign Secretary.
Within a few months Robert Carr left frontline politics for the House of Lords. He was not a man temperamentally in sympathy with the new mood in Conservative politics. The qualities of patience, tolerance and reasonableness came across as weakness. His slim build, boyish face and prominent Adam's apple added to the impression. "Robert," Stephen Abbott said, "is truly combative only when playing tennis."
He resumed his interest in business and his social conscience was ever to the fore. He acquired a string of directorships and many of his economicactivities were concerned with insurance and the health care of workers. He became deputy chairman and then chairman of Prudential Assurance, was a member of the advisory board forNorwich Union and served as chairman of Business in the Community. He enjoyed sport, continuing with histennis and becoming president ofSurrey Cricket Club in 1985. He wassustained in all his endeavours by a happy partnership with Joan Twining, a doctor's daughter.
***
In all my 43 years in the Commons, I never encountered a Secretary of State introducing highly contentious legislation who was so courteous and even-tempered towards those who disagreed with him, as Robert Carr, writes Tam Dalyell. During one of his ministerial offices he enjoyed cross-party approval: in 1963 Harold Macmillan, with the strong support for his Foreign Secretary, Sir Alec Douglas Home, created the Department of Technical Co-operation, a parent of Barbara Castle's October 1964 Ministry for Overseas Development.
In January 1964, after returning from my honeymoon in Egypt, at the end of which I had been summoned to see President Nasser in his house on the outskirts of Cairo, I asked for a ministerial interview with Carr about technical co-operation with the Liberation Province development – a model co-operative for agrarian living in the Nile delta. No minister went to more trouble to have himself briefed, and he set in motion sensible departmental action. Self-effacing for a politician, Carr cared about getting things done.
Leonard Robert Carr, politician and businessman: born 11 November 1916; MP (Conservative) for Mitcham 1950-74, for Sutton, Carshalton 1974-76;Parliamentary Private Secretary to the Secretary of State for Foreign Affairs 1951-55, to the Prime Minister 1955;Parliamentary Secretary, Ministry of Labour and National Service 1955-58; Secretary for Technical Co-operation 1963-64; Secretary of State for Employment 1970-72; Lord President of the Council and Leader of the House of Commons 1972; Home Secretary 1972-74;cr. 1975 Baron Carr of Hadley; deputy chairman, Prudential Assurance Co 1979-80, chairman 1980-85; Chairman, Business in the Community 1984-87; President, Surrey County Cricket Club 1985-86; married 1943 Joan Twining (two daughters, and one son deceased); died 17 February 2012.
Join our new commenting forum
Join thought-provoking conversations, follow other Independent readers and see their replies