Lady Wilson of Rievaulx: Poet and wife of former Labour prime minister Harold Wilson
When a magazine offered to pay her £33 for some of her poetry, she was advised by a civil servant that it could be seen as trading on her husband's position, and turned the money down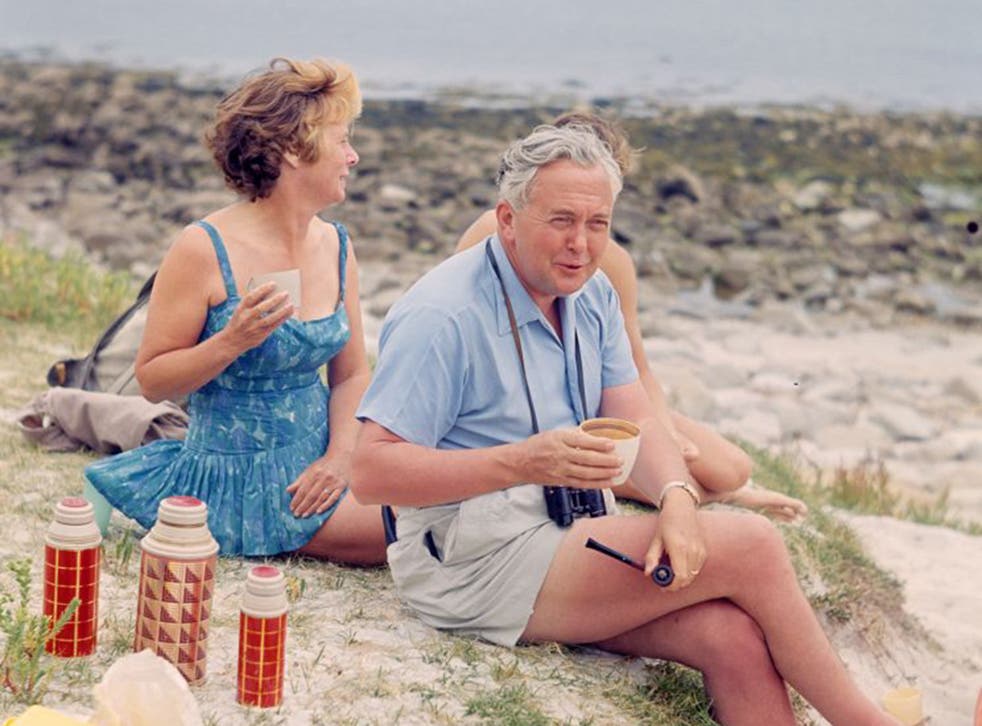 Mary Wilson, who has died aged 102, lived longer than any other former resident of 10 Downing Street. She was one of the most reluctant inhabitants of that famous address, and almost the only published poet to live there.
Being a prime minister's wife was not what she expected when she and Harold Wilson wed on New Year's Day 1940. He had managed the extraordinary achievement of becoming an Oxford don at the age of only 21, and she probably anticipated a long and gentle life in academia. Instead, she had to endure years of relentless public attention, including five general election campaigns in which her husband led Labour against a Conservative Party led by Edward Heath. Since Heath was a bachelor, it might have been thought that there was no need for the Labour leader's wife to be seen on the campaign trail, but Wilson was never one to let slip an electoral advantage.
"The Tories are deliberately leaving [Mary] out of the campaign because Heath has no wife," he told Richard Crossman just before the 1966 election. "It's a positive advantage to us that I and Mary appear together and Heath has nothing. So I would like to see her brought back into the campaign."
For six years from 1964 to 1970, Mary Wilson endured life at 10 Downing Street. She liked the staff there but not the building, and found the constant exposure stressful – not least the experience of being woken at 3am to find a civil servant sitting at the foot of the bed, taking notes. When a magazine offered to pay her £33 for some of her poetry, she was advised by a civil servant that it could be seen as trading on her husband's position, and compliantly turned the money down.
She must therefore have had mixed feelings about Labour's unexpected defeat in the 1970 election – sympathy for her husband, who hated to lose, and relief to be out of Downing Street. When Labour returned to office in 1974, she persuaded Harold not to move back in but to stay in their London flat nearby.
Mary Baldwin was born in Diss, Norfolk, on 12 January 1916, the daughter of Reverend Daniel Baldwin, a Congregationalist minister who brought her up to mark Sunday by going to church twice, while barring her from reading novels. She missed out on university, believing that her parents could not afford the expense, something she said she regretted "all my life".
Instead she left school at 16 to attend a secretarial course, and was working as a shorthand typist in Port Sunlight, on the Wirral, when she first met Harold Wilson at a local tennis club in summer 1934. He was then a clever grammar school boy about to go up to Oxford University. Three years later, he graduated with first-class honours. Towards the end of the war, he was adopted as the Labour candidate in Ormskirk, which Labour had last won in 1929, and he was swept into parliament by the Labour landslide election of 1945.
For the next 38 years, Mary Wilson fulfilled the unwelcome role of a politician's wife, including 13 years as wife of the leader of the Labour Party and eight years married to the prime minister. "Of course I hate it," she once told Barbara Castle. "But then I always have. But I do my job."
A rare consolation was that her public position gave her the chance to meet the future poet laureate John Betjeman in 1967, and they shared a friendship that lasted until his death in 1984, based on their shared love of poetry. While others assumed that Mary Wilson became a published poet – whose first anthology, published in 1970, sold 85,000 copies – solely because she was the prime minister's wife, Betjeman believed she had talent and buttressed her faltering self-confidence.
One of the most painful aspects of life in the public eye must have been the constant speculation about Harold's relationship with his mercurial political secretary, Marcia Williams. In 2003, Wilson's former press secretary, Joe Haines, published a book giving an exact date on which he alleged the relationship had gone beyond purely professional.
The journalist Francis Wheen turned the story into a BBC4 drama in 2006. This had two unexpected outcomes: Lady Falkender – as the former Ms Williams was now known – threatened to sue, whereupon the BBC paid her substantial damages out of court, and Mary Wilson gave a rare newspaper interview to her husband's old colleague Roy Hattersley, to make the point that she and Lady Falkender had been and still were close friends.
Another prolonged and distressing experience was watching her husband's once brilliant mind disintegrate under the effect of Alzheimer's disease after his abrupt resignation in 1976. She nursed him until his death in 1995, then continued to live quietly in her Westminster flat, taking her holidays on Scilly as she and Harold used to do, right through to her tenth decade.
Mary Wilson, poet and Baroness Wilson of Rievaulx, born 12 January 1916, died 6 June 2018
Register for free to continue reading
Registration is a free and easy way to support our truly independent journalism
By registering, you will also enjoy limited access to Premium articles, exclusive newsletters, commenting, and virtual events with our leading journalists
Already have an account? sign in
Register for free to continue reading
Registration is a free and easy way to support our truly independent journalism
By registering, you will also enjoy limited access to Premium articles, exclusive newsletters, commenting, and virtual events with our leading journalists
Already have an account? sign in
Join our new commenting forum
Join thought-provoking conversations, follow other Independent readers and see their replies