The Independent's journalism is supported by our readers. When you purchase through links on our site, we may earn commission.
Max Clifford: Celebrity PR and sexual predator who showed no remorse for abusing his victims
Once a master manipulator of the media who represented the likes of OJ Simpson, his ability with spin proved useless when it came to saving himself from disgrace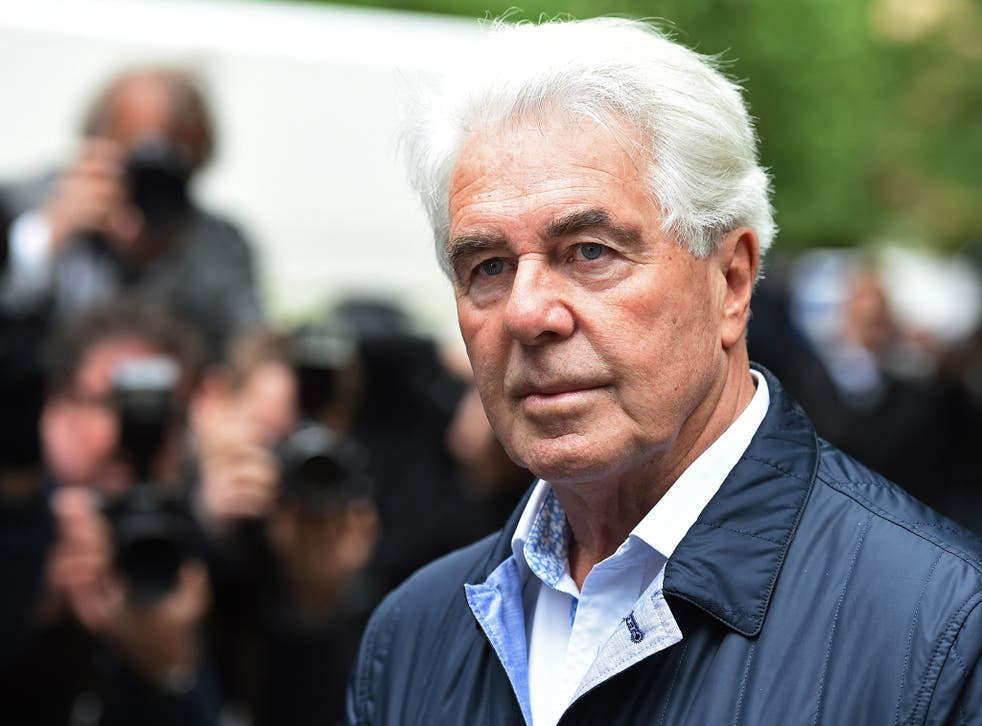 Max Clifford was for decades the most prominent strongman of celebrity PR before being felled by a public relations disaster from which he could not recover, nor even seem to accept.
In 2014, midway through the trial that landed him with an eight-year sentence for abusing women and girls, he stepped out of Southwark Crown Court in south London and spotted Sky News correspondent Tom Parmenter talking to camera. Clifford crept up behind the reporter and started gesticulating. It was not a live broadcast but the footage was eventually aired, Parmenter said, because it was "the clearest evidence of Clifford's disregard for the appalling list of charges he faced".
Clifford took pride in creating false stories to raise his clients' profile. Most famous of all, perhaps, is the one that resulted in The Sun's notorious "Freddie Starr ate my hamster" headline in 1986.
Max Clifford stands behind news presenter talking about his trial
Giving evidence to the Leveson Inquiry into the British press during 2012, Clifford revealed the truth behind the notorious 1986 Sun headline and his conversation with the newspaper's then-editor, Kelvin Mackenzie: "My decision was to say to Kelvin, 'Freddie denies eating a hamster but I'm more than happy for the story to go in because he's about to do a British tour and I think it would be great publicity for him'." Clifford remained unapologetic, insisting that he was merely seeking to boost Starr's career.
"Sex became another sport for me", he wrote in his autobiography. When organising sex parties he would lie to the women attending, saying that he "knew one or two agents who would issue false contracts in return for sexual favours". He was married to Elizabeth Porter from 1967 until her death in 2003, then to Jo Westwood until 2014 but was serially unfaithful to both partners. A sex worker revealed in 2014 that he had chosen the disabled toilet at his office, specially adapted for Clifford's daughter, for their rendezvous.
While seeking publicity for clients was one aspect, much of his work was also keeping the rich and famous out of the press, especially for those threatened with exposés relating to alleged sexual misconduct. He died while serving an eight-year prison sentence for sexually abusing girls and young women.
Clifford was investigated by the Metropolitan Police as part of Operation Yewtree, which looked into allegations of sexual abuse against Jimmy Savile and others. He was arrested in December 2012 and immediately turned his spin machine against what he called "damaging and totally untrue allegations" by his victims, whom he described as "fantasists and opportunists".
Ignoring the harm caused to his victims, he said about the accusations: "On a personal level they are very distressing for myself, my wife, my family and loved ones." But this was a true story of his own crimes from which he would not be able to escape with weasel words. The real evidence, from real victims, was against him.
In April of the following year he was charged with 11 counts of indecent assaults during the period from 1977 to 1984. He was found guilty of eight charges and sentenced at Southwark Crown Court to eight years' imprisonment. The court heard that he was a "master of manipulation" who had promised contact with celebrities and career advancement in exchange for sex.
He received a long sentence due to the severity of the charges and to what the judge described as his "contemptuous attitude" towards the trial and his victims in "laughing and shaking your head in the dock at the accusations made against you".
Clifford was born in Kingston upon Thames, south-west London, in 1943, the youngest of four children of Lilian and Frank Clifford, an electrician. He left school at 15 with no qualifications and had at first worked at a department store before joining the South London Press to train as a journalist. After joining the record company EMI in 1962 he claimed to have promoted the Beatles on their first tour of America.
He followed his former colleague, Syd Gillingham, when he left EMI to establish his own agency and subsequently went out on his own in 1970, forming Max Clifford Associates. A major success for him, documented in his autobiography Read All About It, was in manipulating the story of the sex worker Pamella Bordes, published in the News of the World in 1989 under the headline "Call Girl Works in Commons". "I suppose you could say that I was responsible for introducing the name Pamella Bordes to the English public," he told The Independent three years later.
At its peak Clifford's company had made some £2.5m a year in fees from celebrity clients including Muhammad Ali, Frank Sinatra, Simon Cowell and entrepreneur Theo Paphitis. Max Clifford Associates closed down in 2014 in the wake of his imprisonment.
In 2009, before Clifford's fall from grace, PR Mark Borowski wrote of him in The Independent: "He is an adept distracter who knows how to deliver up a sound bite in an utterly disarming fashion while keeping the media paymaster happy. He's more than aware that one false move, one slip, could lead to a chain reaction that could negate the final payment of the big cheque"
He collapsed at Littlehey Prison, a jail for sex offenders in Cambridgeshire, and died in hospital. His former clients were silent following the news of his death. The journalist Mark Williams-Thomas, who helped to expose Jimmy Savile's crimes, said: "Max Clifford takes many secrets to his grave and got away with many offences he was never prosecuted for. He brought great suffering to many people."
Clifford's crass attempt to disrupt that Sky broadcast was him at the limits of his powers, parodying what he was once a master at: manipulating the media.
He told The Independent in 2006 that he would like his epitaph to be: "Got a lot out and put an awful lot back".
Perhaps what we should remember him for are not only his crimes, but also the fact that he never apologised to his victims. PR was only ever sheen. He was a predator.
Max Clifford, born 6 April 1943, died 10 December 2017
Register for free to continue reading
Registration is a free and easy way to support our truly independent journalism
By registering, you will also enjoy limited access to Premium articles, exclusive newsletters, commenting, and virtual events with our leading journalists
Already have an account? sign in
Register for free to continue reading
Registration is a free and easy way to support our truly independent journalism
By registering, you will also enjoy limited access to Premium articles, exclusive newsletters, commenting, and virtual events with our leading journalists
Already have an account? sign in
Join our new commenting forum
Join thought-provoking conversations, follow other Independent readers and see their replies