Mohammad Qasim Fahim: The first vice-president of Afghanistan, whose career was dogged by allegations of atrocities and corruption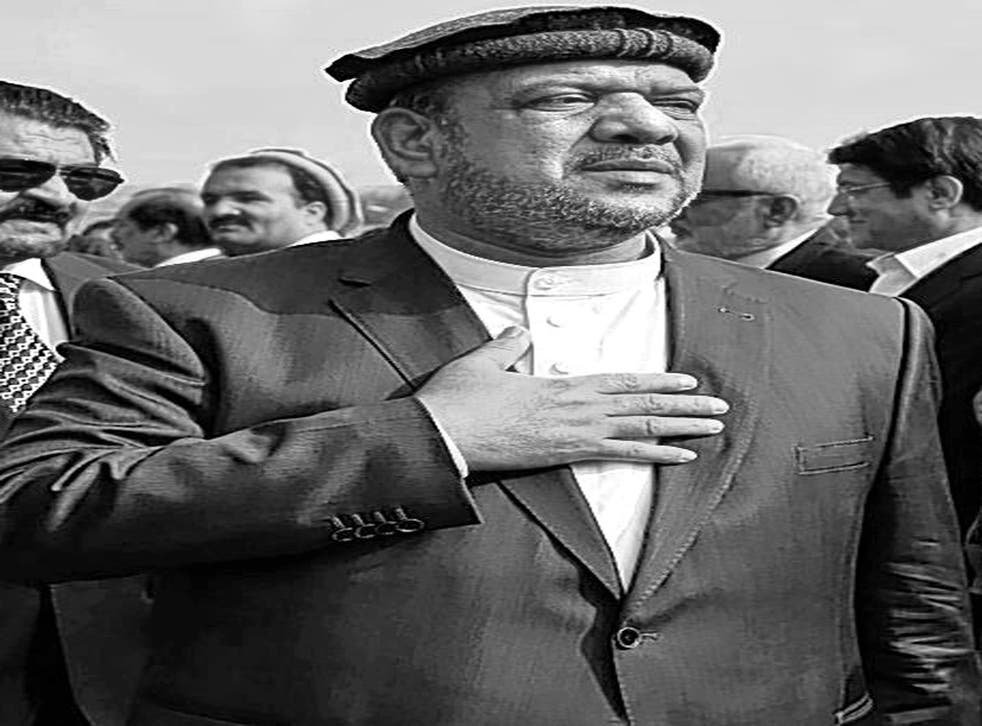 Mohammad Qasim Fahim was Afghanistan's first vice-president, a polarising leader whose political and military career spanned the Soviet War and the American invasion. His death leaves Afghanistan without one of its most controversial figures, who was expected to play an influential role in the country's security establishment and its complicated ethnic politics after the forthcoming US military withdrawal.
Born in 1957, an ethnic Tajik, Fahim gained notoriety as a young commander during the Soviet occupation of the 1980s and then as an anti-Taliban leader in the 1990s, a legacy he would parlay into a formal position of power under President Hamid Karzai. He is thought to have fled to Peshawar after the Communist coup of 1978, returning a year later to become right-hand man to Ahmad Shah Massoud, the charismatic Northern Alliance commander who was killed in an al-Qaida suicide bombing two days before 9/11.
When the pro-Soviet regime in Kabul collapsed in 1992, Fahim was appointed head of the KHAD, Afghanistan's intelligence service, under the interim president Sibghatullah Mojaddedi. He continued to serve under president Burhanuddin Rabbani.
The Pashtun-dominated Taliban seized Kabul in 1996 and ruled from the capital until they were removed five years later by the US-led coalition and its allies in the Northern Alliance, led by Fahim and composed mostly of minorities including ethnic Tajiks, Uzbeks and Hazaras. Fahim was widely accused of marginalising Pashtuns, particularly in the security services, during his tenure as defence minister in the years following the Taliban's collapse. He was bitterly criticised for alleged past atrocities, such as killing civilians by rocketing residential areas and booby-trapping homes, and for his heavy-handedness and allegations of corruption.
Human Rights Watch accused Fahim, as well as several other prominent warlords allied with the US-led coalition, of war crimes when they ruled in Afghanistan in the early 1990s. He was removed from his post as defence minister in 2004. As Afghanistan headed into its first presidential elections that year, Fahim distanced himself from Karzai and threw his support behind his fellow Tajik, Yunus Qanooni. Eventually the two reconciled and Karzai chose Fahim as his first vice-president following the 2009 elections.
While Fahim's battlefield experience inspired respect in many, to others he symbolised a new generation of Afghan warlords who profited immensely from proximity to power and foreign aid. By many accounts, Fahim grew enormously wealthy in the years after 2002, first during his stint as defence minister and then as vice-president.
As he ascended the country's political ranks, Afghans and foreign diplomats alike grumbled that they were empowering a man with a shadowy record. But many recognised that plucking Fahim from power would do more harm than good, potentially upsetting a delicate ethnic balance. In 2002, when aid began flowing to help create a new Afghan army, Fahim was thought to be one of the main beneficiaries. He was long plagued by allegations of drug trafficking and corruption, which many say helped enrich a growing circle of devotees, mostly from his own Tajik ethnicity.
He built large homes and held private games of Buzkashi, the sport in which men on horseback fight for control of a goat carcass. He maintained an enormous security detail, which grew after a Taliban attack targeted his convoy in 2009. Despite the allegations against him he played a crucial role in a multi-ethnic government that, to some degree, helped unite Tajiks and Pashtuns, the country's two principal ethnic groups.
Karzai awarded Fahim the title of "Afghanistan's Marshal" for his role during the various wars. And while many foreign diplomats raised concerns about him privately, Fahim was seen by many as a man who had accrued too much power to be dismissed or marginalised. A United Nations statement described him as "a good and trusted partner of the UN."
It is unclear what role Fahim would have played in the country's imminent presidential elections or the subsequent political transition, but no one doubts that he would have used his political muscle to harness Tajik voters on 5 April to secure his position in the next administration. Many believe he would have supported Abdullah Abdullah, also a former Northern Alliance commander. Because of his following and ethnic clout, Fahim could have been a force for unity or instability, depending on how he instructed his men to behave.
Fahim died after suffering from diabetes and heart problems; the Afghan government called for three days of national mourning.
Mohammad Qasim Fahim, soldier and politician: born Omarz, Panjshir, Afghanistan 1957; died Kabul 9 March 2014.
© The Washington Post
Join our new commenting forum
Join thought-provoking conversations, follow other Independent readers and see their replies