Nancy Wake: SOE operative who fought with the Maquis and became No 1 on the Gestapo's list of most wanted agents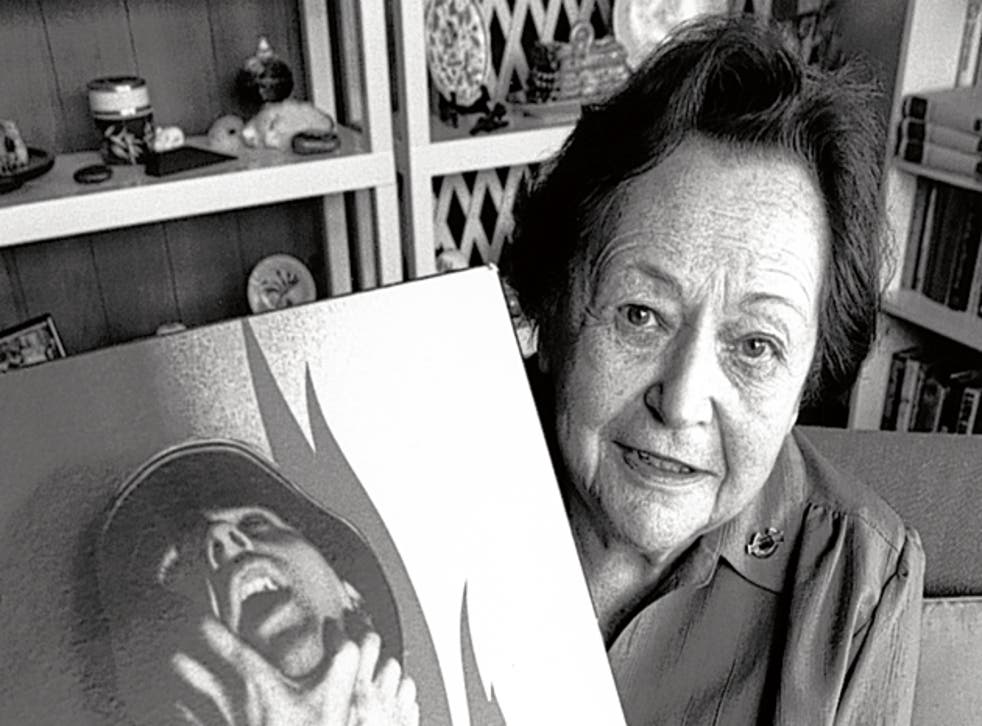 Nancy Wake was the Allies' most decorated servicewoman of the Second World War. At the outbreak of war she was an attractive young woman, married to a wealthy Frenchman in Marseilles, but soon became involved with the Maquis and their sabotage and guerilla warfare, causing havoc for the occupying German army. The Germans made every effort to capture her but failed. By 1943, because of her ability to evade capture, she was code-named "The White Mouse" and listed as No 1 on the Gestapo's most wanted list with a five million franc price on her head. "I hate wars and violence," she said. "But if they come, I don't see why we women should just wave our men goodbye and then knit them balaclavas."
Wake was born in Wellington in New Zealand, where her father was a journalist and she was one of six children. At the age of 20 months her family moved to Sydney, but as she grew older she found the strict religious beliefs of her mother restricting and decided to carve out her own world. She was to recall, "I was a loner, but with a rich imagination". When her father left her mother she was devastated, and later described him as "a bastard. He went to New Zealand to make a movie and never returned, and even sold our house so we were kicked out". She ran away from home at 16 but her fortunes changed when an aunt sent her £200. With this she travelled to London, and later to Paris, where she felt at home among the bohemian atmosphere and worked as a freelance journalist for the Hearst newspaper group.
Amid the rounds of champagne parties she became aware of the rise of Nazism and while in Vienna witnessed Jews strapped to a wooden wheel and rolled through the city while being flogged by stormtroopers. She recalled, "I stood there and thought, 'I don't know what I will do about it, but if I can do anything one day, I'll do it.' Throughout the war, I always had that picture in my mind."
In March 1939 Nancy married the handsome and wealthy industrialist Henri Fiocca. Together this alluring couple had a charmed existence in a sophisticated world of dinner parties, champagne and caviar while living in a luxury apartment overlooking Marseille harbour.
Then, in May 1940, Germany invaded France. Nancy joined the Resistance movement acting as a courier and smuggling vital messages and much needed food to the underground groups in the Marseilles area. Using her husband's wealth she bought an ambulance and used it to ferry the refugees fleeing the advancing Germans. Using false papers she began work in the Vichy zone, helping a number of escaped POWs and aircrew who had bailed out to reach neutral Spain.
Aware that she was being watched and had her phone tapped by the Gestapo, she realised that not only her life was at risk but also those who worked closely with her. She decided to go to London, and said farewell to her husband. She was never to see him again. She made several attempts to get across the Pyrenees in Spain, and was captured on one by Vichy's Milice and robustly interrogated. She held out for four days and, with the aid of her friend Patrick O'Leary, managed to persuade the Milice to release her.
In London she joined the Special Operations Executive (SOE), where she was trained in survival skills, parachuting, codes and the use of the sten gun and silent killing. She also met Violette Szabo and the two became great friends, delighting in teasing their rather stern instructors. One of these they debagged –he later found his trousers hoisted on a flagpole.
With D-Day fast approaching, Wake and Major John Farmer, also of SOE, were parachuted into central France to organise the local Maquis. "Over civilian clothes, silk stockings and high heels I wore overalls, carried a revolver and topped the lot with a camel-haired coat, webbing harness and a tin helmet." The parachute snagged on a tree and she had to be rescued by a Resistance fighter, who told her that he wished all French trees would bear such beautiful fruit. She told him not to give her any of that "French shit".
Wake was soon into action, leading guerrilla attacks which inflicted considerable damage on German troops. But, vital to the campaign, she ensured that her radio operations kept contact with the SOE in London. This contact was broken when the Germans counter-attacked and, fearing capture, her radio operator burned the code books. She realised that she had no option but to cycle from Auverge 250 miles through German-held territory to Montluçon to inform London of the situation. Exhausted after 72 hours of almost non-stop cycling, she said, "when she I got off that damned bike I felt as if I had fire between my legs."
Wake continued to ambush the German convoys and destroy bridges and railway lines, and was involved in the raid on the Gestapo in Montluçon, which she described as "the most exciting sortie I have ever made."
On 25 August 1944 Paris was liberated, and Wake proudly led her troops in the celebrations. However her joy was short-lived, as her worst fears were realised when she learned of the death of her husband. He had been executed by the Gestapo for refusing to give any information about the whereabouts of his wife.
After her dramatic war Wake returned to work with the SOE in London. In 1960 she married John Forward, and together they returned to Australia to live. In 2001, four years after the death of her husband, she returned to England and took up residence at the Stafford Hotel in St James Place, just off Piccadilly.
She had great memories of this place, which had been a British and American Forces Club during the war. Most mornings Nancy could be found on a leather stool, nursing the first of many gin and tonics. She celebrated her 90th birthday there. The cost of her whole stay was paid for by the hotel and her many friends. In 2003 she moved to the Star and Garter retirement home in Richmond Park.
Max Arthur
Nancy Grace Augusta Wake, wartime SOE agent: born Wellington, New Zealand 30 August 1912; George Medal; Companion of the Order of Australia; married 1939 Henri Fiocca (died 1943), 1960 John Forward (died 1997); died Richmond, Surrey 7 August 2011.
Register for free to continue reading
Registration is a free and easy way to support our truly independent journalism
By registering, you will also enjoy limited access to Premium articles, exclusive newsletters, commenting, and virtual events with our leading journalists
Already have an account? sign in
Register for free to continue reading
Registration is a free and easy way to support our truly independent journalism
By registering, you will also enjoy limited access to Premium articles, exclusive newsletters, commenting, and virtual events with our leading journalists
Already have an account? sign in
Join our new commenting forum
Join thought-provoking conversations, follow other Independent readers and see their replies