Rae Woodland: Singer hailed for her performances as Queen of the Night in 'The Magic Flute' at Sadler's Wells and Glyndebourne
Wednesday 15 January 2014 20:00
comments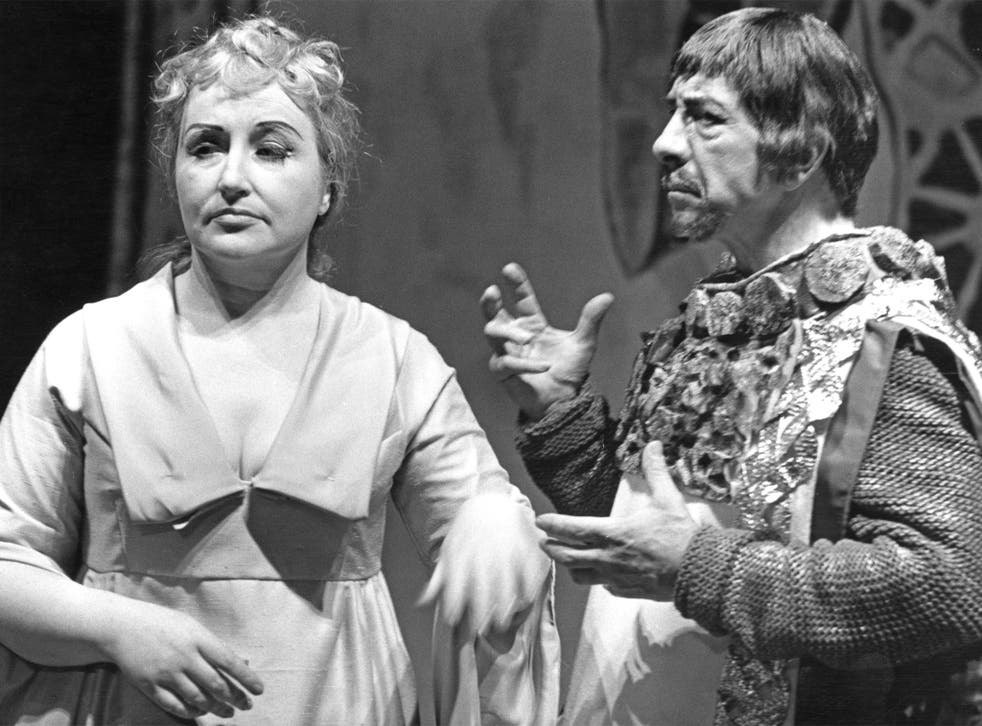 I first heard Rae Woodland at the Nottingham Albert Hall in the mid-1960s when she sang the soprano solos at one of the Nottingham Harmonic Society's annual performances of Handel's Messiah.
But it was in opera that she made her mark, notably at Glyndebourne, affectionately regarded as a home from home. She was a marvellous Queen of the Night in The Magic Flute, singing the role first at Sadler's Wells in 1957, then at Glyndebourne in 1960, and at the Aix-en-Provence Festival in 1961, the latter performances with such international stars of the time as Teresa Stich-Randall (Pamina), Luigi Alva (Tamino) and Erich Kunz (Papageno).
At Sadler's Wells she was, according to the reviewers, "a starry Queen with a voice of authoritative size", and at Glyndebourne "she launched herself into the vocal equivalent of outer space without apparent qualms".
After The Magic Flute at Sadler's Wells came Ariadne on Naxos (Naiad), Mefistofele (Margherita) and I Lombardi (Giselda) – where her "soaring lyrical phrases and thrusting dramatic excellence" were noted. In Idomeneo (Elettra) her assured and musicianly singing and "an appropriately high level of emotional tension" marked her out for great things in the future.
For Scottish Opera she was Konstanze in Mozart's Seraglio, and at Sadler's Wells in 1963 Odabella in Verdi's early Attila. In Macbeth at Glyndebourne for the 1964 Shakespeare quatercentenary she "almost made a leading role of the Gentlewoman", and was Constantia of Navarre in the Handel Opera Society's production of Richard I in 1964. In Sonnambula at Covent Garden the following year her colleagues onstage included Joan Sutherland (for whom she often covered) and a young Luciano Pavarotti.
As Lady Billows in the Scottish Chamber Opera production of Albert Herring in 1966 "she sings the music more truly and musically than anyone since Joan Cross in the first production". The same year, Britten's own English Opera Group toured The Rape of Lucretia with Janet Baker as Lucretia and Woodland as the Female Chorus.
Early in 1967 she sang in Leslie Head's revival, for the Camden Arts Festival, of Donizetti's Marino Faliero – its first outing in England since May 1835!
Nicholas Maw's The Rising of the Moon (1970) gave her, as Lady Eugenie Jowler, "the most marvellous fun I've ever had on stage". It was conducted by Raymond Leppard, while the producer was Colin Graham, who gave his singers a great deal of freedom, in contrast to the deeper but more restrictive Peter Hall, who "wanted it just so". She created the role of Frau Ill in Gottfried von Einem's The Visit of the Old Lady, and Bliss's song cycle Angels of the Mind was written for her.
Rae Woodland was born in West Bridgford, Nottingham, where her parents were in the hotel business. Encouraged by her music master, the legendary Barton Hart, at the Mundella School, after the family moved to Yorkshire she took all the prizes at the Mexborough Festival. The adjudicator, Dr Heathcote Statham, suggested she should get her voice properly trained and recommended the singer Harold Williams. Williams was about to return to his native Australia and instead suggested Roy Henderson, Kathleen Ferrier's teacher, who proved to be an inspired choice. "He was absolutely marvellous", Woodland recalled.
Henderson extended her range, and in due course sent her to Glyndebourne, where she understudied Mattiwilda Dobbs as Queen of the Night and Konstanze, joining the chorus the following year. At their very first meeting, and seeing her potential, "Prof", as his pupils called him, also advised her on appearance and deportment, recommending a visit to Bond Street: "Look at the ladies, how they are walking, how they are dressing, how they do their hair; get some ideas, for I think you are a little bit provincial."
Returning to the north of England, she worked with the Yorkshire Symphony Orchestra and on the BBC, but in 1958 moved permanently to London. At Glyndebourne she worked with the likes of Peter Gellhorn, Martin Isepp, Carl Ebert ("We need to see the eye, the mirror of the soul") and Jani Strasser ("Too loud, dear; too loud!"), as well as star singers such as Sena Jurinac, Sesto Bruscantini and Kim Borg: "It was an eye-opener, really," she said.
After attending one of Lotte Lehmann's master classes in London, Woodland was offered a place at the London Opera School by Joan Cross, further extending her experience, and leading to work with Vilem Tausky and Colin Davis. Davis's performances of The Magic Flute in 1958 were to have been conducted by Beecham, who actually auditioned her, in green silk pyjamas, one Sunday morning at his flat in Harley House.
Towards the end of her singing career Rae Woodland became vocal consultant to the Britten-Pears School; she was an adjudicator for the Kathleen Ferrier Memorial Prize in 1972, won by Linda Esther Gray, and an honorary professor at the Royal Academy of Music.
Always warm and generous in her memories of colleagues and performances, and apparently unaffected by success, she declared that "Sadler's Wells made me, but Glyndebourne put the icing on the cake".
GARRY HUMPHREYS
Dorothea RM Woodland (Rae Woodland), soprano, teacher and adjudicator: born West Bridgford, Nottingham 9 April 1922; married 1950 Denis C Stanley (died 2011); died Ipswich 12 December 2013.
Join our new commenting forum
Join thought-provoking conversations, follow other Independent readers and see their replies