Rudolf Brazda: Last known survivor of the 'Pink Triangle' gay inmates of Nazi concentration camps
Tuesday 09 August 2011 00:00 BST
Comments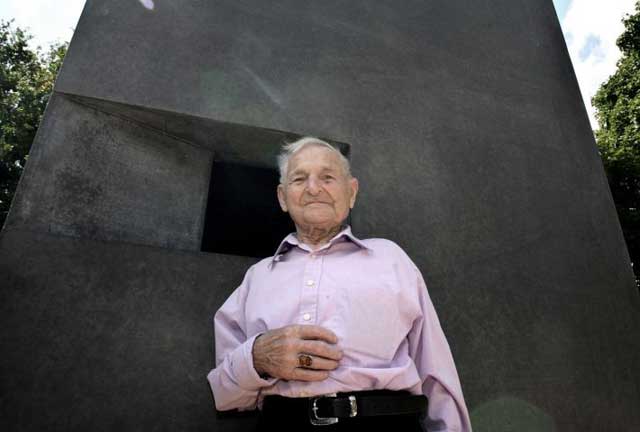 Rudolf Brazda was the last known survivor of the "Pink Triangles," the many thousands of German and other European homosexuals sent to Nazi concentration camps where a triangle of pink cloth on their uniforms distinguished them from Jews, Gypsies, Jehovah's Witnesses, disabled and other inmates.
Hitler considered homosexuals "infectious" and sought to isolate or exterminate them to ensure his pure German master race. Most of what the Nazis called "die Rosa-Winkel" (the Pink Triangles), died – possibly up to 15,000 of them – either from exhaustion or starvation in the camps or on long marches led by the Nazi SS as allied forces closed in.
Their long-ignored story finally gained recognition almost 25 years after the end of the Second World War – first through Martin Sherman's play Bent, which opened at the Royal Court in London on 3 May 1979 with IanMcKellen playing the camp inmate Max. Clive Owen and Mick Jagger, with McKellen in a different role, starred in the film version in 1997. And in 2000, the award-winning US documentary Paragraph 175 appeared, its title referring to the paragraph banning sodomy in the 19th century German penal code.
Brazda, the son of Czech immigrants to Germany, spent 32 months in the Buchenwald camp in central Germany before he was freed by American forces on 11 April 1945. Although homosexuals were only a fraction of the number of Jews in Buchenwald, they were often picked out for particularly harsh treatment by SS guards, and also faced homophobia from other inmates. Some were castrated in medical experiments aimed at making them "normal."
Brazda was badly beaten by SS guards, once having three teeth knocked out, and once told he was about to be executed. But he reckoned he survived because of two SS guards who helped him. One, possibly himself gay, "who became a little infatuated with me," got Brazda off hard-labour quarry duty and eventually got him extra food rations withheld from Jewish inmates. In late March 1945, as the allies closed in, another SS officer hid him in the camp's pig shed so that he wouldn't be taken on a forced march. "I lay there with the pigs for 14 days until the Americans came," he said in his memoirs. "After that I was a free man. Others died, but I came through."
Brazda spent the rest of his life quietly in Mulhouse, Alsace, on the French side of the border, along with his partner Edouard "Edi" Mayer, with whom he lived for 50 years until Mayer died in 2003. It was only three years ago, when Brazda was 95, that he saw a television report from Germany saying there were no more Pink Triangles alive but that a memorial was being unveiled in Berlin to commemorate them. Through friends, he made himself known to Berlin's gay mayor Klaus Wowereit, who invited him to the city to lay a flower at the memorial.
Brazda had been openly homosexual during the 1930s, the anarchic, bohemian days portrayed in the movie Cabaret as the Weimar Republic gave way to the thump of Nazi jackboots. The youngest of eight children of immigrants from Bohemia, he was born in June 1913 in the hamlet of Brossen in Germany's central state of Thuringia. He was brought up in the nearby town of Meuselwitz and his father, a coal miner, died when he was nine. A sensitive child, he was upset at not getting a job as an assistant in a local men's clothes store and found himself working instead as a roofer with less sensitive colleagues.
Moving to the bright lights of Leipzig when he was 20, he had his first gay relationship, with a young man, Werner, whom he had met at a dance. They shared a room let by a landlady who was a Jehovah's Witness and who herself later disappeared. Brazda's mother, long aware that he was gay, blessed them with an informal "marriage" ceremony, a family procedure not unusual at the time but about to be crushed by the Nazis.
During their rise in the 1930s, the Nazis expanded Paragraph 175 to make homosexual acts a felony and began raiding gay bars in Berlin, Leipzig and other cities. Brazda was arrested in 1937 and jailed for six months for "unnatural lewdness and debauchery." After being deported to Czechoslovakia – he had citizenship from his parents – he was again arrested by the Nazi occupiers in 1941 and spent a further six months in prison. In August the following year, during a Nazi purge, he was put on a train to Buchenwald, given the inmate No 7952 and a pink triangular patch for his uniform. He found out that Jehovah's Witnesses wore a purple triangle, Gypsies brown, political prisoners red and Jews yellow with a Star of David.
After Brazda's death was announced on the Pink News website, one reader commented: "I have a pink triangle tattooed onto the inside of my left wrist. I had it done to remind me of those who have gone before, and suffered for being who they are. It is my 'poppy.'" Last year, Brazda published a book relating his experiences, Itinéraire d'un Triangle Rose (Journey of a Pink Triangle). In April this year, France appointed him a Knight of the Legion of Honour for promoting awareness of the Nazi deportation of homosexuals, some of whom were Frenchmen in German-occupied France.
PHIL DAVISON
Rudolf Brazda, concentration camp survivor: born Brossen, Germany 26 June 1913; died Bantzentheim, Alsace, France 3 August 2011.
Join our commenting forum
Join thought-provoking conversations, follow other Independent readers and see their replies