Sheila Mercier: Actor who found TV fame as the matriarch Annie Sugden in Emmerdale
She enjoyed a long stage career in farces with her brother Brian Rix's Whitehall Theatre company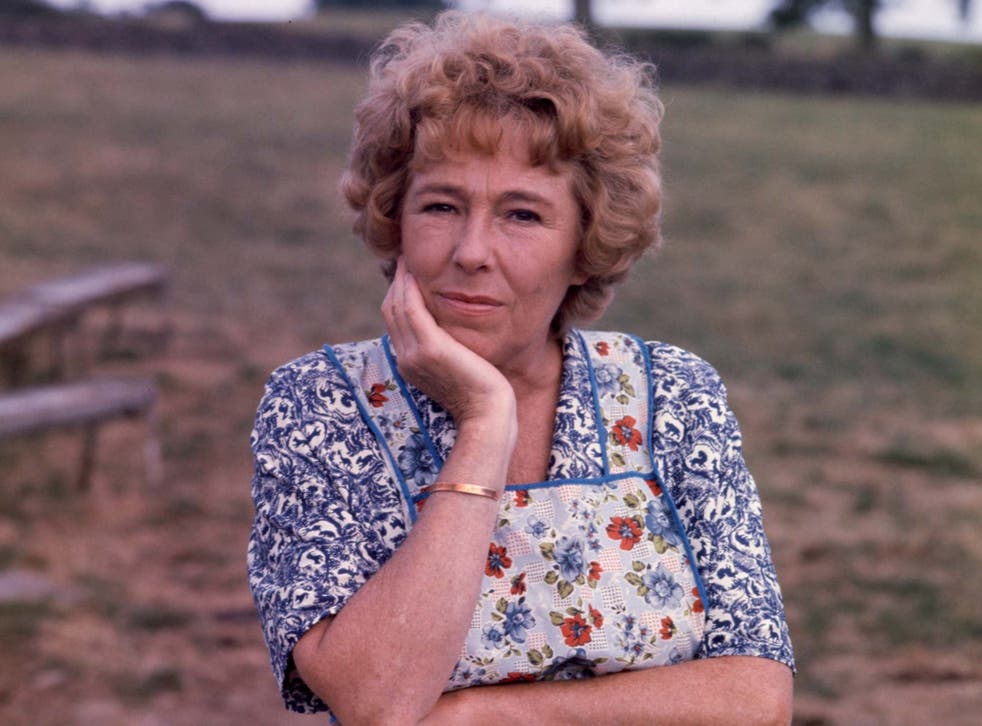 Sheila Mercier, who has died aged 100, will be best remembered as Annie Sugden, the matriarchal figure who presided over the television soap Emmerdale for more than 20 years. Annie was the calming influence on her family, dispensing wise advice to them and other villagers.
For Mercier, the screen role came after spending most of her career on stage, most notably in younger brother Brian (later Lord) Rix's farces at the Whitehall Theatre during the 1950s and 1960s.
In 1972, she was chosen to play the pivotal character of Annie when the ITV serial, created by the playwright Kevin Laffan, was launched as Emmerdale Farm. Annie was first seen coping with a rundown Yorkshire farm and her battling her sons following the death of her husband, who had drunk away the farm's profits in the Woolpack pub.
The actor's only regular TV role brought Mercier new challenges. "I had done a lot of television from the stage of the Whitehall, but very little else before joining Emmerdale Farm," she explained when collaborating with me on her 1994 autobiography, Annie's Song: My Life & Emmerdale. "I remember, at first, playing to the Gods! Tristan de Vere Cole, one of the first directors on the programme, told me to 'take it down' until it was so low I was almost muttering. Then, Gordon Flemyng – another of the directors – played back to me a scene I did so that I could see what I had done wrong."
When the programme celebrated its 1,000th episode, in 1985, Mercier was a "victim" of Eamonn Andrews on This Is Your Life.
In her seventies, the actor cut down her appearances in the serial, until she finished as a regular cast member in 1994. She made a handful of guest appearances up until 2009.
Mercier was born Sheila Betty Rix in Hull, East Yorkshire, in 1919 to Fanny (nee Nicholson), an actor who performed in a local operatic society, and Herbert Rix, one of the shipping magnate brothers whose vessels once transported the flour of J Arthur Rank, father of the film mogul.
She had a privileged upbringing, with two maids, a gardener, a governess, a nanny and a washerwoman. When she displayed a talent herself for acting, she took part in school plays and performed in her mother's concert party, Mrs Fanny Rix and Her Bright Young Things.
On leaving Hunmanby Hall School, she decided on acting as a career and trained at the newly opened Stratford-upon-Avon College of Drama under Randle Ayrton, widely considered to be the greatest King Lear of his generation.
While playing Adriana in The Comedy of Errors there, she was spotted by the great actor-manager Sir Donald Wolfit, who gave her a walk-on part in his production of Cyrano de Bergerac at the Shakespeare Memorial Theatre, Stratford-upon-Avon.
After making her repertory theatre debut at the Grand Theatre, Hull, in 1939, she was invited to join the Donald Wolfit Shakespeare Company on a tour at the start of the Second World War, taking small roles and understudying other actors in Hamlet, Othello, The Merchant of Venice, Twelfth Night, The Taming of the Shrew and Julius Caesar.
Deciding to contribute to the war effort, she joined the Women's Auxiliary Air Force and had various postings in England and Scotland. On leaving the WAAF in 1946, she joined Reunion Theatre, a London company of ex-services actors. She made her television debut in Exercise Bowler (1946), adapted from a stage play.
She subsequently toured post-war Germany in the production, entertaining British troops, and in 1947 toured Britain as Mrs Ginnocci with the legendary Arthur Lucan and Kitty McShane in their Old Mother Riley and Her Daughter Kitty variety act, before rep runs in Warrington (1947), Bexhill and Tonbridge (both 1948).
Her brother was by then starting a career as an actor-manager and she joined him for seasons in Ilkley (1948) and Bridlington (1949-50). When he formed a second repertory company in Margate in 1949, she travelled south to become one of its founder members.
After marrying actor Peter Mercier in 1951, she spent two seasons with him at the Theatre Royal, Huddersfield. Her husband acted in Brian Rix's first Whitehall Theatre production, the phenomenally successful Reluctant Heroes, then she acted in the next of her brother's non-stop run of farces, writer John Chapman's Dry Rot (1956-8).
She became a permanent fixture in the company and changed her professional name to Mercier, subsequently performing in Chapman's Simple Spymen (1958-61), Ray Cooney and Tony Hilton's One for the Pot (1961-64), Cooney's Chase Me, Comrade! (1964-6), Stand By Your Bedouin (1967) and Uproar in the House (1967).
Mercier also appeared in one-off television productions with the Whitehall Theatre company, as well as two series, Dial Rix (1962) and Six of Rix (1972), and two films, The Night We Dropped a Clanger (1959) and The Night We Got the Bird (1960).
She was predeceased by her husband in 1993 and their son, Nigel, a television sound engineer and video editor, in 2017. She revealed in her autobiography that she also had a daughter, Janet (born Karen Mary Rix), who was given away for adoption after she suffered the ordeal of being raped on the night before her 21st birthday. Janet survives her.
Sheila Mercier, actor, born 1 January 1919, died 4 December 2019
Register for free to continue reading
Registration is a free and easy way to support our truly independent journalism
By registering, you will also enjoy limited access to Premium articles, exclusive newsletters, commenting, and virtual events with our leading journalists
Already have an account? sign in
Register for free to continue reading
Registration is a free and easy way to support our truly independent journalism
By registering, you will also enjoy limited access to Premium articles, exclusive newsletters, commenting, and virtual events with our leading journalists
Already have an account? sign in
Join our new commenting forum
Join thought-provoking conversations, follow other Independent readers and see their replies