Shulamit Aloni: Politician who championed human rights and was fiercely critical of Israel's treatment of Palestine
Wednesday 29 January 2014 21:30
comments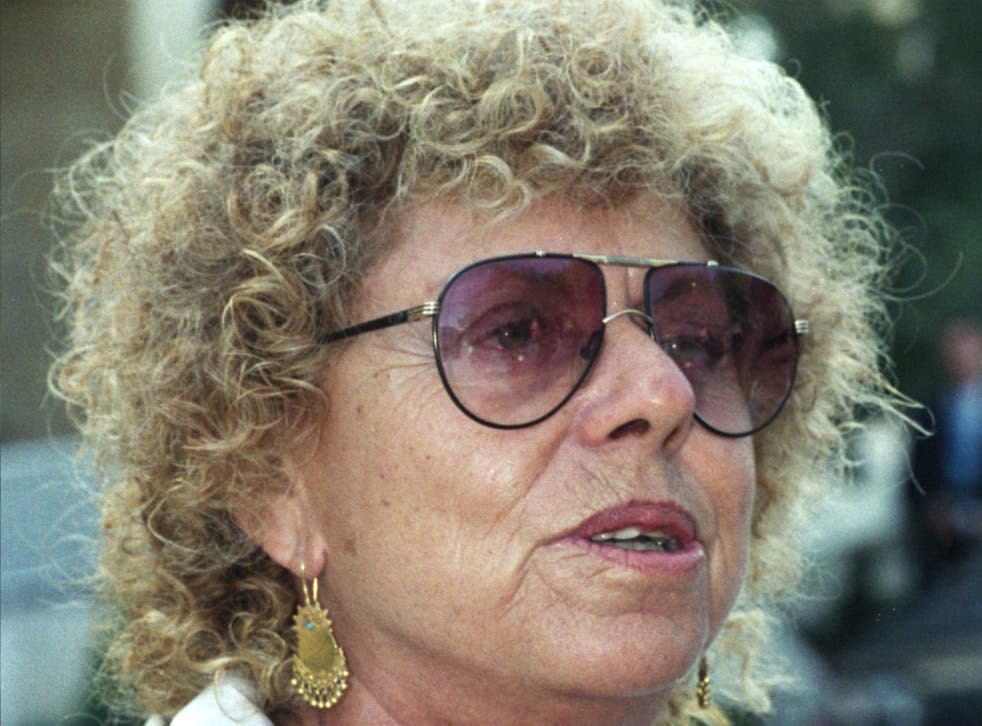 Shulamit Aloni was a legislator who championed civil rights and was fiercely critical of her country's treatment of Palestinian. Born in Tel Aviv between the wars, she was descended from Polish Jewish rabbinical families. Her life, as a fighter for equality and human rights, and her failure to change Israel's materialistic and paternalistc attitudes, closely reflect the troubled history of the Jewish state.
As a Sabra (Israeli-born Jew) typical of her time, she was named after the fruit of the prickly pear cactus – barbed on the outside but sweet, if gritty, inside. Her mother was a seamstress, her father a carpenter, and she chose a socialist Zionist youth movement as a teenager; her parents had volunteered to serve in the British Army during the Second World War.
She was 20 when the Jewish state was declared and she joined its military arm, the Palmach, which became the Israeli Defence Force. During the 1948 Arab–Israeli War she was involved in battles with the Jordanian Legion for the Old City of Jerusalem. The struggle was lost, and she was captured, but she came to no harm. After the war she became involved in teaching and assimilating Jewish immigrant forces while studying law.
In 1959 Aloni joined the Israeli Worker's Party (Mapai). In 1965 she was elected to the Knesset and founded the Israel Consumers Council, which she chaired for four years. In 1973 she established the Citizens Rights Movement, a party which advocated electoral reform, separation of religion and state and concern for human rights. In that year's elections, under Israel's "Party List" proportional representation system, which allows no direct accountability between electors and members, they won three seats out of 120.
Following the Six-Day War and the illegal occupation of the West Bank and Gaza, Aloni attempted to create a dialogue with Palestinians in the hope of achieving a lasting peace settlement. In the run-up to the 1984 elections she joined with Peace Now and what remained of the Left Camp in Israel, but won only five seats. In 1992 she formed the Meretz party, which won 12 seats under her leadership in that year's elections. She became Minister of Education under Yitzhak Rabin but was forced to resign after a year due to her outspoken statements on matters of religion. In 1996 she retired from party politics but remained politically active.
The writer Gideon Levy, who knew her well, summed her up as "The first lady of the remains of Israel's liberalism and openness". In contrast to Ariel Sharon, he said, "She took part in shaping the state, but was one of the few figures in its history to do so other than by means of rivers of blood. Not a celebrated general with a chestful of medals, not the 'exterminator of terror', neither conqueror nor settler, yet still an Israeli hero – a civilian hero, for a change.
"She was one of the most humble, least egotistic politicians I have known. At a time when most of her colleagues ... worried about their reputations and receiving proper credit, Aloni cared only about the issues themselves. She said what she thought and she thought what she said."
MIRA BAR-HILLEL
Shulamit Adler, politician: born Tel Aviv 29 November 1928; married 1952 Reuven Aloni (three sons); died 24 January 2014.
Join our new commenting forum
Join thought-provoking conversations, follow other Independent readers and see their replies