Sir Elihu Lauterpacht: A life dedicated to justice and international law
Sir Elihu Lauterpacht lived an extraordinary life as a lawyer and teacher who inspired students to see international law as a calling – not simply a job to be done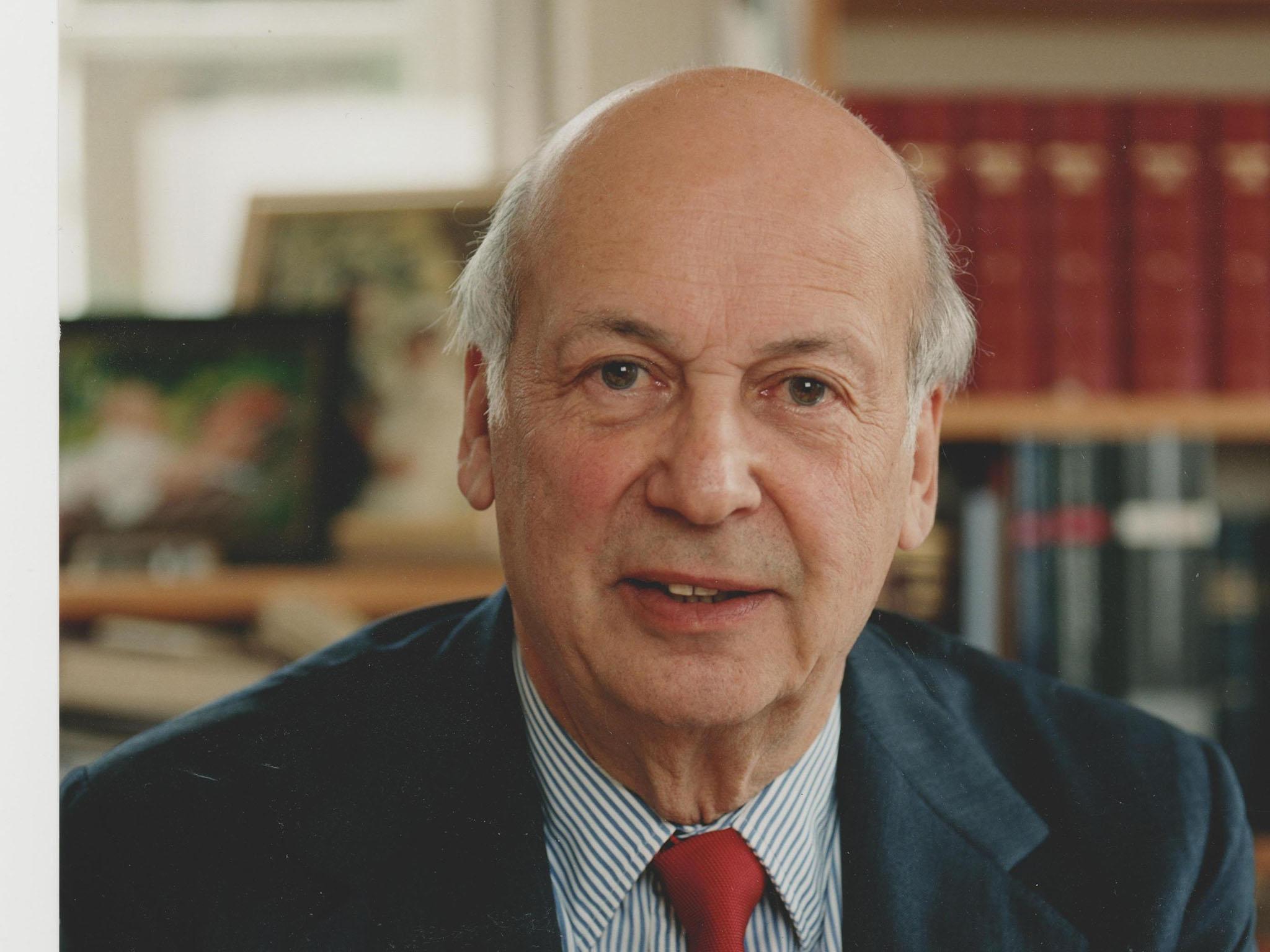 There was a rending of garments in the close-knit community of public international lawyers at the passing of Elihu Lauterpacht – or, Sir Eli, as he was affectionately known to so many. His was a life well lived, surrounded and embraced by, and embracing of, family and friends and professional colleagues, and even passing acquaintances. Chance meetings led to life long friendships, and there are few in the community of international law whose lives he did not touch and enrich.
Elihu Lauterpacht was born in Cricklewood, London on 13 July 1928 to Rachel Steinberg and Hersch Lauterpacht, she from Palestine, from a small community just outside Jerusalem, he from Lvov, by way of Vienna. She was a pianist. He was to become one of the foremost international lawyers of his generation, Whewell Professor in Cambridge and later Judge of the International Court of Justice in The Hague. This silver spoon was credited by many as the font of Sir Eli's own remarkable generosity, as he grew up in a world that he was later to inhabit professionally and in which he became so influential.
His early years were spent in London, attending the Hall School for boys. The family later moved to Cambridge but, when war intervened, the young Sir Eli was packed off to school in Andover, Massachusetts, while Hersch, with Rachel alongside, worked in support of the war effort, assisting in the crafting of Lend-Lease and other arrangements to facilitate US support of Britain in its darkest hour.
With the end of the War, Sir Eli returned to the UK, first to Harrow and then as an undergraduate to Trinity College, Cambridge, initially in history, later switching to law in which he went on to obtain a first-class degree in 1949, followed by a first in the LLB, now LLM, specialising in international law in 1950. He was called to the bar at Gray's Inn that same year and became a member of chambers at 3 Essex Court alongside his father and Arnold (later Baron) McNair.
Sir Eli's practice at the Bar in the years that followed reads like a chronicle of the development of public international law as an applied discipline alongside other areas of law in which a young practitioner might hope to forge a professional life. What was perceived by many as an academic subject at the time of Sir Eli's call to the Bar went on to become a thriving area of practice, between and against States, international organisations and corporations, and individuals seeking to hold them to account. This emergence of the subject from the halls of academia to courtrooms and boardrooms and corridors of power is in no small measure due to the acuity and creativity of mind that Sir Eli brought to the subject.
Sir Eli was probably most at home in the International Court of Justice in The Hague, with which he first became familiar as a boy alongside his father. As counsel, he went on to play a leading role in many of the seminal cases of the Court over more than 60 years, from behind the scenes assistance in the Nottebohm case between Liechtenstein and Guatemala in the early 1950s to the Certain Documents case between Timor Leste and Australia in 2013.
Throughout this period, Sir Eli taught international law, first at the London School of Economics and subsequently in Cambridge as a fellow of Trinity College. In this role he brought to the lecture room a smell of gunpowder on his clothes, a phrase not used of Sir Eli at the time but one that captures his essence as a teacher, infused with the real worldness of the subject he was teaching. The students loved it and many went on to seek out careers in international law enthused by the possibility that they too could dip their toes into such waters. It was Sir Eli's gift to his students that they saw international law as a calling, not simply as a job to be done.
In 1975, Sir Eli took a break from teaching and practice to become Legal Adviser of the Australian Department of Foreign Affairs, a post he held for three years and in which he played an important role in the negotiations that led to the conclusion of the UN Convention on the Law of the Sea.
Alongside his teaching and work as a practitioner, Sir Eli was also instrumental in forging new avenues of legal scholarship. As a Consultant on International Law on the UK Central Policy Review Staff from 1972 to 1975, he was instrumental in the collection of British Practice in International Law, an annual review that persists to this day as part of the British Yearbook of International Law. At an early stage, he took over the editorship of the Annual Digest of International Law Cases, later to become the International Law Reports, which had as its guiding philosophy the collection and publication of judicial decisions on questions of international law from national and international courts with the view to making the subject both more visible and more universal. Sir Eli went on, subsequently, to found his own publishing imprint, Grotius Publications, later acquired by Cambridge University Press, which was path-breaking in providing a publication avenue for up and coming young scholars.
Sir Eli's enduring intellectual guide remained his father, whose collected works he edited and published in five volumes and a biography of whom opened a vision into an extraordinary life. In a continuing act of filial piety, Sir Eli arranged an annual series of lectures in Cambridge, named the Hersch Lauterpacht Memorial Lectures, in which a speaker of note was invited to deliver a series of lectures, later to be published as a book, on some topic of international law. In November 1990, thirty years after his father's death, Sir Eli delivered the lectures under the title Aspects of the Administration of International Justice, subsequently published in a well-received volume the following year. It is to be hoped that the lecture series will continue, now as much in honour of the son as of the father.
Mention must also be made of Sir Eli's enduring connection and commitment to Israel. Raised in a Jewish household, with a mother from Mandatory Palestine and a father who had a hand in the early drafting of the Israeli declaration of independence. Sir Eli retained strong family and professional ties with the country. In 1968, he published a short book entitled Jerusalem and the Holy Places. In the early 1990s, he was called upon by the then Prime Minister, Yitzhak Rabin, to advise on aspects of the peace negotiations with Jordan, an engagement he embraced with a passion appropriate to its historic endeavour. His creativity in the search for just solutions is evident in the peace agreement that followed.
Amongst many lasting achievements, Sir Eli's most enduring legacy is likely to be the creation of the Research Centre for International Law in Cambridge, later renamed the Lauterpacht Centre for International Law and incorporated into the Cambridge University Faculty of Law. It is the intellectual home, and more, for scholars and students of international law in Cambridge, both resident and visitors. Its creation and nurturing by Sir Eli, from its infancy to its present position of fixture in the intellectual firmament of international law life in Cambridge, holds the promise to be as enduring a legacy to academic enquiry as the establishment of the first Cambridge colleges hundreds of years ago.
Sir Eli was appointed Queen's Counsel in 1970 and became a Bencher of Gray's Inn in 1983. He was appointed Commander of the Order of the British Empire (CBE) in 1989 and knighted for services to international law in 1998.
For all its colour, this focus on Sir Eli's professional life paints only half a picture. In 1955, Sir Eli married Judith Maria Hettinger, with whom he had three children, Deborah, Gabriel and Michael. Following Judith's untimely death in 1970, Sir Eli married Catherine Daly in 1973, with whom he had a son, Conan, and with whom, until cut short, there followed a lifetime of enduring warmth, commitment and co-conspiracy. For the many who made their way to Cambridge to visit Cathy and Eli, and enjoy their generosity and hospitality around the warmth of an aga-heated kitchen table, the memories will be prized and enduring. Above all else, there was humanity!
A wonderful series of seven interviews with Cambridge Law Librarian, Lesley Dingle, in 2008, available online in both audio and print format, captures a remarkable life.
Eli Lauterpacht, lawyer and mensch; born 13 July 1928; died 8 February, 2017
Join our commenting forum
Join thought-provoking conversations, follow other Independent readers and see their replies