Tom Lubbock: Passionate and erudite chief art critic for 'The Independent' and 'The Independent on Sunday'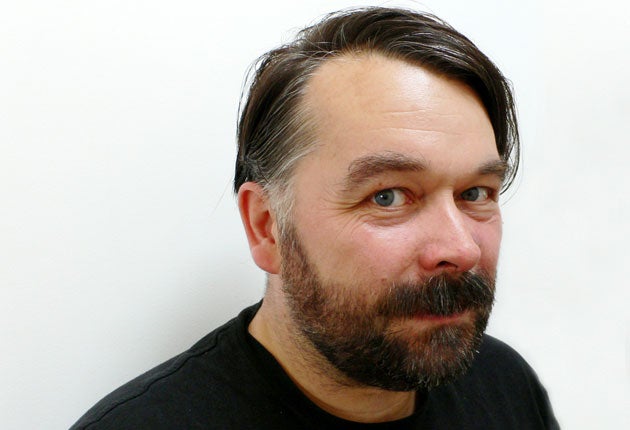 It is the habit of art critics to review from the inside out, starting with the object and adding bits of history and context to suggest a kind of omniscience.
It was the particular genius of Tom Lubbock to do none of those things. Lubbock, who was this paper's chief art critic for 13 years and a contributor for five before that, and who has died of a brain tumour at the age of 53, reviewed from the outside in, starting with his response to a work or show and tracking it back through his writing. This weekly hunt might involve all kinds of things – Lubbock's vast art-historical knowledge, references to his girth, exasperation, contemporary politics, electric toasters – but it never took the obvious path.
Art and art criticism were, for Lubbock, parallel ways of explaining the world and his place in it. There was no room in his reviewing for affectation or glibness, no platitudes or easy answers. What there was was plain speaking, thinking aloud. To read Lubbock was to stand next to him, furrowing your joint brows over how and why art does what it does. Typical, insofar as the word can be used of so quirky a writer, was his take on Francis Bacon.
"I don't deny," Lubbock wrote, as though the reader had suggested he might, "that [Bacon's] people are sometimes in a terrible mess," adding a thesaurus of verbs to describe that state: "The flesh slips, slurps, smears, flares, blurs, fades, evaporates, abruptly dematerialises."
This is not showing off. Lubbock had read philosophy at Cambridge, and each word on his list recalls a precise effect of Bacon's paint. When the "eureka" moment comes, it is as clear a source of pleasure to the critic as to his reader: "All this 'damage' is in fact animating. There isn't a corpse anywhere in Bacon's work" – a truth it takes Lubbock's careful eye to see.
Humane rather than self-indulgent, his reviews often came close to confession: "Clumsiness," he observed of Stanley Spencer, "is an essential component of love." Where critics tend to write as superiors, Lubbock wrote as an equal. His Details competition in The Independent on Sunday, a mainstay of the paper for 18 years, started from the flattering assumption that readers were as art-literate as he was.
This made the man himself something of a surprise. While Lubbock's criticism was unusually companionable, his manner, especially when young, could be bearish. Even as a dungaree-wearing undergraduate, he was daunting. Colleagues on Cambridge's university weekly, Broadsheet (where Lubbock's cartoons had a clever cult following), recall the terseness of his comment as well as the brilliance of his mind. Both followed him into later life.
The art critic of a rival paper once remarked on Lubbock's habit of addressing conversation to a point in the air a foot to the side of her head. Turning tart blue eyes on her, he said, "I already know your face," and carried on talking into space. Arriving at the Old Street offices of this newspaper in its early days, Lubbock found a colleague's baby in a carrycot on the floor between their desks. With the air of one surprised by a cobra, he growled, "Will someone remove this... child from my path?" The child was swiftly removed.
This ogreish side was softened by his marriage, in 2001, to the artist Marion Coutts. A formidable intellect in her own right, Coutts allowed Lubbock to be more like himself. In spite of its privileges – Eton, Corpus – his had been a sometimes shaky childhood. The Wolvis Family, Lubbock's mock-documentary of familial group therapy, shown on BBC2 in 1991 and described by a critic as "morbidly amusing", was drawn, at least in part, from life. Lubbock's closeness to Coutts fostered a gentler mood, although managing the transformation took patience on her part. At his insistence, the pair maintained separate flats for a number of years after their marriage – an event Lubbock celebrated with one of the 200-odd photo-collages he made for this newspaper between 1999 and 2004. Called Wed, it showed a pair of gravestones sprinkled with confetti.
In 2007, the couple's son, Eugene, was born and Lubbock, chuckling, grew positively affable. Humour and a taste for mischief, much valued by friends and readers, had always been a part of his make-up; now they were allowed to show through. A year later, Lubbock was diagnosed with the brain tumour that killed him.
Given his brilliance, it seemed particularly poignant that his illness should be cerebral. Saddest of all, in one for whom words were instruments of precision, was the loss of language which dogged his disease. Typically, this was rather a source of interest to Lubbock than of dismay. Sitting at his kitchen table, he mused over the likely outcome of his cancer: consciousness with the words to express it; consciousness without language; or no consciousness at all. In the event, it was the second of these that marked the last months of his life, although the slow ebbing away of speech came with surprising results.
Effectively wordless, Lubbock remained insistently Lubbock. His first instinct was to analyse what was happening to him, which he did, movingly and elegantly, in an essay called "When Words Failed Me". ("This life is unbelievable," he wrote. "At moments, it is terrible and outrageous. But in other ways I accept what it brings, in its strangeness and newness.")
By the end, two phrases were left to him: "Exactly!" pronounced with a familiar sky-rocketing of the eyebrows, and a doubtful "Well, yes," which often meant, as it always had, "Well, no."
The other revelation was the posse of visitors which came in seamless relays to his bed, first at Guy's and then at the Trinity Hospice in Clapham. At any time, there might be neighbours from the Lubbocks' street in Brixton, a fellow of All Souls, Eugene's ex-babysitter, gallerists and curators, colleagues' children, a friend of 30 years who had flown from New York to sit with him; always, tirelessly, Marion. Conversation flowed, as Lubbock insisted, wordlessly, that he didn't want his visitors constrained to be what he had dubbed "sympathy-monsters".
Most telling of all was the stream of artists to his bedside. While critics are not always loved by the subjects of their reviews, Lubbock genuinely was. What, in his youth, had been mistakeable for grumpiness was in reality an insistence on the truth. Artists such as the Turner Prize-winner, Mark Wallinger, valued Lubbock's honesty as much as his acuity, seeing in it a determination to engage in the serious business of making art.
It was a source of honour to both men that the show of Lubbock's collages at the Victoria Miro gallery in early December should be reviewed in this paper by Wallinger. In an apposite turning of the tables, the artist was as clear-headed in his appreciation of Lubbock's work as the critic had been of his. Wed, Wallinger pointed out, had not been meant to mourn the end of Lubbock's bachelor life but to celebrate the endlessness of his marriage. Citing Philip Larkin's "An Arundel Tomb", Wallinger decoded the work's message: "What will survive of us is love."
He was not the only artist to feel this affection. Hanging in Lubbock's various sick rooms was a sign, made for him by Patrick Brill, better known as the notional duo, Bob and Roberta Smith. This artistic get-well card summed up the feelings of the dying man's many friends, of readers of The Independent and Independent on Sunday and of the author of this obituary. Hand-painted in the Smiths' trademark block capitals, the sign read: I BELIEVE IN TOM LUBBOCK.
Tom Lubbock, critic and illustrator; born 28 December 1957; contributor to The Independent from 1992 ; chief art critic from 1997; married Marion Coutts, 2001; one son, b. 2007; died London 9 January 2011.
Join our commenting forum
Join thought-provoking conversations, follow other Independent readers and see their replies