Tom Sims: Snowboarding pioneer and world champion who became a Bond stuntman
His Chevrolet Corvair had to be convertible 'because I stuffed it with all my boards,' he said
Phil Davison
Friday 21 September 2012 20:12 Comments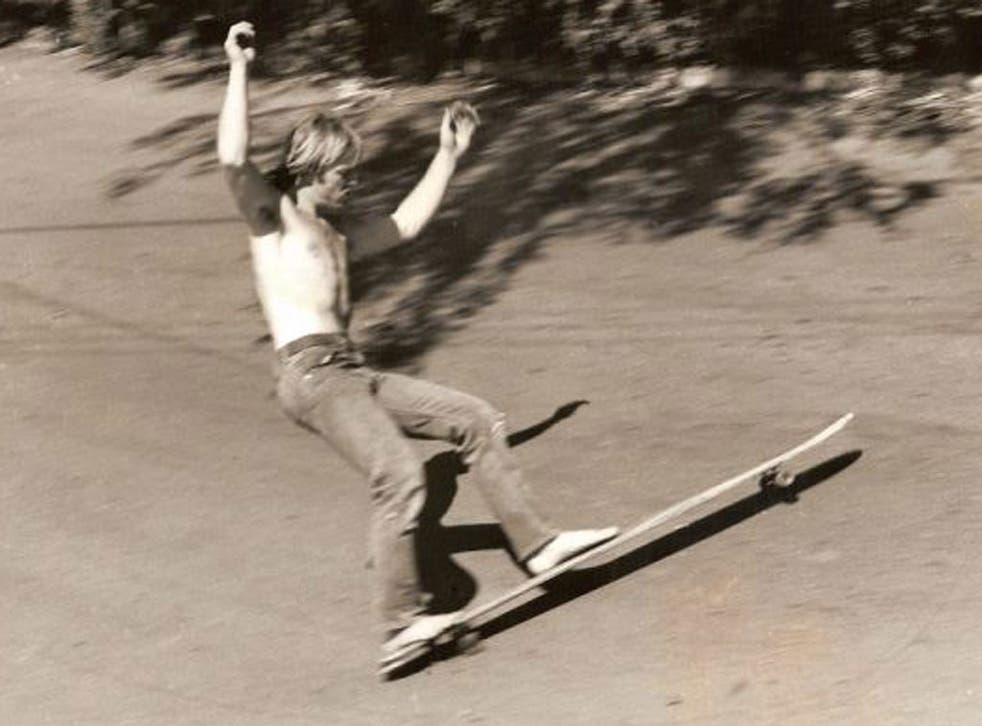 Described by his peers as "the godfather of all board sports," Tom Sims was a world champion in both skateboarding and snowboarding. But he was best known as a snowboard inventor who helped bring the new sport from being a pariah on posh ski slopes to become a winter Olympic sport, now almost as popular as skiing itself. His idea was to put his love of surfing, skiing and skateboarding to combined use in the mountains during winter.
It was Sims, doubling for Roger Moore as 007 in a white fur-lined designer hoodie, who used one of his early snowboards to out-speed the gun-firing Russian baddies in the opening sequence of the 1985 Bond film A View to a Kill, often described as the best Bond opening scene. To the inspired backdrop of the Beach Boys' song "California Girls", it put snowboarding on the map and sent thousands of young people out looking for a "skateboard for the snow."
Before the film, according to an interview Sims gave to the American Snowboarder Magazine: "I had to beg a ski owner to let me on their precious chairlifts [with his board]. The same guy that kicked me off the hill 10 years ago now begs me for a board for his grandson. The world has woken up and realised that the best and most enjoyable way down a mountain is on a snowboard."
Sims, who died after a cardiac arrest, created many skateboard and snowboard firsts, including the skating longboard (more than four feet in length), the metal-edged snowboard (he took the edges from skis), the high-backed binding, the women-specific snowboard and the rounded tail which allowed snowboarders to land backwards or "ride switch" (leading with what would normally be the back foot). He also helped create the first snowboarding Half Pipe – a half-tunnel carved out of snow and now used worldwide in competition – in Lake Tahoe, in the Sierra Nevada, and a later one at Big Bear Lake, California.
Thomas Sims was born in Los Angeles in 1950, but his parents moved east to New Jersey when he was two. He was a 12-year-old junior high schoolboy in Haddonfield, New Jersey, in 1963 when, frustrated at not being able to skateboard on snowy pavements, he crafted his own "ski-board" during woodwork class. "I was trying to solve a dilemma that I had," he once said: "I couldn't skateboard on the snow-covered streets in the wintertime in south New Jersey. And the simplest solution was to make a skateboard for the snow." In 1971, he packed his convertible Chevrolet Corvair – "it had to be open-top because I stuffed it with all my skateboards, surfboards and snowboards and I wore my ski goggles against the cold" – and drove across the country to Montecito, outside Santa Barbara, California, where he would spend the rest of his life.
Makeshift devices for sliding down snow while upright had probably existed for centuries, and certainly in early 20th century movies, and several young men other than Sims were creating similar devices in the 1960s. These included Sherman Poppen with his "Snurfer" and Jake Burton Carpenter with his own design, which became known as the Burton. But Sims was considered one of the great innovators, marketing his product under his own name, Sims, which had been the world's leading manufacturer of skateboards before he got into snowboards.
He won the World Skateboarding Championships in 1975 at the Magic Mountain theme park in California and opened his business, Sims Skateboards, the following year. He also appeared in what became a cult skateboarding film, Freewheelin', in 1976 along with Stacy Peralta, and started his own professional skateboarding team, Sims, shortly afterwards. In 1983, as the new-fangled snowboards became more prevalent, he launched the first Snowboarding World Championship, at the Soda Springs Ski Bowl in California, and rode away with the title himself. He also sponsored some of the early pro-snowboarders, including Craig Kelly, who took the sport to new heights and mainstream attention.
Sims went on to create or master some of skateboarding and snowboarding's most famous "grabs" – when the rider touches the board during aerial tricks – such as the Nose Grab, the Mute, the Indy, the Stalefish, the Taipan, the Chicken Salad, the Roast Beef and the Crail. The difference between hand positions might be only a few centimetres but riders – and their fans – know which is which.
"He not only pioneered snowboarding," said Pat Bridges, editor of Snowboarder Magazine, "but he also popularised what has come to be known as the action-sports lifestyle." And according to Michael Brooke, publisher of Concrete Wave magazine, "he was the first pioneer of what's called longboarding – riding a skateboard over four feet in length. He liked taking this surf kind of feeling and putting it out there on skateboards. And he was one of the giants in the history of snowboarding."
Although no longer in charge of Sims Snowboards, he continued to play an active role in the company, remaining involved in design and testing until shortly before his death in hospital near his California home. He is survived by his wife Hilary, sons Tommy and Shane, daughter Sarah, and stepdaughters Alexa and Kylie, and sister Margie.
Thomas Sims, skateboard and snowboard world champion: born Los Angeles 6 December 1950: married Hilary (three children, two stepchildren); died Santa Barbara, California 12 September 2012.
Register for free to continue reading
Registration is a free and easy way to support our truly independent journalism
By registering, you will also enjoy limited access to Premium articles, exclusive newsletters, commenting, and virtual events with our leading journalists
Already have an account? sign in
Join our new commenting forum
Join thought-provoking conversations, follow other Independent readers and see their replies