Tommy Smith: Anfield 'enforcer' who excelled in Liverpool's glory years
Born and bred in the shadow of the ground, the defender captained Bill Shankly's team to domestic and European success, before scoring the winning goal on a famous night in Rome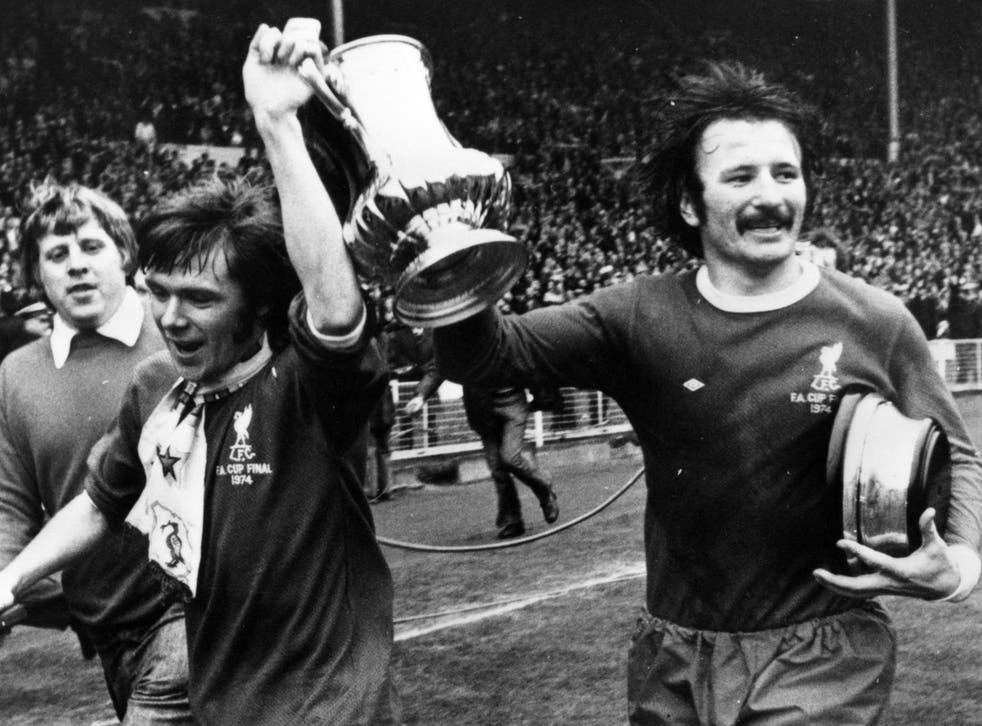 The great Liverpool manager Bill Shankly famously said of Tommy Smith: "He wasn't born. He was quarried."
Smith, who has died aged 74 after debilitating struggles with Alzheimer's disease and arthritis, became typecast as an assassin among defenders. However, his nickname "The Anfield Iron" and descriptions of him as rugged, fearless, craggy and uncompromising belied his ability on the ball. You didn't play nearly 650 times for Liverpool under Shankly and Bob Paisley – and be capped by Sir Alf Ramsey for England – if brute force was your principal attribute.
Sceptics should seek out footage of Liverpool's FA Cup final victory over Newcastle in 1974. Smith launched the move which led to the second of three unanswered goals with a flick which ITV commentator Brian Moore termed "almost arrogant". He then played one-twos with Brian Hall and Steve Heighway, surging down the right wing before unleashing a low cross which Kevin Keegan converted. His role was a masterclass in movement and precision.
Fittingly for a player who personified Liverpool in the 1960s and 1970s, Smith was born and bred in the shadow of Anfield. A forward who faced him many times and became an after-dinner speaker, Steve Kindon, told audiences: "I'm not saying Tommy Smith was hard but he was born in April 1945 and Germany surrendered a month later." He joined the club he adored in 1960 and turned professional two years later. His debut came in midfield in a 5-1 defeat of Birmingham in 1963, and he became a regular during the 1964-65 season. It was his defensive display against Anderlecht in the European Cup that led Shankly to purr: "The boy has arrived."
He became an integral part of the League championship and FA Cup successes delivered by Shankly, having switched to centre-back alongside Ron Yeats whom he succeeded as captain early in 1970 as Liverpool entered a period of transition. The 1970-71 campaign saw him finish runner-up to Frank McLintock when journalists voted for the Footballer of the Year, and after playing 10 times for England's Under-23s he won his only full cap against Wales.
Smith led Liverpool to a double of League title and Uefa Cup in 1972-73 but the following season he was replaced as captain by Emlyn Hughes, a teammate if not exactly a friend. Out of favour, he seemed certain to join Stoke but stayed and slotted in at right-back when Chris Lawler was injured. After Paisley was elevated to the manager's job in 1974 he restored Smith to central defence after Phil Thompson was indisposed, and in 1977 – a year after helping the Reds win a second Uefa Cup and within months of announcing his intention to retire because of knee injuries – he scored the most memorable of his 48 goals for the club.
Liverpool and Borussia Moenchengladbach were tied at 1-1 in the European Cup final in Rome when Smith soared to head in Heighway's corner and effectively secured the continent's major prize for the first time. He decided to play on and might have played in the 1978 final win over Bruges had he not dropped a pickaxe on his foot.
When he left Anfield in 1978 – with four Football League winner's medals, one from the European Cup and two each from the Uefa Cup and FA Cup – it was for Third Division Swansea, then climbing the League under John Toshack. Smith, newly appointed an MBE for services to football, had seemingly begun to believe his own stereotype and took it upon himself to initiate Argentina's Ossie Ardiles in the English game when the Welsh team met Tottenham in the League Cup. "They can't expect to come here and play like fancy flickers," he said afterwards. "That tackle was to say: 'This is a man's league'."
If such remarks were interpreted as "banter", Smith's views on race could not be similarly mitigated. Interviewed in 1988 by the writer Dave Hill for a book about John Barnes, Out Of His Skin, he admitted that he used to call the black Liverpool player Howard Gayle "The White Nigger". He continued: "Now that is a compliment. It was the only way I could find to describe that I thought he was OK." Unaware that Hill was taping him, Smith added: "I'm not prejudiced but if a c**n moved in next door, I'd move, like most white people would. If my daughter came home with a n*****, I'd go mad."
Smith, who spent two summers played in the United States with Tampa Bay Rowdies (1976) and Los Angeles Aztecs (1978), soon had to concede that "That Barnes lad can play". In 2012 he suggested that racist players should be jailed. At that time he was still contributing a column to the Liverpool Echo, which he did from 1979 until his diagnosis with dementia in 2014. He was pre-deceased by his wife Susanne, who had suffered from the same condition.
Thomas Smith, footballer and journalist, born 5 April 1945, died 12 April 2014
Join our new commenting forum
Join thought-provoking conversations, follow other Independent readers and see their replies