Vice-Admiral Sir Iwan Raikes: Decorated submariner
Thursday 19 January 2012 01:00 GMT
Comments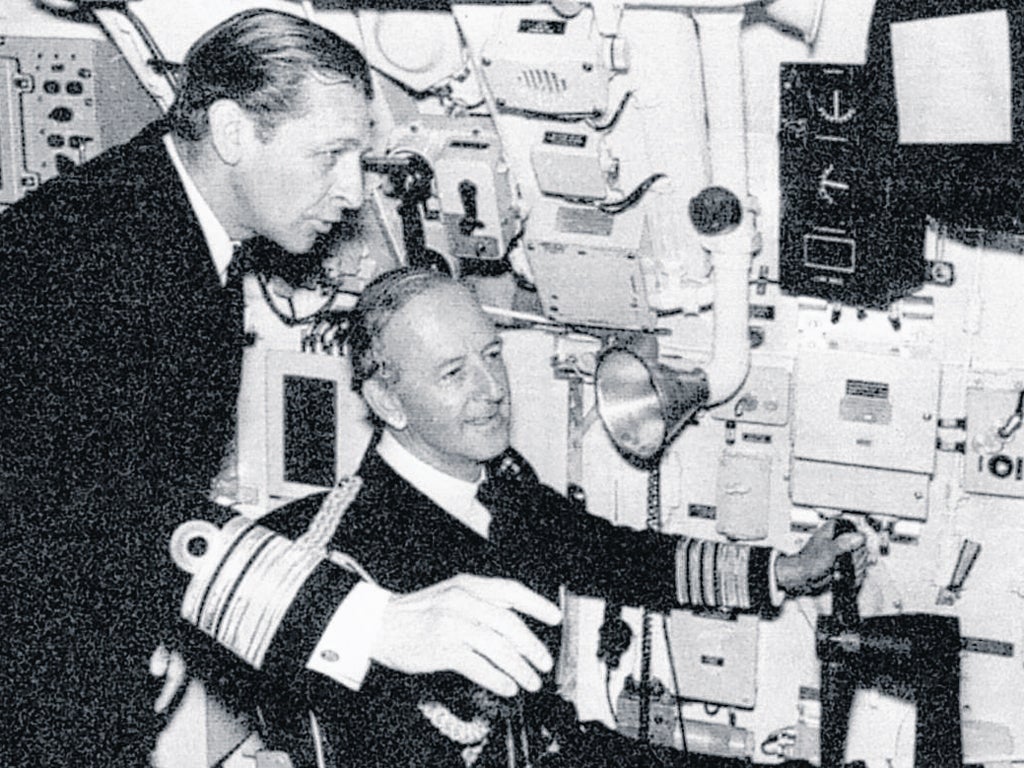 Vice-Admiral Sir Iwan Raikes won a Distinguished Service Cross in combat in the Mediterranean before a Cold War career in which Britain gave increasing importance to his specialty, submarines. By the time Raikes equalled his admiral father as Flag Officer Submarines in the 1970s, a much smaller Navy had abolished centuries-old traditions such as the rum ration, and submarines had superseded RAF aircraft as the platform for carrying Britain's nuclear deterrent.
Raikes, a future Naval Secretary, was decorated after a baptism of fire off Corsica in his first weeks as First Lieutenant of the submarine Saracen when she torpedoed a cased-petrol carrier that spectacularly blew up. The sheet of orange flame shot hundreds of feet high, the blast was felt in Saracen's control room, and the shattered ship's bridge sailed over Saracen as she dived, with huge pieces of debris plummeting into the sea a thousand yards astern. Souvenirs picked up later included a bedstead.
"We were fortunate to be undamaged," the commander recorded. "A hole in the pressure hull at that distance from home would have been a pity."
Raikes's recommendation for the DSC, signed on 15 May 1943 by Admiral of the Fleet Andrew Cunningham, Commander in Chief Mediterranean, says his award is "for outstanding bravery and devotion to duty as Armament Officer until the end of the fourth Mediterranean patrol, and then as 1st Lieutenant during the remaining successful patrols in HMS/M SARACEN".
The fragile Admiralty document stamped "Secret" in large red capital letters says that Saracen, commanded by Lieutenant Michael Geoffrey Rawson Lumby, sank two tugs and a schooner, bombarded a shipyard and damaged a tanker from her fifth to her eighth Mediterranean war patrols, and also "took part in a special operation as the result of which a cruiser was damaged". Ten crew were decorated, and the account of the last of the patrols for which the honours were given is the only one the official record preserves.
On this patrol, Saracen was depth-charged twice in three days by the escorts of the two Italian convoys she attacked, on 19 and 22 April 1943. She returned to base at Algiers on 27 April with one torpedo remaining and a slightly damaged starboard propeller.
Iwan Geoffrey Raikes sprang from a family of English philanthropists who moved to Wales, and was educated at the Royal Naval College, Dartmouth. His father, Admiral Sir Robert Raikes served until 1944, while his cousin was Lieutenant Richard Raikes of the submarine HMS Tuna, which launched the "Cockleshell Heroes" up the Gironde as recorded in the 1955 film. His uncle was Major-General Sir Geoffrey Raikes CB DSO who commanded the South Wales Borderers at Armentières in 1918.
The family character was formed by the revivalist Oxford Movement of churchmen in the 1830s, and farther back by a great-uncle, Robert Raikes, founder of schools on Sundays for poor working children in 1780 – his statue is in Embankment Gardens in London.
With such a background Raikes was an embodiment of tradition amid change. He trained briefly on the battle cruiser Repulse before her sinking by the Japanese in 1941 punctured British self-confidence, and his career stretched from petro-electric boats with only numbers, not names – his first command was H43, launched in 1919 - through diesel-electric vessels in the 1950s to the introduction from 1963 of nuclear-powered hunter-killers.
He commanded the diesel electric submarines HMS Varne, Virtue, Talent and Aeneas, as well as the frigate Loch Insh, of which he was the last commander in 1961 before she was sold to the Malayan Navy, and he became Deputy Director of Undersurface Warfare in 1962. He was made CBE in 1967 for work on the staff of the Commander in Chief, Far East, and in 1968 commanded the destroyer HMS Kent.
In February 1970 Raikes assumed the post of Naval Secretary, the Navy's Chief of Staff (Personnel) to the then Second Sea Lord, Sir Frank Twiss, days after the debate in Parliament in January on the rum ration, which Twiss wished to abolish. Dismayed naval personnel referred to 31 July, the day it ended, as "Black Tot Day": naval chiefs considered the 300-year-old tradition of an eighth of a pint of rum at midday incompatible with operating complex systems on which lives depended.
Raikes became Flag Officer First Flotilla in 1973 and Commander of Submarines, Eastern Atlantic Area, from 1974. He retired in 1977. He was a Deputy Lieutenant of Powys, and served on the governing body of the Church in Wales.
Anne Keleny
Iwan Geoffrey Raikes, sailor: born Weymouth 21 April 1921; commanded HM Submarines Sealion 1941–42, Saracen 1942–43, H43 1943, Varne 1944, Virtue 1946, Talent 1948–49, Aeneas 1952; Rear-Admiral 1970; Naval Secretary 1970–72; Vice-Admiral 1973; Flag Officer, First Flotilla 1973–74; Flag Officer Submarines, and Commander Submarines, Eastern Atlantic Area 1974–76; DSC 1943; CBE 1967; KCB 1976; married 1947 Cecilia Hunt (one son, one daughter); died Aberyscir, Powys 27 December 2011.
Join our commenting forum
Join thought-provoking conversations, follow other Independent readers and see their replies