Violette Verdy: Charismatic French ballerina who became the star of George Balanchine's New York City Ballet
Verdy was prized for her vivacious charm, instinctive musicality and light-footed technique
Sarah L. Kaufman
Thursday 11 February 2016 23:48 Comments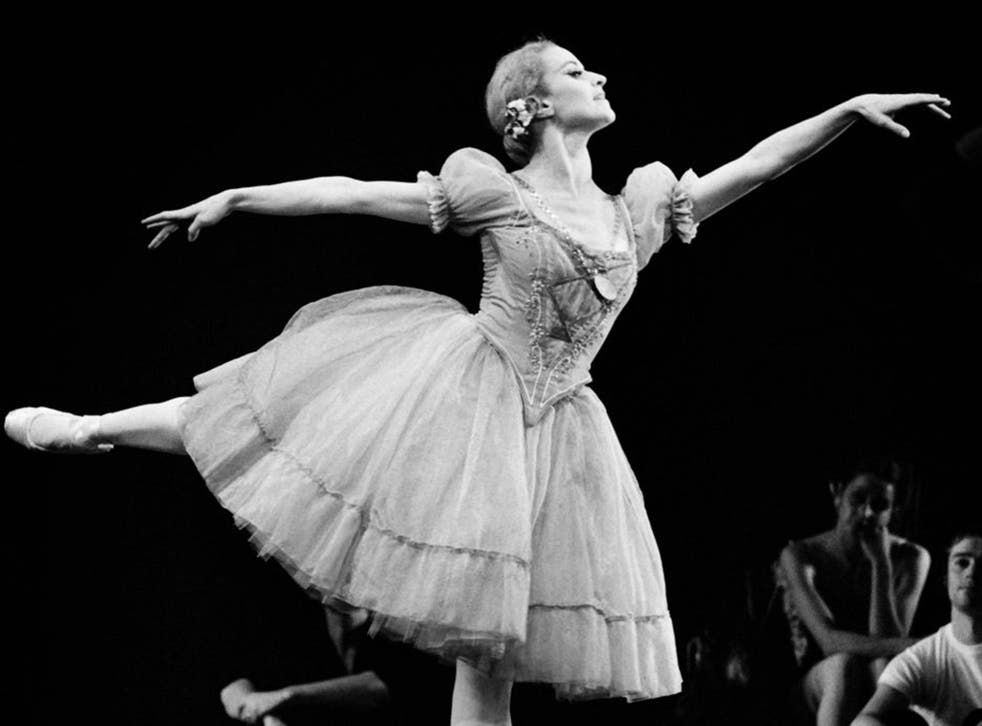 Violette Verdy, who has died aged 82, was one of the leading ballerinas of the 20th century, a celebrated dance professor, and the first female director of the Paris Opera Ballet.
Prized for her vivacious charm, instinctive musicality and light-footed technique, Verdy danced in the works of more than 50 choreographers. But she is most closely linked with George Balanchine, with whom she worked from 1958 to 1976, in the heyday of his New York City Ballet.
He showcased her joie de vivre in the roles he created for her in a dozen ballets, including the mysterious and playful "Emeralds" section of his full-length production Jewels, A Midsummer Night's Dream, Tchaikovsky Pas de Deux, Liebeslieder Walzer and Sonatine.
Verdy inspired other choreographers, including Jerome Robbins, who devised a central character for her in his masterwork Dances at a Gathering, and Sweden's Birgit Cullberg, who created the title role in Miss Julie for her in a 1958 production for American Ballet Theatre.
Verdy began her career in 1945 with Roland Petit's Ballets des Champs-Elysees, later known as the Ballets de Paris. She joined London Festival Ballet in 1954 and then ABT, before landing at New York City Ballet. Petite and curvy, she was an improbable hire. Balanchine favoured tall, leggy, athletic-looking women.
Notable deaths in 2016

Show all 42
"He had a company of greyhounds and borzois," Verdy said in a documentary. "And, you know, I was a little French poodle." Yet her boundless appetite for dancing and her pure, direct approach propelled her to become a quintessential Balanchine ballerina.
She liked to say that it was her feet that hooked the great Balanchine. "He told me, 'You have very eloquent feet'," she said. "'You speak with your feet, and that's very French'."
Inside the company, Verdy's taste for fun was as famed as her buoyant steps and musical astuteness. "She had the most immaculate phrasing," said Edward Villella, one of Balanchine's greatest male stars and Verdy's frequent partner, speaking to The Washington Post on the day she died. "Her musicality was spectacular – and then there was that fabulous sense of humour."
He recalled waiting for her to make her entrance as he knelt onstage at the beginning of the ultra-virtuosic pas de deux from Le Corsaire, in a guest appearance the pair made one year in Chicago. When the bejeweled Verdy stepped into the spotlight, she had a surprise for him: a carnation clamped between her teeth and a blazing look in her eyes.
As Villella tried to keep himself from laughing at the sight of the tutu-clad ballerina with a gypsy's panache, she seized the flower from her teeth "and flung it into the wings," he said. "That's what made it that much funnier. I mean, this was Corsaire, not Carmen."
Verdy was born Nelly Guillerm in Pont-l'Abbé, a medieval town in Brittany. (At 15, she changed her name to Violette Verdy, when she was chosen for the leading role in Ludwig Berger's 1950 film Ballerina, about a country girl who aspires to ballet stardom.)
She was an only child, and her father died four months after her birth. She was highly strung and hyperactive, and a doctor recommended that her mother find a way to tire her out. She put her in ballet classes.
During the German occupation of France, her mother took her to Paris, where the budding dancer studied with French and Russian teachers. She came with Petit's company to the US in 1954.
Various stints in Europe followed before ABT's leading ballerina, Nora Kaye, helped to bring Verdy on board as a principal dancer. When ABT temporarily disbanded in 1958, Balanchine hired Verdy, who quickly claimed some of the most demanding roles in his repertory with her mix of speed and feathery grace.
Her years at New York City Ballet were marked by injuries, which finally led her to retire in 1976 and take the helm at the Paris Opera Ballet. She stayed for three stormy years, describing them later as a "crash landing course" in the job of artistic director.
In 1980, Verdy became associate artistic director of the Boston Ballet – and in 1973 she became the first performing dancer to be awarded the Order of Arts and Letters by the government of France.
Violette Verdy, ballerina: born Pont-l'Abbé, France 1 December 1933; died Bloomington, Indiana 8 February 2016.
© The Washington Post
Register for free to continue reading
Registration is a free and easy way to support our truly independent journalism
By registering, you will also enjoy limited access to Premium articles, exclusive newsletters, commenting, and virtual events with our leading journalists
Already have an account? sign in
Join our new commenting forum
Join thought-provoking conversations, follow other Independent readers and see their replies