Virginia Gibson: Singer, actress and dancer who starred in hit musicals of the 1940s and '50s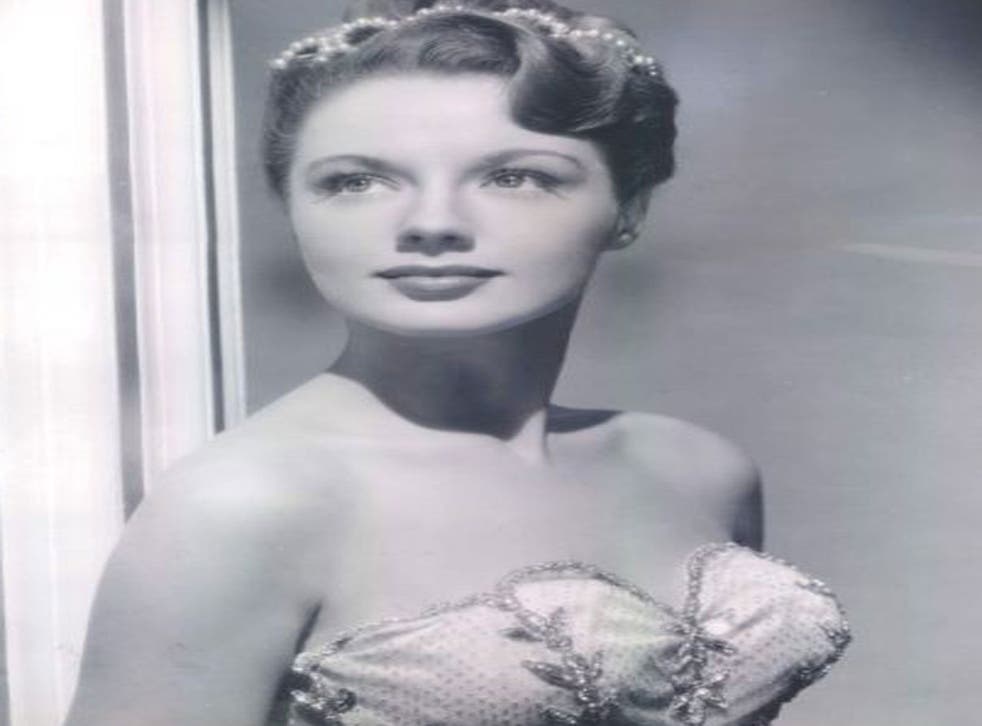 The pert dancer, singer and actress Virginia Gibson brightened several film musicals of the 1950s, notably the classic Seven Brides for Seven Brothers (1954), in which, as one of the brides, she danced in the barn-raising sequence, one of the most exhilarating numbers in movie history, and led the rest of the girls in the song "June Bride".
Three years later she won a Tony nomination for her performance on Broadway in the musical Happy Hunting, which starred Ethel Merman.
She was born Virginia Gorski in 1925 in St Louis, and she began her stage career dancing with the St Louis Municipal Opera. She made her Broadway debut in the chorus of a revival of the Rodgers and Hart musical A Connecticut Yankee (1943), and was steadily employed in the New York theatre for the rest of the 1940s, performing in the chorus or corps de ballet for one show after another.
Billed as Virginia Gorski, she danced in the zany revue Laffing Room Only (1944), starring Olsen and Johnson, and a Twenties satire starring Joan McCracken, Billion Dollar Baby (1945). In High Button Shoes (1947) she performed Jerome Robbins' demanding choreography for his acclaimed ballet sequences, before playing in Look Ma, I'm Dancin'! (1948), starring Nancy Walker, followed by the revue Along Fifth Avenue (1949), which starred Walker and Jackie Gleason.
Spotted by a talent scout for Warner Bros, she was signed to a contract and made her screen debut (as Virginia Gibson) in Tea for Two (1950), arguably the most joyous of the cheery musicals the studio made with Doris Day. It is likely that the studio would have promoted Gibson with more zest had Day not been such a successful star for them. In Tea for Two, loosely inspired by the 1920s stage hit No, No, Nanette, Gibson played a dancer who had a showcase balletic solo to the tune of "I Only Have Eyes for You", which she climaxed with a whirlwind pirouette. She also participated in a peppy Charleston routine, and had a running gag attempting to persuade a producer to watch her emote.
She had a non-dancing part as a college student in Goodbye, My Fancy (1951), starring Joan Crawford, but had a substantial role in Painting the Clouds with Sunshine (1951) as one of a trio (with Virginia Mayo and Lucille Norman) performing in Las Vegas while seeking rich husbands; but the film was a mundane remake of Gold Diggers of Broadway. Her vivacious dancing buoyed a mediocre musical set at a military academy, About Face (1952), a remake of an earlier hit, Brother Rat.
One of Gibson's better roles was in another remake, Stop, You're Killing Me (1952), a reworking with songs of the classic Edward G Robinson gangster comedy, A Slight Case of Murder. Broderick Crawford took over the leading role of a bootlegger who courts respectability with the repeal of prohibition, and Gibson was his daughter, who falls in love with a cop (Bill Hayes), the son of a society matron (Margaret Dumont).
Gibson's subsequent minor role in She's Back on Broadway (1953) indicated waning interest by the studio, and she moved to MGM to play her finest screen role, as Liza, who is wooed by Ephraim Pontipee (New York City Ballet's Jacques D'Amboise) in Seven Brides for Seven Brothers. The barn-raising "June Bride" and the ensemble number "Spring, Spring, Spring" all showed Gibson to her advantage. She then played Niobe, one of Jane Powell's back-to-nature health faddist sisters in Athena (1954).
Television and the stage lured her back to New York, and in 1955-56 she was a regular performer on The Johnny Carson Show. In 1956 she starred in a 14-minute sponsored short promoting coloured telephones, Once Upon a Honeymoon, in which she played a composer's wife, dancing round her home as a guardian angel grants her wishes for fresh furnishings, and her husband writes a hit song. Directed by Gower Champion, the short has acquired a cult following.
She then appeared in her final film, playing one of the secretaries of fashion editor Maggie Prescott (Kay Thompson) in Stanley Donen's entrancing Funny Face, starring Audrey Hepburn and Fred Astaire, released in 1957.
In December 1956, Gibson opened on Broadway in the musical Happy Hunting, playing the daughter of Ethel Merman in a tale of a brash Philadelphia widow intent on attending the marriage of Grace Kelly and Prince Rainier. Though considered a second-rate show, it ran for almost a year because of Merman's star power and professionalism, though she was later to call it her worst Broadway experience. (Merman and leading man Fernando Lamas disliked each other to the extent that he would try to obstruct her curtain call.)
Merman and Gibson were friends from the moment when Merman (who had cast approval) watched Gibson audition. The creative team asked Merman if she would like to see Gibson dance. "I know nothing about dancing," said Merman. "If you say she can dance, that's fine with me." The pair shared the show-stopping duet "Mutual Admiration Society" and the couple also took part in the hit comedy number "A New Fangled Tango". Nominated for a Tony for best featured actress in a musical, Gibson lost to Edith Adams in Li'l Abner.
For over a decade from the early 1960s, Gibson co-hosted the children's television documentary programme Discovery.
Virginia Gibson, dancer, singer and actress: born St Louis, Missouri 9 April 1925; died New Town, Pennsylvania 25 April 2013.
Register for free to continue reading
Registration is a free and easy way to support our truly independent journalism
By registering, you will also enjoy limited access to Premium articles, exclusive newsletters, commenting, and virtual events with our leading journalists
Already have an account? sign in
Register for free to continue reading
Registration is a free and easy way to support our truly independent journalism
By registering, you will also enjoy limited access to Premium articles, exclusive newsletters, commenting, and virtual events with our leading journalists
Already have an account? sign in
Join our new commenting forum
Join thought-provoking conversations, follow other Independent readers and see their replies