World Food Programme: Six humanitarians who lost their lives in the Ethiopian Airlines crash
The aid workers were on the flight to Nairobi that crashed minutes after takeoff in March, killing 157 passengers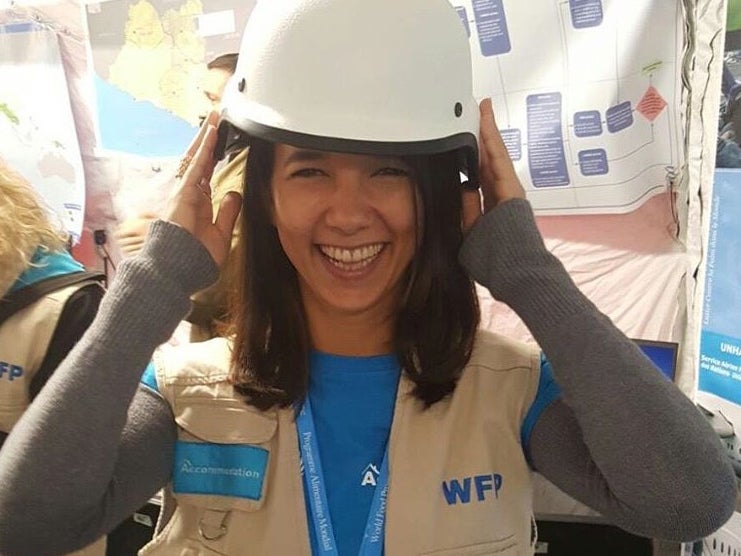 Headed for a diplomatic career: Maria Pilar Buzzetti
Maria Pilar Buzzetti's passion for helping others earned her the nickname crocerossina among friends and family – "the Red Cross nurse".
She joined the United Nations World Food Programme (WFP) in 2015, rising through the ranks to become an accommodation manager. She died aged 30. Known as Pilar, she recently launched the UN's online accommodation booking service – no mean feat given the often inhospitable locations that WFP operates in around the world. Her communication skills and popularity allowed her to achieve this – she worked with a network of 500 colleagues from five UN agencies.
Pilar was involved with the upgrading of facilities in 16 countries including Sudan, Chad and Ethiopia as well as the planning of a new UN facility in Benghazi, Libya.
Born in Rome in 1988, Pilar was raised in a close-knit family; she was especially close to her 89-year-old grandmother.
Pilar had a degree in political science from Roma Tre University and two master's degrees in international relations from Rome's Luiss University and from SIOI (the Italian Society for International Organisations), putting her on the path for a diplomatic career.
A polyglot, she spoke four languages and wrote about geopolitical issues in academic journals; her passion was for Middle Eastern and Mediterranean affairs.
Pilar was also keen on sports and healthy living. Before joining WFP, she organised one of the most anticipated events in the football calendar – the fifth edition of Globe Soccer, an annual international conference on the football transfer market, hosted in Dubai. A keep-fit enthusiast in her spare time, Pilar threw herself into refurbishing a gym for colleagues at WFP's compound in Paoua, a remote town in the Central African Republic where security concerns meant staff could not exercise outside. That gym has been named after her.
Maria Pilar Buzzetti, humanitarian worker, born 3 October 1988, died 10 March 2019
Community matriarch: Harina Hafitz
In her 20 years at WFP, Harina Hafitz was known for her high heels as much as her high ideals. She was a finance officer working on WFP's supply chain, a role in which her flamboyancy and charm were matched by her versatility in working across divisions. Compassion drove her professionalism.
Harina was born in 1959 in Jakarta, Indonesia, and was the oldest of three children. After studying tourism and economics, she started working for an international airline in Vietnam – likely inspired by her brother Andi, who worked in the aviation industry.
For more than 20 years, Harina kept a little model plane sitting on her desk. "She was very proud of her brother's job and probably that pushed her to join the aviation service inside WFP as soon as she had the opportunity," recalls her long-time friend Nelli Jensen.
Later, while working in a travel agency in Jakarta, she met her Italian husband-to-be, Edoardo de Gregorio. He was on an assignment for the UN's Food and Agriculture Organisation and she booked his tickets.
The couple spent time in a number of countries with Edoardo's various postings. They finally settled in Rome in 1999, where Harina got her first job at WFP in the finance division.
They had two children, Alessandro, 26 and Elena, 23. Harina, who died aged 59, was a matriarch to the Indonesian WFP community in the city.
She loved to cook and organise "international lunches" – her special way of bringing people together. Over two decades she cooked everything from lasagna to Indonesian curries, strengthening the bonds within each different team over delicious home-cooked meals.
Among her "adopted" family was a colleague, Virginia Chimenti, a 26-year-old rising star for whom she was a mentor, supervisor and friend. They shared an office and were travelling together to Nairobi on the Ethiopian Airlines flight to deliver training for a financial programme they had helped to devise.
Talented, adventurous and full of curiosity, Harina was able to bring her economics expertise to different areas of the organisation. She leapt at the opportunity to work in Turkey to support WFP's Iraq operation after the American occupation in 2003.
After the 2005 earthquake in Pakistan, Harina joined the UN Humanitarian Air Service to help with the financial aspect of the emergency operations. This was a dream job, combining humanitarian work and flying, delivering food by plane.
By 2008, she was working with the WFP Aviation Service, providing support in emergencies such as Cyclone Nargis in Myanmar.
While finance was a strength, shoes were her weakness – her collection was much-admired by her colleagues.
Her plan for retirement was to create an NGO to help refugees arriving in Italy. She had come to love the country, although she still considered Indonesia her home.
Harina Hafitz, humanitarian worker, born 25 June 1959, died 10 March 2019
Citizen of the world: Virginia Chimenti
Virginia Chimenti, 26, was on the threshold of a brilliant UN career when the plane to Nairobi crashed. She was born in Rome on 26 January 1993, and her family quickly noticed her altruistic nature. Her sister Claudia recalls: "Even as a child, she displayed an inner generosity and a genuine concern to look after others. Love means doing and she knew it since her early years."
She went to study economics in Milan and seemed destined for an international career. "Travelling was one of her passions," explains Claudia. "She volunteered in Mexico, Peru, Namibia and Chile on environmental and educational projects, gradually realising that applying managerial and leadership skills on meaningful missions was where she wanted to make her mark. She saw it as a means of connection among human beings. She was a citizen of the world."
One organisation that helped shape her career was the NGO Alice for Children, in Nairobi, which she joined during her master's in development studies at the School of Oriental and African Studies, University of London. "That was when she truly fell in love with Africa," Claudia says.
Virginia went on to work at the UN Capital Development Fund on agricultural finance. She also worked on microfinance projects in Myanmar, at the International Fund for Agricultural Development, and at WFP to solve complex business and financial problems. Her positive attitude, enthusiasm and stamina made an impression on all of her managers.
Her sister adds: "She was proud of her daily achievements, of making it through every single day with energy and empowerment. She never gave up on people. As a sister, she was naturally down to earth and fully committed to those things she thought to be right. Routines and schedules would bore her; she liked trying and experiencing always new things. To me, she is pure inspiration, so solid, honest, sparkling and resolved as a human being."
Virginia Chimenti, humanitarian worker, born 26 January 1993, died 10 March 2019
Combating famine in North Korea: Zhen-Zhen Huang
Teapot and cups in hand, Zhen-Zhen Huang was seen as integral member of the teams she worked with on her many aid assignments.
The humanitarian worker, who has died aged 46, joined the WFP China office in 1992 as a national staff member. When WFP opened a small office in North Korea in 1995, the country was in the throes of a famine, so operations were scaled up to provide food assistance to women of child-bearing age and children.
After agreeing to move to Pyongyang to set up a larger office in 1997, Huang became an integral part of the team there.
At the time, Chinese citizens could easily travel in and out of North Korea to help WFP's work. Former WFP chief executive Catherine Bertini recalls Zhen-Zhen as "extremely efficient, thoughtful and organised".
She says: "She was always, even in tough circumstances, upbeat. I always remember her smile."
In 2001, in recognition of her work in North Korea, Zhen-Zhen was chosen to represent WFP in Oslo, where Kofi Annan and the United Nations were awarded the Nobel Peace Prize.
Zhen-Zhen's skills and resilience kept her in high demand across WFP. In 2003, she worked in special operations in Rome for six months, then returned as a programme officer to North Korea in 2004. She stayed there until 2006.
She then spent a year as a project manager in Banda Aceh, Indonesia. From 2007 to 2010, she was a project manager and procurement officer in Colombo, Sri Lanka.
After that she was based in Bangkok, Thailand, where she secured WFP's first donation from a wealthy individual, Annie Chen. Chen's River Star Foundation supported the successful handover of WFP's school feeding programme in Bhutan to government ownership.
In 2014, Zhen-Zhen went to the Philippines where she made many friends and helped plan for disasters as budget programming officer. Zhen-Zhen's last assignment was in Rome in the technology division as a business transformation officer.
She is remembered by her colleagues for her can-do attitude, and always had a smile and gave encouragement.
"Zhen-Zhen was capable of anything," says WFP's Xuerong Liu. "She always impressed us how fast she adapted. She could turn her mind to anything and master it. She just got technology immediately and was an immediate asset to any team. She was like a present to everyone."
Zhen-Zhen is survived by her husband, Wei Xiong, seven-year old son, Zi-Rui Xiong, sister Jing-Jing and her elderly father in Beijing.
Zhen-Zhen Huang, humanitarian worker, born 24 December 1972, died 10 March 2019
'No limits': Ekta Adhikari
"I stay motivated by aligning my work with my values, particularly in creating a positive impact in the lives of others. I do not treat my work as simply a job; rather, I treat it as a way to reflect my passion for making a positive change in the lives of others."
So wrote Ekta Adhikari, who died aged 28, on her Twitter account for 2018 World Humanitarian Day.
Ekta, born on 21 January 1991, had clearly found her vocation when she joined the United Nations World Food Programme in 2015, in the aftermath of her native Nepal's devastating earthquake.
Assigned to the logistics team, she immediately set about ensuring that relief items were transported to communities via land and air, using trucks, tractors, helicopters, porters, mules and even dzos (half cow, half yak).
She proved her skills in Nepal and was later sent to Papa New Guinea to respond to an earthquake in 2018.
She then joined WFP's office in Ethiopia. A determined character, she didn't flinch when she was posted to one of the more remote and challenging outposts of Dilla, in the country's SNNP state (Southern Nations, Nationalities, and Peoples' Region).
While there, she helped coordinate relief efforts for people displaced from their homes due to intercommunal violence. Her detailed reports were crucial for management in assessing the situation and her friendly approach helped forge strong relations with partner organisations.
Ekta was also a fast learner. When a technical team from the Rome department visited Ethiopia, they were struck by how quickly she was able to use the new digital platform they were promoting, without their guidance. It was "a feat the tech department does not often see", says one of the team.
Her most recent role was in coordinating plans for the training of government of Ethiopia and other staff in emergency responses. She did this with typical zeal, and colleagues recall her almost bouncing into their offices with an infectious smile and often a new idea or solution. Such boundless energy and effervescence mean Ekta's absence is keenly felt.
More than this, she is remembered as a deeply caring colleague who made friendships easily. One co-worker remembers: "The first time I met Ekta I felt like I had known her forever – she had that warmth about her. She listened to you, and really cared about your thoughts." Another says: "There would have been no limits to what she could have done with her life – she was so ambitious and eager to learn. She chose to work for WFP because she wanted to do something for others and to leave a lasting impact, and she did just that."
In Addis, Ekta settled into an apartment complex also occupied by other WFP staff. She organised trips and nights out, and prepared soup when someone was sick.
In a corner of her tiny apartment was "Ekta's garden": sprigs of mint and basil she had assembled to add a sense of homeliness. Her friends have now adopted the garden. One describes how those herbs perfectly capture her essence: "A vibrant being who managed not just to survive but flourish in challenging environments. A tough little sapling who added depth and flavour to the blandest of gatherings and a patch of colour who coaxed people into seeing the lighter side of life. Animated, resourceful and brutally honest, Ekta nurtured her friendships the same way she nurtured her tiny garden: with attention, warmth and a whole lot of love.
Ekta Adhikari, humanitarian worker, born 21 January 1991, died 10 March 2019
Construction expert: Micheál Ryan
Micheál 'Mick' Ryan, an engineer with the WFP, helped bring assistance to vulnerable people in Afghanistan, Sri Lanka, Nepal, Ethiopia, and most recently, Bangladesh.
A father of two, Mick was from County Clare in Ireland. He died aged 39. Mick worked in reconstruction and rehabilitation but also capacity building – showing communities how to help themselves. He was a firm believer in involving communities so they could take ownership and pride in their achievements, as well as learn new skills.
During the Ebola outbreak in Liberia, Mick built medical centres to treat those with the virus and prevent others from being infected. To achieve this, he had construction sites operating at all hours for six weeks. In Bangladesh, he built shelters, infrastructure, helped stabilise ground and planned evacuations, saving tens of thousands of Rohingya refugees from the threat of landslides and floods.
Mick's humanitarian efforts and commitment were exemplary, his colleagues attest. His enthusiasm was infectious, which drew people to him – his team, colleagues, clients and the communities he served.
His co-workers say he had a talent for identifying skills and bringing people together, and was able to communicate with whomever he came across regardless of their status in life.
Mick was about to celebrate his 40th birthday when he died. Had he lived, say his colleagues, he would have continued to bring his courage and compassion to humanitarian crises around the world.
Micheál​ 'Mick' Ryan, engineer, born 28 March 1979, died 10 March 2019
The World Food Programme also lost logistics officer Djordje Vdovic in the Ethiopian Airlines crash
Join our commenting forum
Join thought-provoking conversations, follow other Independent readers and see their replies