Wyatt Tee Walker: Civil rights leader and aide who helped Martin Luther King plan 1963 march on Washington
The pastor became executive director of King's Southern Christian Leadership Conference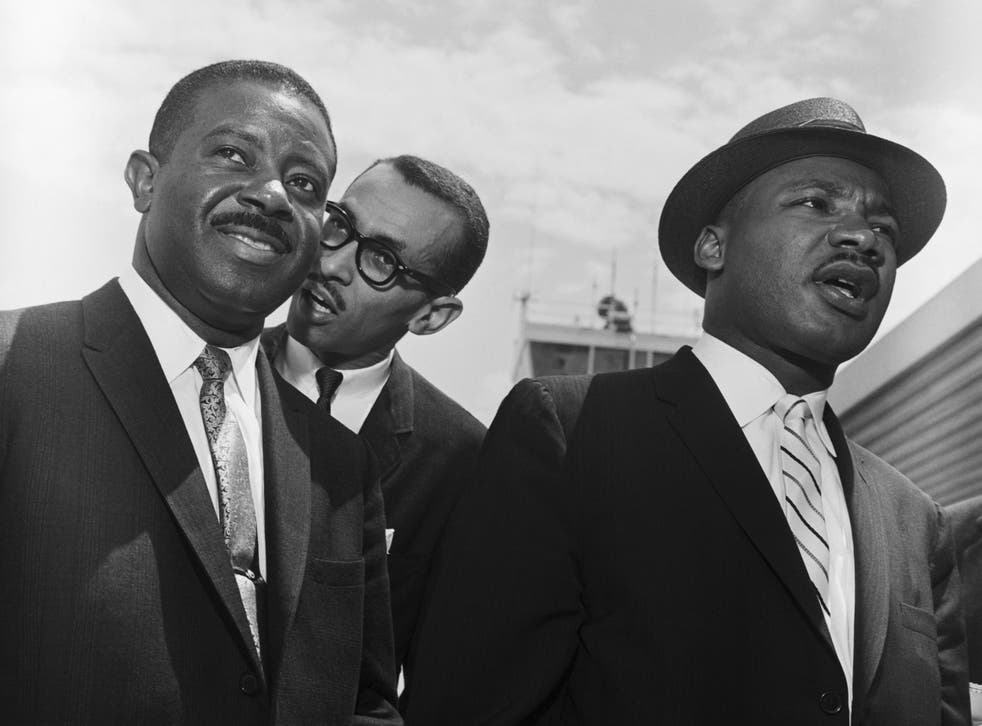 In the early Sixties, Wyatt Tee Walker helped Martin Luther King Jr organise a series of marches and boycotts and helped bring King's open letter from Birmingham jail to the wider world.
Based in Virginia, the pastor and leading civil rights leader was King's closest aide at the time.
The pair first met in 1952, when both were young ministers, and he later became executive director of King's Southern Christian Leadership Conference. "I was Martin's alter ego," he said in 2012.
As pastor of Gillfield Baptist Church in Petersburg, Virginia, throughout the 1950s, Walker became one Virginia's most prominent voices for civil rights. He led the local chapter of the National Association for the Advancement of Coloured People (NAACP), was state-wide leader of the Congress of Racial Equality and organised boycotts and sit-ins that often landed him in jail.
In one of his more public acts of resistance to segregation, Walker entered a public library in 1960 and asked to check out a biography of the Confederate General Robert E Lee.
"I was rubbing it in their noses a little," he said in 2016, "because I always felt Robert E Lee was guilty of treason and should have been arrested and put in prison, but the South made such a hero of him."
Walker was greeted with racial epithets. Along with several other African-American protesters, he sat down on the library floor. "They called the police and arrested those of us who would not leave," he said. "They took us to the Petersburg jail and that stirred up the community."
He was fined $100 and sentenced to 30 days for organising the demonstration.
"Petersburg was the centre of the civil rights movement in Virginia," Walker later said, and King took notice. In 1960, he asked Walker to move to Atlanta to direct the Southern Christian Leadership Conference, an organisation that supported nonviolent protests and other civil rights protests.
"I told him, 'Whatever you want me to do, I'll do'," Walker said.
Walker proved to be an adept fundraiser and organiser, quickly turning the SCLC into a regional force with a $1m budget, more than 100 employees and chapters throughout the South. In the early 1960s, he helped organise the Freedom Rides, an effort to end segregation on interstate bus travel in the Deep South.
During one of the first forays of the Freedom Riders, in 1961, Walker and his wife were among dozens of participants jailed in Jackson, Mississippi.
"We weren't there five minutes before we were arrested," he said. They were held for more than a week.
In 1963, Walker took a leading role in coordinating protests in Birmingham, Alabama, a bastion of segregation, where King was arrested on 12 April 1963. During his eight days in the city jail, King wrote a powerful manifesto of the civil rights movement, smuggled out on scraps of paper Walker. King's handwritten reflections were published as Letter From Birmingham Jail, a seminal document of the era.
"Injustice anywhere is a threat to justice everywhere," King wrote. "We know through painful experience that freedom is never voluntarily given by the oppressor; it must be demanded by the oppressed."
On 28 August 1963, Walker was a key planner of the March on Washington, where King delivered his "I Have a Dream" speech. It was seen as a turning point, but within weeks, violence erupted in Birmingham, with the bombing of the 16th Street Baptist Church, killing four girls attending Sunday school.
Walker redoubled efforts to organise a nationwide campaign of civil disobedience.
"We have been duped – or have duped ourselves – into believing the chains have been broken, when in truth we have only been chained more securely" he said. "Half-freedom has in many instances been worse than no freedom at all."
In 1964, Walker left his leadership position at the SCLC and moved to New York, where he ran a publishing business specialising in books for African Americans and became an assistant pastor at the Abyssinian Baptist Church. In 1967, he took over the pulpit of the Canaan Baptist Church of Christ in Harlem, which became his pastoral home until his retirement in 2004.
He advocated for affordable housing and better schools. He also took a bullhorn to the streets to denounce drug dealers on the streets of Harlem.
"They were always warning me that it was dangerous, but that didn't stop me," he said. "I had been involved in the struggle in the Deep South, so I was accustomed to dangerous situations."
Walker spoke about spiritual matters and civil rights at gatherings throughout the world. He was an election supervisor in South Africa in 1994, when Nelson Mandela became the country's first post-apartheid president.
Wyatt Tee Walker was born in Brockton, Massachusetts. (His family said most biographical information about him incorrectly gives his year of birth as 1929.) He grew up in Merchantville, New Jersey, where his father was a minister.
Walker graduated in 1950 from Virginia Union University in Richmond, where he studied chemistry and physics, and also received a master of divinity degree in 1953. He completed a doctorate from Colgate Rochester Crozer Divinity School in Rochester, New York, in 1975.
In addition to his ministry and civil rights work, Walker was an authority on black religious music and wrote several authoritative books on the subject, including "Somebody's Calling My Name" (1979), "The Soul of Black Worship" (1984) and the three-volume "Spirits That Dwell in Deep Woods".
Survivors include his wife of 67 years, the former Theresa Ann Edwards of Chester; four children; a sister; and two granddaughters.
In 1967, Walker returned with King to a demonstration in Birmingham, where they were both arrested. They shared a jail cell for five days.
Walker secretly took a small camera into jail, taped to his leg. He took a photograph of a pensive King, peering through the bars of their cell that became one of the most memorable images of the civil rights leader.
The next year, they were planning to be reunited in Petersburg for a march leading to Washington. It was scheduled to begin on 4 April 1968 – the day King was felled by an assassin in Memphis.
Wyatt Tee Walker, born 16 August 1928, died 23 January 2018
© Washington Post
Register for free to continue reading
Registration is a free and easy way to support our truly independent journalism
By registering, you will also enjoy limited access to Premium articles, exclusive newsletters, commenting, and virtual events with our leading journalists
Already have an account? sign in
Register for free to continue reading
Registration is a free and easy way to support our truly independent journalism
By registering, you will also enjoy limited access to Premium articles, exclusive newsletters, commenting, and virtual events with our leading journalists
Already have an account? sign in
Join our new commenting forum
Join thought-provoking conversations, follow other Independent readers and see their replies