Yves Saint Laurent: Paris couturier who was revered as a genius but considered himself a 'crazy mixed-up man'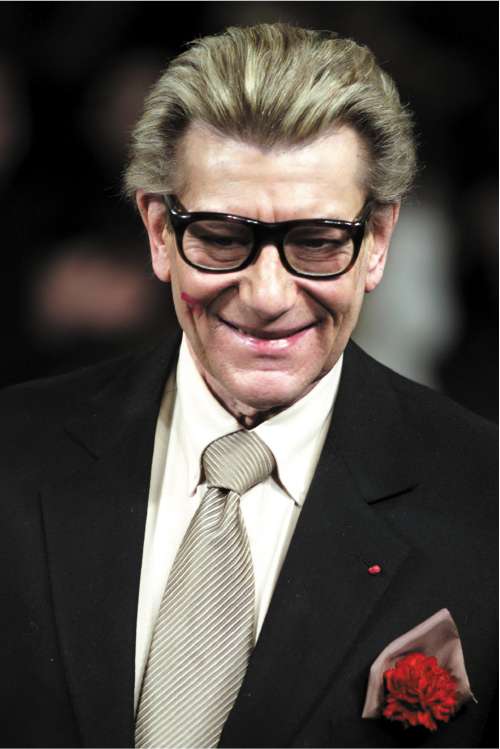 Revered internationally as the most important couturier of modern times, Yves Saint Laurent was a master of feminine tailoring who rewrote the rule book on the way women dress. His style, although occasionally outrageous and often androgynous, never crossed the line between wearable fashion and fancy dress. He was also the first to recognise the importance of branding, with his initials, YSL, becoming a shorthand for French elegance and Parisian chic.
From its inception, the Yves Saint Laurent look was glossy, sharp, extravagant and assured. His most famous muse, and the embodiment of Saint Laurent sophistication, was the actress Catherine Deneuve, whom he first dressed for Luis Buñuel's film Belle de Jour (1967). "She's one of my great inspirations," Saint Laurent said in 1994. "She's always impeccable. That's what I admire."
His other muses were equally immaculate. Paloma Picasso, Loulou de la Falaise, the dancer Zizi Jeanmaire and the model Victoire Doutreleau epitomised the Saint Laurent atmosphere of sexual allure. Both the clothes and the customers exuded an air of joie de vivre. In contrast, the designer behind them was a fragile recluse, a complicated mix of intellect and insecurity. "I'll admit I'm a crazy mixed-up man," Saint Laurent said in 1982. "It takes me six agonising weeks to design a collection and the clothes come to me like visions. I literally see them in the air and then sketch what I see."
A sartorial prodigy who quoted Proust, collected Picasso and was painted by Warhol, Saint Laurent took his inspiration from an eclectic range of sources and stamped his own aesthetic identity on everything he touched. His most successful collections were those where he dovetailed fashion and fine art, his interpretations of Matisse, Miró, Mondrian, Picasso, Braque, Van Gogh and Christian Bérard making some of most memorable couture moments of the 20th century.
Saint Laurent's reputation was built on his supreme tailoring. The first to feminise a man's tuxedo with "le smoking" in 1966, he anticipated power-dressing by a decade. The Saint Laurent jacket, with its precise shoulder line and polished appearance, became a symbol of success for career women throughout the world. Saint Laurent made it clear he was designing for women with ambition and drive. "The people I detest are the jet-set," he declared in 1972. "My real public is the working woman."
Yves Henri Donat Saint Laurent was born in 1936 in Oran, Algeria. His parents were prosperous French colonists, his father, Charles, a successful businessman who managed a chain of cinemas in North Africa, his mother, Lucienne, a beauty who encouraged her son's early obsession with fashion. On his ninth birthday Yves Saint Laurent made a pledge as he blew out his birthday candles. "I hurled my secret wish across a table surrounded by my loving relatives," he told Vogue in 1985. "My name will be written in fiery letters on the Champs-Elysées."
He did not have long to wait. At 17, after passing his baccalaureate at the Lycée d'Oran, he moved to Paris to study design at the Chambre Syndicale de la Haute Couture. When he took first prize in an International Wool Secretariat competition, with a black cocktail dress with asymmetric neckline, his talent was spotted by Michel de Brunhoff, then editor of French Vogue, who was struck by the similarity between Saint Laurent's drawings and those of the couturier Christian Dior. De Brunhoff arranged an introduction and Saint Laurent was immediately hired as Dior's design assistant.
When Yves Saint Laurent began his apprenticeship with Christian Dior, the house had 1,500 employees, two dozen ateliers and sold more than half of all French fashion worldwide. "Monsieur Dior was quite wonderful," Saint Laurent reflected in 1991. "He was both an extraordinary designer and an extraordinary man. For me, he was very much like a father."
In the space of two years, Saint Laurent graduated from being a lowly design assistant (his first assignment was decorating the shop) to heading the couture house. In October 1957, Dior died after a heart attack whilst on holiday in Montecatini, Italy. The next month, at the age of 21, Saint Laurent was named as Dior's successor. He had 10 weeks to turn the collection around. On 30 January 1958, thousands of people gathered outside Dior, with the press hailing Saint Laurent as the saviour of French fashion. Vogue raved about his trapeze collection which it deemed "the most important and fully formulated line in Paris".
The adulation did not last. Saint Laurent was finally conscripted into the French army in September 1960, having deferred three times, and shortly afterwards suffered a complete mental and physical breakdown. He was unceremoniously discharged from the Val de Grace mental institution and the army on 14 November. In his absence, Marc Bohan, Saint Laurent's former assistant, was appointed chief designer at Christian Dior.
At this point Saint Laurent might have disappeared without trace, had it not been for the intervention of Pierre Bergé, the man who became instrumental in establishing the Yves Saint Laurent empire. Bergé and Saint Laurent had met at a dinner party in 1958 after his début for Dior, when Bergé was manager of the artist Bernard Buffet. Calling himself a "socialist businessman", he always pointed out that he was not Saint Laurent's Svengali. "I am not a Pygmalion," he said in 1990. "I met him after he had his success, not before."
Bergé secured special dispensation to visit Saint Laurent daily throughout his incarceration, and it was to Bergé that Saint Laurent turned when he was discharged. With £48,000 of damages from suing Christian Dior, a sizeable American investment and Bergé's business acumen, he opened a salon in rue Spontini and on 29 January 1962 the Yves Saint Laurent couture collection made its début. Life magazine called it "the best collection of suits since Chanel".
This was the beginning of a lifelong partnership which contained two completely different personalities who together had the perfect chemistry for the fashion industry. Saint Laurent, almost a cliché of the tortured artist and Bergé, the armour-plated shrewd operator, would become what Saint Laurent's biographer Laurence Benaïm described as "the most celebrated homosexual couple in the history of couture".
From the early years of their partnership, Bergé was astute enough to know that although couture equalled kudos, it was the glamorous accoutrements – perfume, accessories, cosmetics – which would turn his talented partner into an international force. In 1964 the company formulated the first in a series of highly profitable perfumes, simply called Y, which was followed by Rive Gauche (1971), Opium (1977) and Paris (1983). A cosmetics line was launched in 1978.
By the mid-Sixties, although London was in full swing, Paris was still putting couture on a pedestal. In 1966 Yves Saint Laurent was the first designer to turn his attention away from the rarefied ateliers to the relative accessibility of prêt-à-porter. That year, he opened his Rive Gauche ready-to-wear boutique – taking the essence of Champs-Elysées and adding an element of bohemian Left Bank – in a former bakery at 21 Rue de Tournon.
Saint Laurent, who by his own admission had "suffered from stage fright all my life", briefly overcame his inhibitions and introduced a series of sensations. In spring 1968, the press were floored by his full-length chiffon dress, trimmed with ostrich feathers, which exposed bare breasts. Three years later Saint Laurent himself posed nude for an advertisement for the launch of his first aftershave, Yves Saint Laurent Pour Homme. According to the photographer Jean-Loup Sieff, it was Saint Laurent's own suggestion that he should sit, artfully lit, wearing only spectacles and a neatly trimmed beard.
Saint Laurent was at the height of his powers, holidaying with the Gettys, partying with the Rothschilds, hosting dinners with Rudolf Nureyev. When Mick Jagger married Bianca Moreno de Macias in 1971, they both wore Yves Saint Laurent. Speculation nevertheless continued about Saint Laurent's state of mind. Throughout his career, Bergé fielded persistent questions about Saint Laurent's fluctuating weight, incoherent statements and catwalk stumbles. Rumours abounded that he was suffering from drug addiction, Aids, alcoholism, even Alzheimer's disease. It was once mistakenly announced on the radio that he was dead. At the height of YSL fever, Saint Laurent commented "They have crowned me king. Look what happened to the other kings of France."
But the incessant headlines added an air of intrigue. By the mid-Seventies, the branding of the Yves Saint Laurent name was in full swing. "Accessories are extremely important today," he said in 1976. "They have become almost more important than the clothes." In the space of five years, the Saint Laurent signature was emblazoned on 130 different products, including scarves, sunglasses, belts and cigarettes. According to Alice Rawsthorne in her 1996 biography of Saint Laurent, "One of the few deals he [Bergé] declined was for Yves Saint Laurent car tyres."
In 1983, the fashion empress Diana Vreeland (who described him as a "living genius") organised a retrospective of Yves Saint Laurent's work at the Metropolitan Museum in New York, the first time this honour had been accorded to a living designer. The exhibition attracted a record number of visitors and travelled to Beijing, Paris, Sydney and St Petersburg. In 1995 Saint Laurent was appointed an Officier de la Légion d'honneur and in 2000 his portrait appeared on the last franc pieces minted before the introduction of the euro. A museum dedicated to his work opened in Paris.
Although Saint Laurent remained its figurehead, by then the business had changed hands. In 1993, in a multi-million-pound deal, the company was sold to Elf Sanofi, then in 1999 to Gucci. At first Saint Laurent remained at the helm; then, in 1998, Alber Elbaz became designer of the Rive Gauche ready-to-wear collection, replaced after the Gucci takeover by Tom Ford.
Saint Laurent retained control of the couture collections, dismissing a new generation of couturiers as producing "a ridiculous spectacle better suited to a concert stage". "I have nothing in common with this new world of fashion, which has been reduced to mere window-dressing," he said. "Elegance and beauty have been banished." But his criticisms did not prevent designers as diverse as John Galliano, Vivienne Westwood, Yohji Yamamoto, Marc Jacobs and Christian Lacroix from applauding the man who set the standard for Paris couture.
In 2002, Yves Saint Laurent formally announced his retirement and on the 40th anniversary of the founding of his couture house, showed his final collection, at the Pompidou Centre in Paris. As Saint Laurent took his final bow, Jean-Paul Gaultier said, "It is the departure of a myth. It is Garbo who is leaving." Catherine Deneuve said, "For women, for fashion, it is the end of an era."
Linda Watson
Yves Henri Donat Saint Laurent, couturier: born Oran, Algeria 1 August 1936; Director, Société Yves Saint Laurent 1962-2002; died Paris 1 June 2008.
Join our commenting forum
Join thought-provoking conversations, follow other Independent readers and see their replies