Zsa Zsa Gabor obituary: the first celebrity 'famous for being famous'
'How many husbands have you had?' She replied, 'Do you mean apart from my own?'
Tom Vallance
Tuesday 20 December 2016 03:22 Comments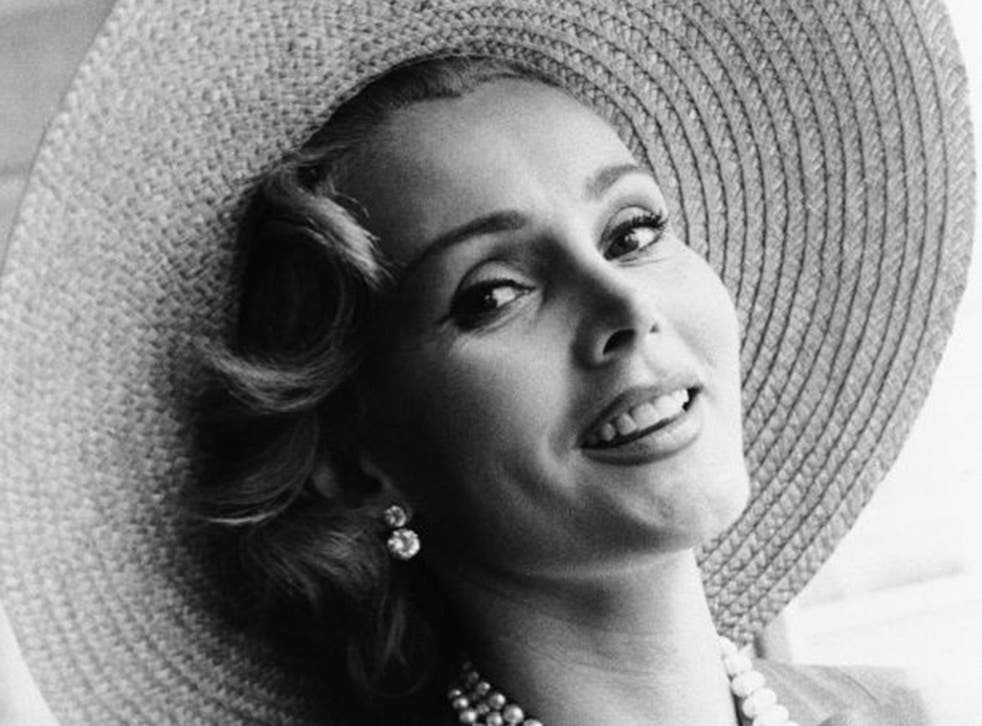 The extrovert, glamorous Hungarian blonde Zsa Zsa Gabor was the epitome of the celebrity who is "famous for being famous". At her best effervescent, witty and flamboyant, and at her worst silly, conceited and temperamental, she was known more for her vast collection of jewels and her eight husbands than for her sporadic career as an actress and television panellist.
After she was given a Mercedes and sable coat by Lt- Gen Rafael Trujillo, a congressman referred to her as "the most expensive courtesan since Madame Pompadour". Asked by a reporter, "How many husbands have you had?", she replied, "Do you mean apart from my own?" Her husbands included the hotel magnate Conrad Hilton and the actor George Sanders. Calling everybody "dahlink" in her extravagant Hungarian accent, she displayed a sense of humour about her blatant gold-digging which proved endearing in her younger days, but in later years her ego and temperament caused some ugly incidents, such as her slapping of a traffic policeman in 1989. She was given a three-day jail sentence and also had to do 120 hours of community service at a women's shelter.
She was born Sari Gabor in Budapest in 1918. Her father was Major Vilmos Gabor, an Hungarian officer, and her mother was the former Jolie Tilleman, debutante and heiress to a jewelry fortune. She attended a finishing school in Switzerland, then (as Georgia Gabor) became a chorus girl at the Club Femina in Vienna. She made her début on the Vienna stage in an operetta, Der Singende Traum (The Singing Dream, 1934), starring its composer, the famed tenor Richard Tauber.
In 1936 Gabor was placed second in the Miss Hungary Contest, though she insisted later that she should have come first ("It vass a feex"). In 1937 she married her first husband, Burham Belge, press director of the Foreign Ministry of Turkey, and a man much older than his wife. Later describing him as "sweet", Gabor claimed that the marriage was never consunmated and that during their union she enjoyed a liaison of several months with Kemal Atatürk, the founder of the Turkish Republic.
In 1941 she was able to travel to the United States with her diplomatic passport, and there she divorced Belge. Her mother Jolie and sisters Eva and Magda were already living in Hollywood, having emigrated from Hungary at the start of the Second World War. Six months later she married Conrad Hilton, of whom she said, "Ve had one thing in common. Ve both wanted his money." They had a daughter, Francesca, born just after their divorce in 1947, and the couple remained on good terms afterwards. "He roars with laughter every time he sees me," she said.
Next she married, in 1949, the debonair Oscar-winning actor George Sanders, stating, "I believe in beeg families. Every woman should have three husbands." On their divorce in 1955, Gabor was reputedly the first to make an often-repeated joke, "I am a vunderful housekeeper. Every time I get a divorce, I keep the house." (Sanders married Gabor's sister Magda in 1970.) She then had a tempestuous affair with the Dominican diplomat and international playboy Porfirio Rubirosa, who, she claimed, gave her a black eye during an argument over his plans to wed the Woolworth heiress Barbara Hutton.
Rubirosa married Hutton in 1953 but spent part of his honeymoon with Gabor, flying to her in the private aeroplane he bought with Hutton's money, and after two months of marriage Hutton divorced him. In 1955 Rubirosa and Gabor announced that they would be starring together in a film, The Western Affair, but the project collapsed when Rubirosa was refused a work permit, and shortly afterwards he broke up with Gabor and returned to Europe – he died in a car crash in 1965.
In 1958 she had the relationship, with "Ramfis" Trujillo, 22-year-old son of the dictator of the Dominican Republic, that caused such consternation on the part of the congressman Wayne Hays. Trujillo's gifts to the actress, at a cost of nearly $30,000, coincided with a decision by Congress to give the Dominican Republic $1.3m in economic aid. Trujillo returned home in disgrace, and was divorced by his wife. Gabor said, "I don't take gifts from perfect strangers – but then, nobody's perfect."
The following year she was given a platinum engagement ring with a 45-carat blue-white diamond by a building contractor, Harry Hays, but then decided not to marry him. She told reporters, "My next marriage will be a small affair. Only the immediate press will be invited." Her fourth husband was a businessman, Herbert L Hutner, and her fifth an oilman, Joshua Cosden Jnr. Jack Ryan, her sixth, was an inventor credited with creating a range of items from missiles to the Barbie doll.
As the years passed, the actress attracted publicity that was increasingly unattractive. In 1955 at a celebrity benefit at the Mocambo nightclub, she poured champagne down the front of her escort Franchot Tone's dinner clothes when he refused to defend her honour in public. In 1962 she caused a scandal at Princess Grace's fete for the Red Cross when she claimed to have been pushed when disembarking from an aircraft in Monaco. In 1968 she slapped a bellboy at the Ritz in London during an argument over a hotel towel, and she was taken off a flight from Majorca when trying to leave without paying her hotel bill for $3,500 owed on clothes.
In 1969 she made headlines when she refused to appear on a television show for which she was scheduled unless she was given a manicurist, a dresser and a cream cheese sandwich on dark pumpernickel. Her slapping of a police officer and subsequent prison sentence occurred when she was arrested for driving without a valid licence and with an open bottle of Jack Daniels whisky in her Rolls-Royce.
After her divorce from husband No 7, a lawyer, Michael O'Hara, in 1982, she purchased the mountaintop Bel-Air home of the late Howard Hughes, and resided there alone until she married a German prince, Frederic von Anhalt, in 1986. The marriage gave her the title of Princess of Anhalt, Duchess of Saxony.
Gabor's most distinguished film work came early in her career. She made her screen début after the director Mervyn LeRoy saw her in a nightclub and offered her a role in the musical Lovely to Look At (1952), in which she played a glamorous model (named Zsa Zsa), girlfriend of a playboy producer (Kurt Kasznar). It was a small role but it capitalised on her natural effervescence, and the director John Huston then cast her in Moulin Rouge (1952), a biography of Toulouse-Lautrec, as Jane Avril, the dancer made famous when painted by the artist. (Since Gabor could not dance, Huston changed Avril into a singer.)
She was well cast in We're Not Married (1952) as a millionaire's wife who plans to divorce him for a large alimony settlement, but her finest film performance is generally considered to be in Charles Walters's Lili (1953). In this charming fable, Gabor gave conviction to her role of the assistant to a magician (Jean Pierre Aumont) who is idolised by a young waif, Lili (Leslie Caron). Lili's infatuation ends when she discovers that Gabor is the man's wife.
She appeared with her former husband George Sanders in Death of a Scoundrel (1956), playing a wealthy widow he exploits, and was one of several players who took cameo roles in Touch of Evil (1958) out of respect for its director and star, Orson Welles. She also starred in a camp cult movie, the cheaply made science-fiction tale Queen of Outer Space (1958), in which male astronauts crash-land on Venus and find it ruled entirely by women.
As she grew older the actress, whom the wit Oscar Levant described as having "discovered the secret of perpetual middle age", took roles in horror movies – Picture Mommy Dead (1966) and Nightmare on Elm Street 3: Dream Warriors (1987). She had a more successful career on television, particularly on panel games and chat shows, where she displayed a sharp tongue and quick wit.
On stage, she was the third actress to star in the Broadway production of the comedy 40 Carats (1970), following Julie Harris and June Allyson in the role of a middle-aged divorcee who flirts with a younger man. In 1975 she appeared with her sister Eva in a revival of Arsenic and Old Lace. (Eva died in 1995, Magda and their mother Jolie both died in 1997.)
Gabor wrote an autobiography, My Story (1961), co-authored with Gerold Frank, and two other books, Zsa Zsa Gabor's Complete Guide to Men (1969) and How to Catch a Man, How to Keep a Man, How to Get Rid of a Man (1970). "My father used to tell me," she recalled, "that, when I was six months old, if a woman bent over my crib I cried, but if a man – I cooed."
Her later years were plagued by illness and legal difficulties. In 2002, a serious car crash left her paralysed and in poor mental health. Gabor tried to sue Francesca in 2009, accusing her daughter of forging her signature to get a $2 million loan on her Bel Air House. The case was thrown out after Gabor failed to appear in court. In the same year, it was reported that Gabor may have lost as much as $10 million invested in disgraced financier Bernie Madoff's company, though she was not listed in official bankruptcy records as being a victim of his Ponzi scheme.
Gabor's husband Frederic never told Gabor when her daughter died in 2015 from a massive stroke, out of concern for her stability.
She survived strokes in 2005 and 2007, and in 2010 underwent a hip replacement. Later that year she was admitted to hospital and received the last rites from a priest, and the following year her right leg was amuptated about the knee. Having survived on life support for the previous five years, she died of a heart attack at her home in Bel-Air.
Sari Gabor (Zsa Zsa Gabor), actress: born Budapest 6 February 1917; married 1937 Burhan Belge (marriage dissolved 1941), 1942 Conrad Hilton (one daughter; marriage dissolved 1947), 1949 George Sanders (marriage dissolved 1955), 1962 Herbert Hutner (marriage dissolved 1966), 1966 Joshua Cosden Jnr (marriage dissolved 1967), 1975 Jack Ryan (marriage dissolved 1977), 1977 Michael O'Hara (marriage dissolved 1982), 1983 Felipe De Alba (marriage dissolved 1983), 1986 Frederic von Anhalt; died Bel-Air, Los Angeles 18 December 2016
Register for free to continue reading
Registration is a free and easy way to support our truly independent journalism
By registering, you will also enjoy limited access to Premium articles, exclusive newsletters, commenting, and virtual events with our leading journalists
Already have an account? sign in
Join our new commenting forum
Join thought-provoking conversations, follow other Independent readers and see their replies