At least one person a day is self-harming in UK detention centres
Exclusive: Between January 2016 and August 2017, there were 647 cases of detainees receiving medical treatment following incidents of self-harm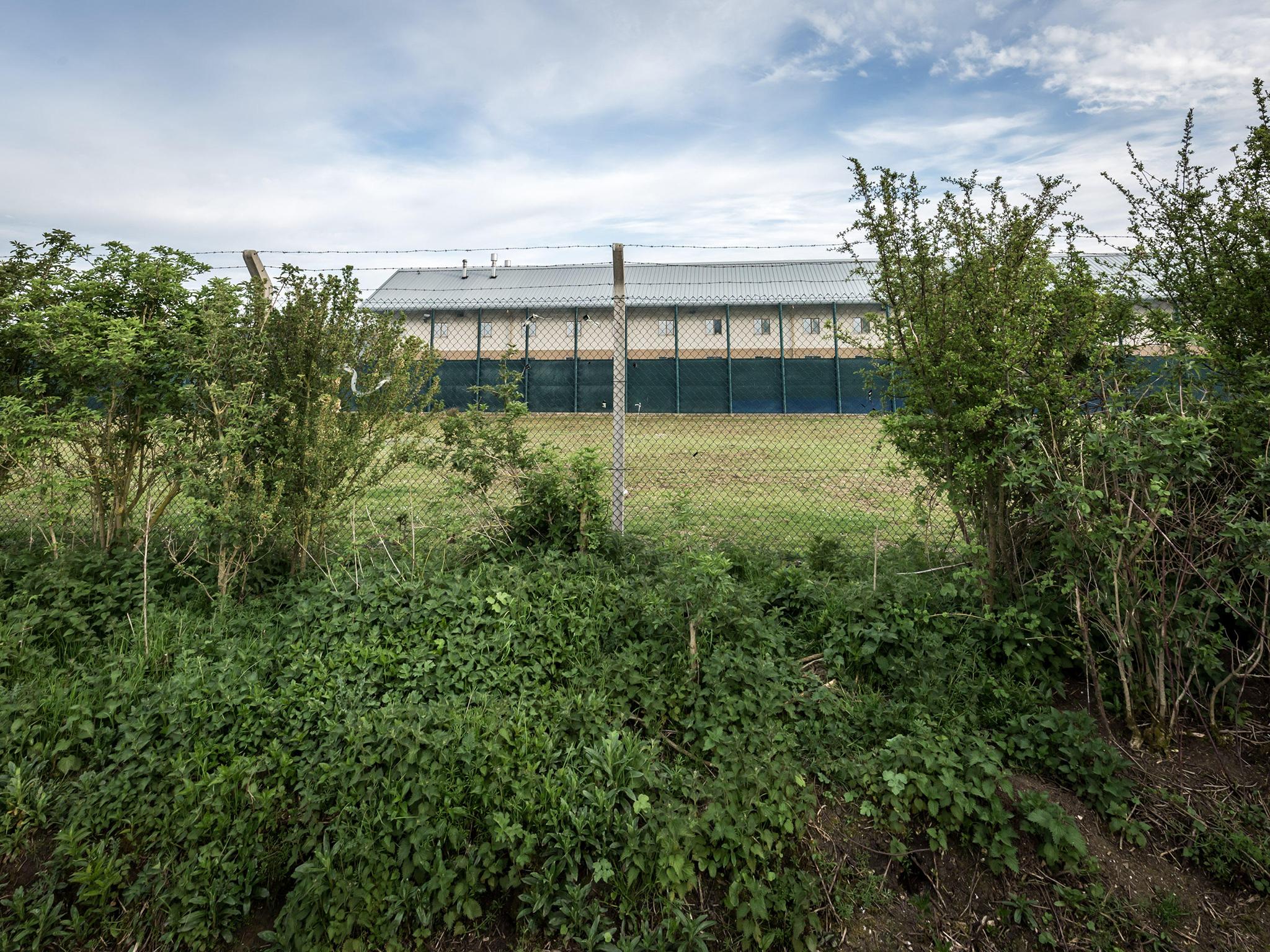 More than one person a day needs medical treatment for self-harming in UK detention centres, The Independent can reveal.
In a 20-month period between January 2016 and August 2017, there were 647 cases of detainees receiving medical treatment following incidents of self-harm. The figures were obtained via a freedom of information request.
The debate around detention centres in the UK was reignited last month after a mass hunger strike by detainees. More than 120 women at Yarl's Wood Immigration Removal Centre staged a hunger strike to protest about their conditions and indefinite detention.
Asylum seekers and other migrants are held in detention centres while the government seeks to establish their identities or deport them, rather than for committing any crime.
Harmondsworth Immigration Removal Centre, the largest detention centre in Europe, was the site with the highest number of self-harm cases. There were 150 incidents of detainees required medical treatment for self-harm over the 20-month period.
Meanwhile, the numbers of people on regular "suicide watch" in detention is also on the increase.
In January 2017 there were 148 people being monitored under the Home Office's assessment care in detention teamwork (ACDT) framework. But the figures obtained by The Independent reveal that by August 2017 this had risen to 210 people, representing almost 10 per cent of the total detainee population.
The figures will add to growing concern about the mental health of people held in immigration detention. Last year saw the highest number of deaths in detainees on record. Eleven people died in total, six of them from self-inflicted wounds. This is double the three self-inflicted deaths recorded in 2015.
A recent unannounced official inspection at Harmondsworth, which is located near Heathrow airport, revealed that torture victims are being held there despite the Home Office accepting evidence of their vulnerability.
The inspection team also said that support was not provided promptly enough for victims of self-harm. Their report described an occasion where they requested an extremely distressed person to be placed on suicide watch. No support was provided for an hour, by which point the person was making a noose.
Other cases identified in the report include that of a detainee who made "deep lacerations" to his arm and had remained locked in his cell for over an hour, despite requiring emergency treatment.
Meanwhile, the report also notes that a blind detainee on suicide watch had been detained for more than a year, while a wheelchair-user who had tried to set himself on fire had been held for 15 months.
There is a "prevailing sense of helplessness among detainees", according to Emma Ginn, director of the charity Medical Justice, which sends volunteer doctors into detention centres.
"Medical Justice continues to be concerned about inappropriate detention of vulnerable people, inadequate healthcare, unaddressed mental health needs, failing safeguards and high levels of self harm," Ms Ginn said. "There is accepted evidence that immigration detention is harmful in and of itself and that it is particularly harmful to those with existing mental health issues.
"The Home Office's flagship Adults at Risk policy, which was supposed to address the Shaw review's concerns about the continued detention of vulnerable individuals, and the failure of safeguards within the process, has in fact led to more vulnerable people being detained for longer."
Britain is the only country in the EU that does not have a time limit for how long people can be detained and it is not uncommon for detainees to be held in detention for more than a year.
In their latest report, Her Majesty's Inspectorate of Prisons reiterated the call for a time limit on detention but this was rejected by the government.
Labour's shadow home secretary Diane Abbott said the level of self-harm was "truly shocking". "There has long been anecdotal evidence about the scale of mental health problems in detention centres," she said. "But this is far worse than even the harshest critics have suggested.
"We know that victims of crime such as sexual abuse or trafficking are unjustly held in detention. The quality of medical attention also seems to be unacceptably low in some cases, especially in the treatment of mental health issues. These issues can be created or exacerbated by the practice of indefinite detention.
"There is a growing scandal surrounding immigration detention under this government and they should act to end it. Labour in office certainly will."
A Home Office spokesperson said: "All incidents of self harm are treated very seriously and every step is taken to prevent it. Staff at all centres are trained to identify those at risk of self harm so that action can be taken to minimise the risk.
"The provision of 24-hour, seven-days-a-week healthcare in all immigration removal centres ensures that individuals held there have ready access to medical professionals and levels of primary care. Following the Stephen Shaw review into the welfare in detention of vulnerable people, the government launched its mental health action plan, which implements a programme of action on prevention and provision to improve the diagnosis and treatment of mental health conditions in detainees.
Join our commenting forum
Join thought-provoking conversations, follow other Independent readers and see their replies