Alexis Tsipras profile: A charismatic gambler with his nation's future
Greece's referendum this weekend will be the making or breaking of its Prime Minister – and possibly of the euro too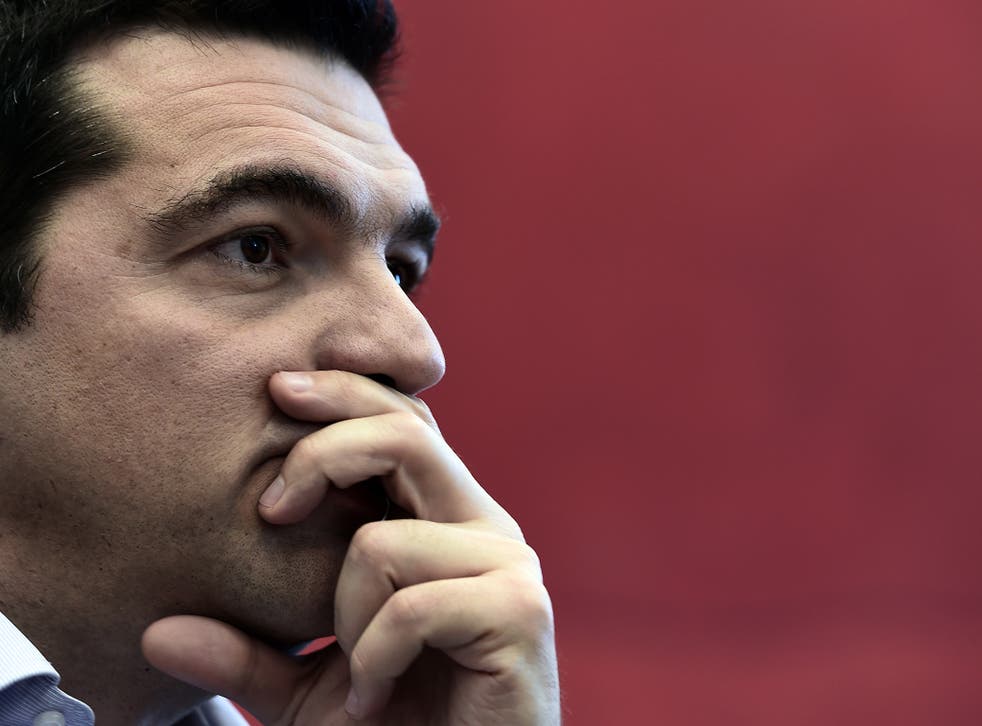 Alexis Tsipras may well be a Pied Piper leading Greece out of the euro and bringing Europe's single currency crashing down with it, but, if so, he is doing it with extraordinary poise and flair. In his many TV appearances over the past fortnight, Tsipras has displayed charisma and chutzpah as he has railed against the EU establishment that he claims is trying to debase his country, while reassuring voters that he has the answer to Greece's abysmal predicament.
"I call on you to decide – with sovereignty and dignity as Greek history demands – whether we should accept the extortionate ultimatum that calls for strict and humiliating austerity without end, and without the prospect of ever standing on our own two feet, socially and financially," he said last week. With his good looks and tieless rakish style, he is a magnetic personality.
But if the telegenic Tsipras has been appealing to the Greeks a lot recently, it is because he has much explaining to do. On Sunday, his country goes to the polls for a referendum on a bailout package. Tsipras is urging voters to reject it because of the reforms it demands in exchange. He claims a No vote will strengthen his negotiating hand with Greece's three main creditors, the European Commission, the European Central Bank (ECB) and the International Monetary Fund (IMF). Leaders across Europe say the vote is effectively one about whether or not Greece wants to stay in the euro.
Greeks already struggling to make ends meet were squeezed further last week when capital controls were introduced, banks were closed and strict €60-a-day withdrawal limits were imposed. Tsipras is at the centre of this maelstrom, boldly standing up to the European establishment, while Greece's fate seems to hang by a spider's thread. But defiance is what animates the youthful firebrand.
He was born in Athens on 28 July 1974, four days after the fall of the Greek military junta that had ruled the country for seven years. His father was a civil engineer, and he was raised comfortably. Living near the Apostolos Nikolaidis stadium of his beloved Panathinaikos, young Alexis initially seemed more interested in sport than in politics.
But that changed at school when he joined the Young Communists Society, and developed his talent for rhetoric. When the government proposed a new education privatisation bill in 1990, the 16-year-old Tsipras led an occupation of his school to oppose the reforms, locking teachers and other pupils out. Interviewed on television, he showed his aptitude for challenging authority. "We want the right to judge for ourselves whether to skip class," he said.
He remained active in student politics while training as a civil engineer in Athens. In 1999, he became the secretary of the youth branch of the leftist Synaspismos, which would later become part of Syriza. Syriza is a Greek acronym for Coalition of the Radical Left, comprising socialists, Maoists, Trotskyists and Greens. In 2006, aged 32, he won an unexpectedly high 10.5 per cent of the vote as Syriza's candidate in the electoral contest for Athens mayor. Tsipras was elected as Syriza leader two years later.
Part of his appeal is his informality – he says he speaks for working Greeks, frustrated by a corrupt establishment that has bled the country dry. He is also seen as both approachable and rebellious, as his penchant for motorbikes and open-necked shirts suggests. (He says he'll wear a tie when Greece gets its debts written off.)
A brazen atheist (he broke with tradition when he became Prime Minister by taking a secular oath of office), he is unmarried but lives with his long-time partner, computer engineer Peristera "Betty" Batziana. She is seen as even more radical than Tsipras, and he has hinted that she might leave him if he does not hold his firm line with Greece's creditors. They have two sons, Phoebus and Orpheus, and the latter's middle name is Ernesto – a tribute to Che Guevara, one of Tsipras's idols.
As Syriza's leader, Tsipras has overseen an incredible political surge. After winning just 3.3 per cent of the vote in the 2004 elections, the party now dominates Greek politics, coming first in the January elections this year, with 36.3 per cent. That came on the back of a close second place in the 2012 elections, and a high-profile 2014 run to become president of the European Commission. The election sent shivers across Europe, as countries braced for the EU's first radical left government. (Although he fell short of an outright majority by just two seats, Tsipras reached an agreement with the right-wing populist Independent Greeks party to form a coalition.)
One of his first moves as Prime Minister signalled his intentions: a visit to the Resistance Memorial in Kaisariani to honour Greeks killed by the Nazis in the Second World War. In the rest of Europe, such overt references to Germany's past are often seen as taboo. But bold gestures like these go down well in Greece, where Berlin is regularly demonised for its austerity demands. Such defiance has helped Tsipras's ratings soar.
However, for all his electrifying impact on Greek politics, his appeal has fallen flat where it is needed most: in Europe. His combative style grates with other leaders, who have distanced themselves from what they see as a liability. Nor is Tsipras helped by his preening and flamboyant Finance Minister Yanis Varoufakis, who proved so antagonistic that he had to be sidelined from the euro negotiations.
At one point, it looked as if the impasse could have been bridged. The mood in the eurozone has turned against severe austerity. There has long been an unspoken acceptance that Greece's debts are so heavy that most will have to be written off – the IMF itself said so on Thursday. And it looked as if Tsipras could have found common ground with his creditors on reforms aimed at more effective tax collection, especially on Greece's super-rich.
But despite attempts to reassure other leaders in face-to-face meetings – and figures such as ECB head Mario Draghi and Pope Francis – he has instead lost allies. In particular, he has alienated potential friends in France, Italy, Spain and Portugal, who also suffered during the euro crisis but launched much-needed reforms to turn their economies around. And in a 28-member EU club built around the principles of compromise and understanding, Tsipras's aggressive rhetoric has done him few favours.
His impetuousness has been on display over the past fortnight, which may turn out to be one of the most critical periods in the EU's history. After demanding – and getting – many summits with his counterparts in Brussels, and coming within reach of an agreement on extending the bailout, Tsipras flounced out and announced his referendum. Even in the hours before Greece defaulted, there were rumours of him flying into Brussels to accept a deal, and cancelling the referendum. They were wrong.
Much of Tsipras's strategy has been predicated on the assumption that his creditors will do what ever they can to keep Greece in the euro. However, patience is running out. German Chancellor Angela Merkel is ready to call his bluff: along with almost all other eurozone leaders, she is now prepared to jettison Greece if no solution emerges.
Tsipras has said he will resign if he loses the referendum. But whatever the outcome, he has had a spectacular impact on Greece, and on the eurozone. It is not so clear, however, if history will remember him with fondness.
A life in brief
Born: 28 July 1974, Athens, Greece.
Family: His father, Pavlos, was a civil engineer. He has two children with his partner of 20 years, Peristera 'Betty' Batziana.
Education: Studied civil engineering up to MPhil at the National Technical University of Athens.
Career: Communist Youth member in the 1980s. Leader of the Synaspismos party in 2008. After coalition made leader of Syriza in 2009. Elected PM January 2015.
Join our new commenting forum
Join thought-provoking conversations, follow other Independent readers and see their replies