Amal Clooney told the UN they did nothing to help Isis sex slaves. Now she's asking women to help instead
'Rape is a weapon of war'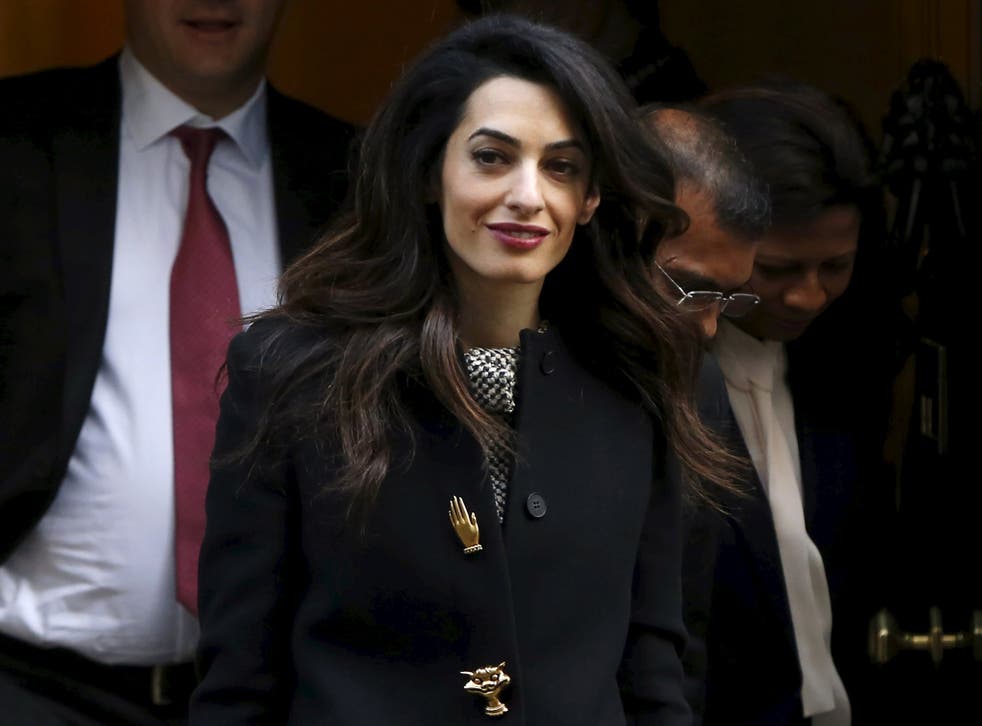 After appearing before the United Nations for the first time and telling delegates she was "ashamed" to stand before them while they did nothing to prevent the rape and abuse of Yazidi women, Amal Clooney stood before a conference of women and urged them to join the fight for women's rights in countries where they are most under threat.
The renowned human rights lawyer gave the keynote speech at the Texas Conference for Women on Tuesday, where more than 100 leading women from different sectors also delivered talks.
In September, Clooney condemned world leaders for their inaction over the persecution of the Yazidi community, a religious minority in northern Iraq who have been targeted by Isis. In her speech on Tuesday, Clooney spoke more about the plight of Nadia Murad, a Yazidi woman who was trafficked by Isis as a sex slave and now advocates on behalf of Yazidi women.
"I want to talk to you today about what the fight for human rights means for one group of women who I represent," Clooney began.
"When I addressed the UN Security Council earlier this year, I told them I was ashamed as a supporter of the United Nations that states are failing to punish genocide. I am ashamed that there is no justice being done and barely a complaint being made about it. More than that, I am ashamed as a woman that women like Nadia can today have their bodies sold and used like battlefields. I am ashamed as a human being that we ignore their cries for help."
Murad was jointly awarded the Sakharov prize, the most prestigious human rights prize in Europe, alongside Lamiya Aji Bashar, who also escaped the terror group, in October. Now living in Germany, she visits refugee camps and speaks around Europe to raise awareness of the brutality inflicted upon her community.
The countries with anti-women laws

Show all 5
Clooney went on: "One day in August 2014, Isis encircled her [Murad's] village. Male adults in the family were rounded up and killed. Young boys were checked for signs of puberty. If they had hair under their arms, they were killed. The younger ones, like Nadia's nephew Malik, were still young enough to be brainwashed. He was taken to an Isis camp, where he was being taught to kill.
"She was forced to pray and forced to dress up in preparation for rape. After she tried to escape from the first house where she was held, her owner invited all of the male guards in the compound to abuse her over the course of the night, two at a time, until she fell unconscious.
"They want to face their abusers in court and create a record of what's happened to them, of the crimes they have suffered, so that they cannot later be denied."
"Rape is a weapon of war," she went on.
"As women, we share a bond, a shared experience. The experiences and struggles that only women go through. The worst thing that we can do as women is not stand up for each other. And this is something that we can practice every day no matter where we are or what we do. Because if we are united, there is no limit to what we can do."
Join our new commenting forum
Join thought-provoking conversations, follow other Independent readers and see their replies