The Independent's journalism is supported by our readers. When you purchase through links on our site, we may earn commission.
Ana Voog: What happened to one of the first ever internet stars
As the world became gripped by Truman Show fever in 1998, Voog was the one-woman show they watched everyday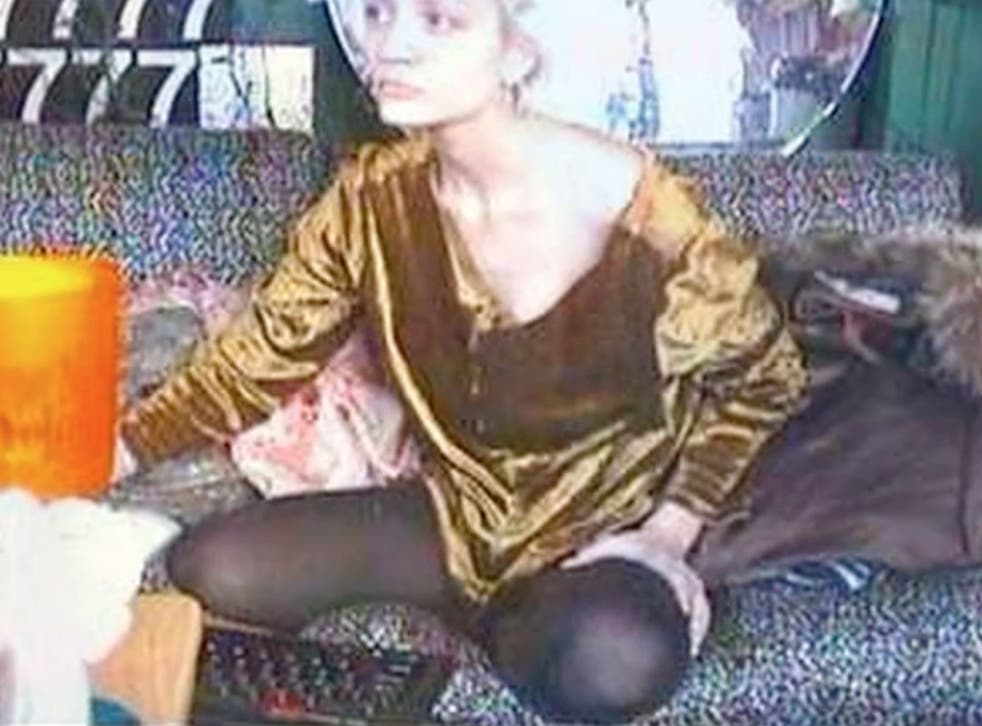 Ana Voog had seven million people watching her on the internet every day before social media even existed.
Voog was the one-woman star of anacam, a daily webcam broadcast where she shared the most intimate aspects of her life on screen in silent broadcasts. Viewers with a dial-up connection could (and did) watch her sleep, eat, write, have sex and even give birth to her first child.
As one of the original cam girls in 1997, Voog became such a phenomenon that stalkers would sleep outside of her house. She was there first before any of the social media influencers who are now considered celebrities, the self-declared "Miley Cyrus of the internet" who lived without the protection that is supposed to accompany that level of fame.
Voog, a performance artist and musician, stopped her webcam broadcasts 12 years ago and now lives in an ultra conservative part of Minnesota with her husband and children. However, she still broadcasts parts of her life on her website - even recording her interviews on Skype.
She told Dazed the internet appears very different to what she anticipated it would become almost two decades ago.
The most influential people on social media in 2015

Show all 6
"I actually envisaged a completely different internet to the one we have now," she said. "The internet back then was so much cooler, because people from all classes and races that you'd never meet in real life were interacting online. I had a chatroom, and there would be truck drivers and priests in there, German professors and twelve-year-old kids from South America. It felt so exciting, like everyone in the world was going to be connected. You could really feel it. Now, there's the Tumblr people; the Instagram people, and everyone's been segregated into their little sections. But back in 1997, it was so inclusive.
"All anyone ever wanted was for me to wave at them on the camera. They'd always say that, "wave at me, can you see me?" It was about people connecting, you know. It was so exciting."
Voog told The Independent that Cyrus's Instagram page bears the closest resemblance to anacam now. "I'm not really saying that I was the Miley Cyrus of the internet," she said. "What I mean by that is for a minute, for a minute in an internet fame way, like a couple of months or year, or something like that, I had seven million people a day watching me. It was like I was kind of like Miley Cyrus.
"I'm not bringing Miley Cryus up because she's famous. It's because Miley Cyrus's Instagram is the closest thing to what I used to do. The things that she posts; candid photos of her dog, and her sleeping and her good days and her bad days, and she's got zit creams on her face sometimes, sticking out her tongue, doing whatever.
"It's very much like how anacam was except for I did it manually where every 30 seconds a picture would go up, whereas Miley is taking her phone, clicking it and sending it up. It's kind of the same thing, it's just a different technology."
Voog stressed that one thing that hasn't changed since she launched anacam are trolls, and the way people can attack and abuse online.
"The comments section to Miley Cyrus's Instagram and the comment section in anyone's Instagram, especially people that are 'internet famous', it's full of crazy s**t.
"The internet is brutal to people. Trolls are everywhere. I got it from all angles. Like I said in the interview with Dazed, I got death threats and you can still find lots of crazy stuff people write about me. Threats to rape me, every kind of threat you can imagine. This is the kind of thing that everyone is experiencing on the internet now. A lot of women and a lot of feminist women and women who do things that aren't in the box of what women are supposed to do [experience this]."
One of Voog's given reasons for documenting her life on film even now is to demonstrate what it was to be a woman in the digital age. Another is to help alleviate the post traumatic stress disorder she developed from being stalked and threatened in the past.
She also hopes recording even the most inconsequential aspects of her life could one day provide insight to future generations.
"I like to document it. It's fun to look back on and see what the technology was then and what people were wearing and how people were talking."
Voog is now collaborating with three other women on a feminist surrealist piece called robotgirl.tv. She is also collecting video clips from pictures saved to her webcam between 19997 and 2009 for a reflective anacam project. Unlike most people her age, Voog is in a unique position to have all of her memories recorded and available to watch back. As she points out on her Vimeo page, anacam raises interesting questions about what, if anything, from our lives we should save forever on film?
"I did this before Facebook and social media and Instagram and sharing every last little bit about yourself via social media as everyone does now. It raises questions still, like what IS important 'information' to save? Do I just save the 'interesting' pictures I do I show all the boring ones, too?"
Register for free to continue reading
Registration is a free and easy way to support our truly independent journalism
By registering, you will also enjoy limited access to Premium articles, exclusive newsletters, commenting, and virtual events with our leading journalists
Already have an account? sign in
Register for free to continue reading
Registration is a free and easy way to support our truly independent journalism
By registering, you will also enjoy limited access to Premium articles, exclusive newsletters, commenting, and virtual events with our leading journalists
Already have an account? sign in
Join our new commenting forum
Join thought-provoking conversations, follow other Independent readers and see their replies