Andrey Karlov dead: The former Russian ambassador to North Korea who was fatally shot in Turkey
The career diplomat was shot by a police officer who shouted 'Don't forget Aleppo' as he shot him
Maya Oppenheim
Tuesday 20 December 2016 12:17 Comments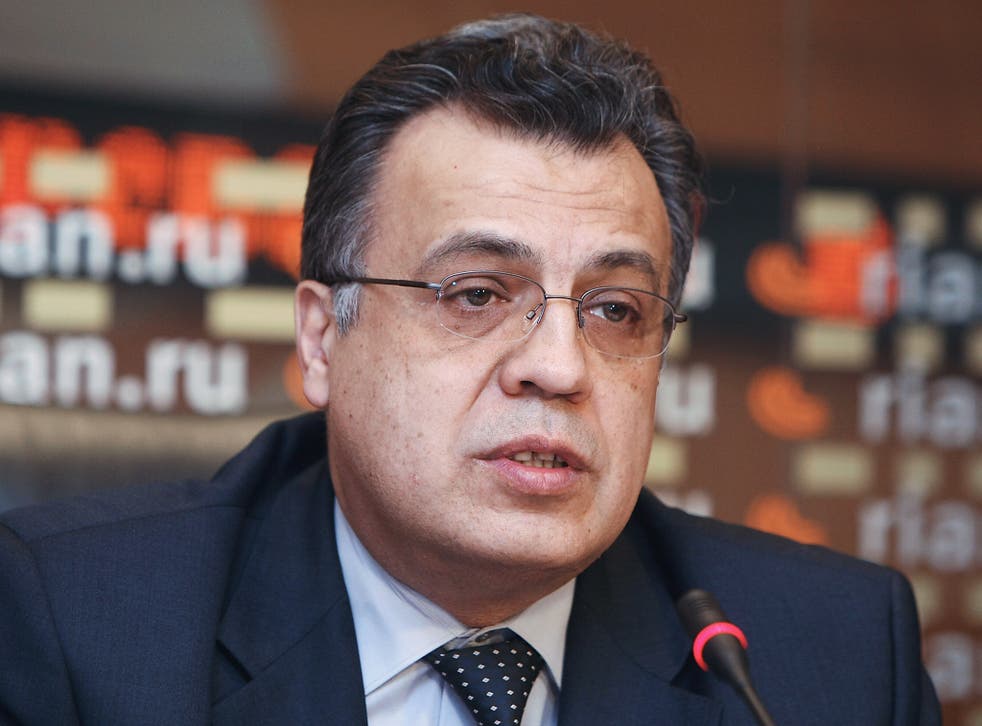 Andrey Karlov, the Russian Ambassador to Turkey became the first ambassador to be assassinated in Turkey since the foundation of the republic back in 1923. In chilling news which shocked many, he was gunned down by a police officer who shouted "Don't forget Aleppo" as he pulled the trigger on Monday evening.
Video footage showed the ambassador jolt as numerous shots were heard. The assailant is believed to be an off-duty Turkish police officer and the attack appears to be a backlash against Russian military involvement in the Syrian war.
But who was the diplomat who was attacked at the opening of an art exhibition in Ankara?
He was previously Russia's ambassador to North Korea
A veteran career diplomat, the 62-year-old was born in Moscow in the mid-50s. In 1976, he graduated from the Moscow State Institute of International Relations and joined the diplomatic service in the same year.
Being both an English and a Korean speaker, he previously served as Russia's ambassador to the Democratic People's Republic of Korea.
Between 2007 and 2009, Mr Karlov served as Deputy Director of the Consular Department of the Russian Foreign Ministry and was promoted to director of the department in January 2009. According to a biography on the website of the Russian Embassy, Mr Karlov had been Russia's ambassador to Turkey since July 2013.
He overaw the work of 236 Russian diplomatic missions in 146 countries
In his role as the top consular official, he oversaw the work of 236 Russian diplomatic missions in 146 countries.
He was married with a son. According to Russian news outlets, his wife fainted and was taken to hospital after she was told about his death.
Fellow diplomats have paid tribute to him in the wake of his death. Richard Moore, Karlov's British counterpart in Turkey, expressed his shock on Twitter, describing the ambassador as a "quietly spoken, hospitable professional."
Notable deaths in 2016

Show all 42
Britain's ambassador to Moscow from 2004 to 2008, Sir Tony Brenton, said he did not know Mr Karlov but said the symbolic significance of his death had shocked him. "As a former ambassador myself, you always know you're a symbol and also a target," he told CNN. "Something like this is particularly horrifying when it happens. My first thought was sympathy for his family and colleagues."
He lead Russia through one of the most difficult periods in Turkey-Russia relations
Assigned to Ankara in 2013, Mr Karlov was thrust into a fraught role and sought to lead one of the most difficult periods in relations between Turkey and Russia in recent history. Diplomatic relations reached a low after the Turkish shooting-down of a Russian fighter jet near the Syria border in November 2015.
Giving an interview with with Russia's state-run TASS news agency in the aftermath of the attack, Mr Karlov accused Turkey of encouraging an anti-Russia campaign in an interview.
"Of late, Turkey more often makes unfounded accusations, in particular, that Russia's military aircraft allegedly violate the airspace," he said. "Most often, this misinformation launches anti-Russian campaigns in the Turkish mass media or becomes their part."
Register for free to continue reading
Registration is a free and easy way to support our truly independent journalism
By registering, you will also enjoy limited access to Premium articles, exclusive newsletters, commenting, and virtual events with our leading journalists
Already have an account? sign in
Join our new commenting forum
Join thought-provoking conversations, follow other Independent readers and see their replies