Anish Kapoor responds to Versailles 'vagina' row - 'Did I say that? I don't think so...'
Artist backtracks after comments made to French newspaper prompt royalist backlash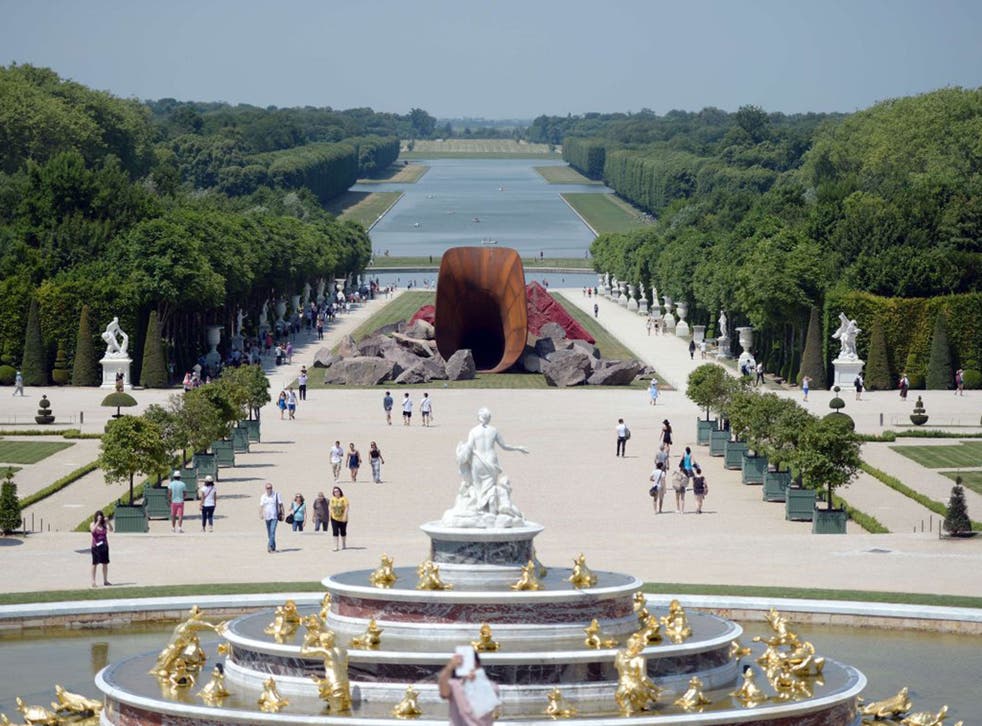 Sculptor Anish Kapoor has dismissed as "hysterical" a controversy which has erupted in France about an exhibition of his works in the gardens of the Palace of Versailles.
Mr Kapoor had been quoted as telling a French Sunday newspaper that an immense, funnel-like structure installed in the world's most celebrated formal garden was the "vagina of the queen".
French royalists and conservatives said that the remark was insulting to the memory of Queen Marie-Antoinette, and the French far-right said that the presence of six of Mr Kapoor's contemporary sculptures among the sculpted gardens of Versailles was an insult to French history.
Robert Menard, the Front National mayor of Beziers, tweeted: "Giant vagina. Contemporary art continues to disfigure our heritage."
On Friday Mr Kapoor denied ever making the remark – at least in the terms reported.
"Did I say that? I don't think so," he said. "I don't remember saying it." Pressed by The Independent, Mr Kapoor said that he had given several, long accounts to the French press of his titanic sculpture, which is entitled Dirty Corner, part of an exhibition which is due to formally begin on Tuesday and last until the start of November. Yes, he said, his explanations had included references to vaginas. No, as far as he could recall, he had not mentioned Marie-Antoinette or any other queen.
"I don't see why it's problematic [to mention vaginas]," he said. "We all have one – or at least we all have something."
The whole controversy missed the point, said the Bombay-born and London-based Mr Kapoor, who is one of the most respected artists in the world. "I am not interested in singular implications [in art]," he said. "It kills the work."
Sexuality, he said, was just one of many possible reactions to Dirty Corner, which also includes a heap of boulders and several half-completed metal boilers.


Nor, he said, were his sculptures intended as an insult to André Le Nôtre (1613-1700) who created the Versailles gardens. "Le Nôtre was a great artist, one of the greatest artists of all time," Mr Kapoor said.
Le Nôtre imposed a symmetrical vision which was meant to convey a sense of "the eternal", of never-changing "power", the sculptor said. When he was invited to exhibit at Versailles, becoming only the eighth contemporary artist to be honoured in this way, he decided that he should "excavate" below that "perfect surface".
He set out to "flay" the "green carpets" of the lawns (symbolically not literally). He set out to create "confusion" and "tumult". He attempted to penetrate the rational, frozen surface of the formal gardens to "subterranean" forces which were "dark" and "disturbing".
The huge funnel-like strcture in Dirty Corner was obviously a reference to muddled "bodily realities", the Turner Prize-winning artist said.
But the sculpture also includes large, uncut boulders of the kind of local marble used to build the Palace of Versailles,
Another Kapoor sculpture created especially for the Versailles exhibition is a whirlpool called Descension – a reference to Le Notre's immense, formal fountains but also "a dark spinning pit leading to the "centre of the earth".
None of this was a rejection of Le Nôtre, Mr Kapoor said. It was an attempt to "confront" the great landscape artists's vision with images from earlier, wilder times but also from contemporary, more democratic times.
"The whole point," he said, "is not to say that this means this or that. The point is create a dialogue between these great gardens and the sculptures."
Asked by a French journalist what he had wanted to "say" in the exhibition, Mr Kapoor said; "I can honestly say to you that I have nothing to say at all."
Join our new commenting forum
Join thought-provoking conversations, follow other Independent readers and see their replies