Avigdor Liberman: The former bouncer appointed as Israel's new defence minister
Over the course of three decades in politics, the Soviet-born minister has established himself as one of Israel's most controversial politicians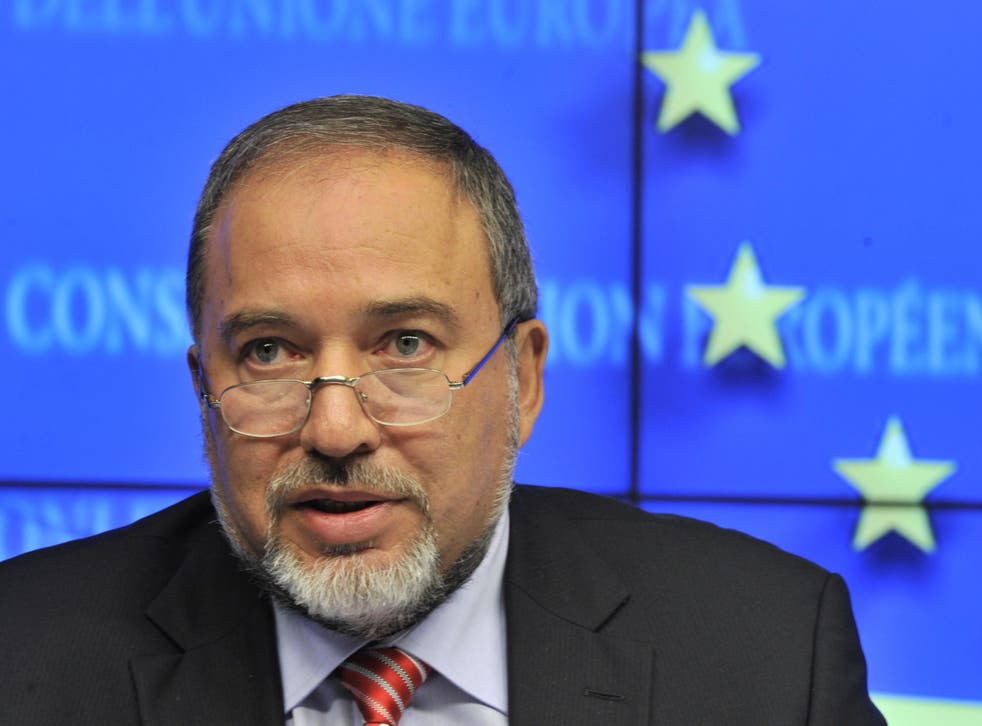 Avigdor Liberman, the Israeli hardliner and leader of the secular-nationalist Yisrael Beiteinu party, has been formally appointed as Israel's defence minister.
Israeli Prime Minister Benjamin Netanyahu signed the deal for the controversial cabinet decision on Wednesday, shoring up his fragile one-seat majority in the 120-member parliament.
Mr Netanyahu invited Mr Lieberman's Yisrael Beiteinu party into government last week in an attempt to bolster his small governing majority last week. In turn, Mr Lieberman reportedly demanded he be appointed as Defence Minister as a condition, thus forcing Mr Netanyahu to ask the current defence minister Moshe Yaalon to stand aside.
Chickpea wars: Israelis up in arms at bid to stop them selling hummus

Show all 11
Resigning last Friday, Yaalon said he no longer had faith in the Israeli Prime Minister and warned the government had been taken over by "extremist and dangerous elements".
According to immediate polls, Israelis prefer Mr Yaalon to Mr Liberman in the role of defence minister. A poll broadcast by Israel's Channel 10 television on Thursday found that 51 per cent of Israeli Jews considered Yaalon to more suitable for the role, while 27 per cent favoured Mr Lieberman. Two other polls revealed similar margins.
The Palestinian President's adviser condemned the appointment, saying Mr Lieberman was a "fascist minister" who will promote settlements. Mr Liberman works in one of the most important and sensitive jobs in Israeli politics and will head up Israel's military and intelligence agencies and oversee Israel's occupation of the Palestinian territories and the four million Palestinians who live in the region.
This is by no means the first time Mr Liberman has been in the public eye. Known for his inflammatory statements, he is one of the country's most controversial and polarising politicians.
Immigrant upbringing
Born into a Russian-speaking family in Kishinev in the Soviet Union in 1958, his father served in the Red Army and spent seven years in a Siberian exile under Stalin's rule. Growing up in Russia, he was instilled with a strong sense of Jewish identity, with his family only teaching him Yiddish up to the age of three. In 1978, he and his family emigrated to Israel where he was conscripted into the Israel Defence Forces and later studied International Relations and Political Science at the Hebrew University in Jerusalem. While studying, he worked as a nightclub bouncer.
Route into politics
Mr Liberman entered politics in the 1990s as an aide to Mr Netanyahu but later broke away and founded Yisrael Beitenu, an ultranationalist party whose support base includes immigrants from the former Soviet Union. Both an ally and an opponent of Mr Netanyahu, he has held a number of high-level Cabinet posts over the course of his career. He has served as the Minister of National Infrastructure, Minister of Transportation, Minister of Strategic Affairs, Deputy Prime Minister, and twice served as the Foreign Affairs Minister - once between 2009 and 2012 and again between 2013 and 2015.
Sharp tongue
Over the years, Mr Lieberman has dominated headlines for his controversial remarks. In a 2015 election campaign speech, he said, "Those who are with us deserve everything. Those against us, it cannot be helped, we must lift up an axe and behead them - otherwise we will not survive here."
Back in 2003, he reacted to an agreement made by then-Prime Minister Ariel Sharon to America, where amnesty could be given to roughly 350 Palestinian prisoners. Mr Lieberman turned down the opportunity to participate in the associated committee, saying, "It would be better to drown these prisoners in the Dead Sea if possible since that's the lowest point in the world".
People news in pictures

Show all 18
Tumultuous relationship
Mr Lieberman's relationship with Mr Netanyahu has had its ups and downs over three decades. At times, he has been his closest ally and at other times he has been an intense rival. He surprised fellow politicians when he revealed he would not join Mr Netanyahu's government after his own party's unexpectedly good performance in the elections. He claimed the coalition has been "opportunist" and not "nationalist" and said he and his party had chosen principles over ministerial portfolios.
Mr Lieberman has often revealed his scepticism about peace efforts with Palestine. Mr Netanyahu distanced himself from Mr Lieberman's outspoken speech at the United Nations in 2010 and said is wasn't an accurate reflection of Israeli policy.
Join our new commenting forum
Join thought-provoking conversations, follow other Independent readers and see their replies