Bill Cosby rape allegations explained: Why are these allegations coming out now? And why has nobody taken legal action?
As another accuser comes forward, Tim Walker examines the claims, counterclaims... and what happens next for 'America's best-loved Dad'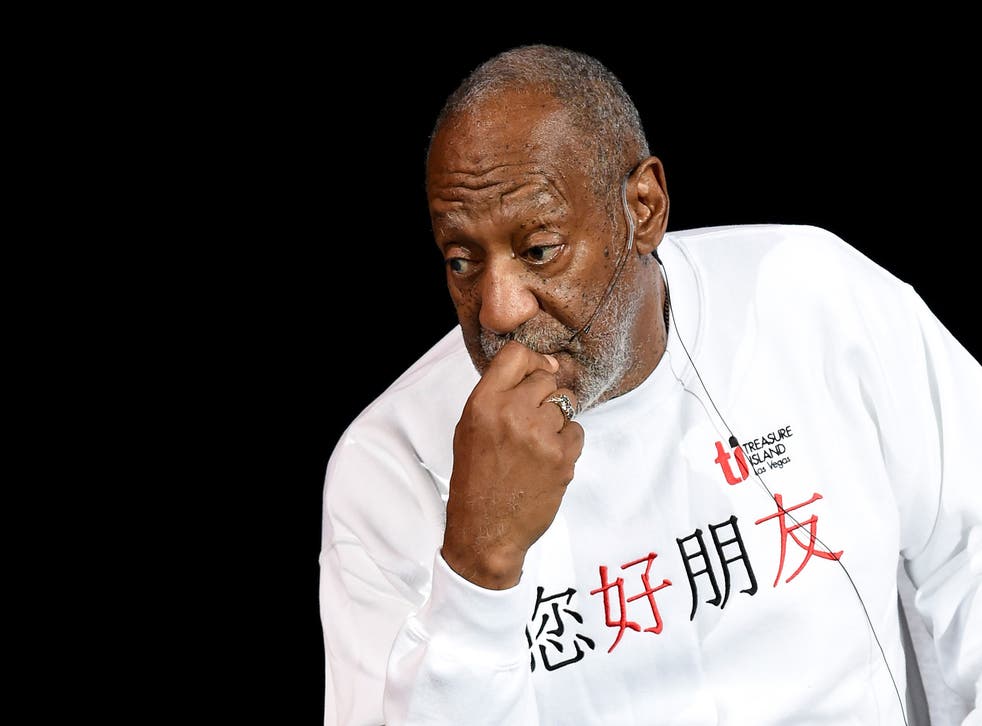 With every day that passes, it seems the rosy image of Bill Cosby as the beloved, sweater-clad dad of The Cosby Show is being further tarnished by allegations that he sexually assaulted multiple women over several decades. Yesterday, a Florida woman became the fourth in less than a month to come forward with similar claims. In an interview with local news station WPTV, Therese Serignese alleged that in 1976, when she was 19, the comedian offered her pills following a show in Las Vegas, and that she later woke up to find him having sex with her.
The 77-year-old star had declined to comment on previous allegations during a 6 November interview with the Associated Press, video of which emerged this week. As that interview concluded, Mr Cosby requested that the segment about the allegations be "scuttled", suggesting that by broaching the subject, AP's reporter had compromised his integrity.
Cosby and his representatives have consistently and strenuously denied accusations against him, with his lawyer describing the women's claims as "preposterous" and "bizarre". He has never been charged with any crime related to the allegations.
Just what are the allegations being made against Bill Cosby?
The current swirl of accusations began last week, when Barbara Bowman, a former teenage model, described allegedly being "drugged and raped" by Mr Cosby, in an article for the Washington Post. "Cosby won my trust as a 17-year-old aspiring actress in 1985, brainwashed me into viewing him as a father figure, and then assaulted me multiple times," claimed Ms Bowman, now 47. "In one case, I blacked out after having dinner and one glass of wine at his New York City brownstone... I'm certain that he drugged and raped me."
Her claims were compounded by accusations from another woman, who said Mr Cosby had raped her in 1969, when she was 19. Joan Tarshis, then an aspiring comedy writer, alleged Mr Cosby mixed her a drink at his studio bungalow. "The next thing I remember was coming to on his couch while being undressed," she wrote on the website Hollywood Elsewhere last weekend. "Through the haze I thought I was being clever when I told him I had an infection and he would catch it and his wife would know he had sex with someone. But he just found another orifice to use."
In an interview with Entertainment Tonight broadcast on Tuesday, supermodel Janice Dickinson, 59, claimed Cosby had invited her to meet him at a hotel in California in 1982, to discuss her career. During their meeting, she alleged, he offered her wine and a pill, ostensibly to alleviate her period pains. "The next morning I woke up, and I wasn't wearing my pyjamas, and I remember before I passed out that I had been sexually assaulted by this man," she said. "The last thing I remember was Bill Cosby in a patchwork robe, dropping his robe and getting on top of me."
Why are these allegations coming out now?
In fact, Cosby first faced accusations of sexual assault in 2005. Andrea Constand, the director of the women's basketball team at Temple University, the comedian's alma mater, claimed he had drugged and molested her at his home in Philadelphia the previous year.
Another 13 women reportedly offered to testify in her case, including Bowman, Serignese and former model Beth Ferrier, who had been in a consensual relationship with Cosby in the 1980s, but who claimed he later drugged and sexually assaulted her. However, Constand's lawsuit was eventually settled out of court.
At the time, a California lawyer named Tamara Green was also interviewed on US television, claiming Cosby had drugged and sexually assaulted her when she was a young model during the 1970s. After giving her a pill to combat her flu, Green alleged, Cosby had driven her home and then started "… groping me and kissing me and touching me and handling me and… taking off my clothes." Cosby's lawyer denied her claims categorically.
Ten years ago there was no social media to speak of, which meant the allegations failed to make their way into the public consciousness. That had all changed by this September, when journalist Mark Whitaker published a biography, Cosby: His Life and Times, which controversially omitted the allegations of sexual assault against its subject. The following month, comedian Hannibal Buress described Cosby as a "rapist" during a stand-up set in Philadelphia; the clip went viral. Inspired by the response to Buress's routine, Bowman penned her account for the Washington Post, and the story ballooned.
The alleged incidents stretch back to the 1960s; why didn't these women come forward earlier?
Some of Cosby's accusers have said that they remained silent because they felt scared, intimidated or ashamed. Bowman claimed she tried to interest a lawyer in her case soon after the alleged assaults, but that he "laughed" her out of his office. Dickinson said she had never spoken out about the alleged rape until now because, "I was afraid of being labelled a whore or a slut and trying to sleep my way to the top of a career that never took place."
Bill Cosby: Career in pictures

Show all 20
It is difficult to overstate the power Cosby wielded at the height of his fame. His ground-breaking early stand-up earned him a role in the 1960s TV series I Spy, making him the first major black star on US television. And then there was his run as family man Cliff Huxtable on The Cosby Show, one of the most successful TV shows of the 1980s. Married to his wife Camille for 50 years, Cosby was thought of until recently as one of the few unimpeachable figures in American public life. A public relations expert once famously said, "The three most believable personalities are God, Walter Cronkite, and Bill Cosby."
How has Mr Cosby responded?
Cosby has directly addressed the allegations against him in public just once, in a 2005 interview with the National Enquirer. Of his alleged assault on Andrea Constand, he said, "I am not going to give in to people who try to exploit me because of my celebrity status." He went on, "Looking back on it, I realise that words and actions can be misinterpreted by another person... I'm not saying that what I did was wrong, but I apologise to my loving wife, who has stood by my side for all these years, for any pain I have caused her. These allegations have caused my family great emotional stress."
In a radio interview broadcast by NPR last weekend, the comedian silently shook his head when asked about the allegations. Pressed on the issue during his exchange with AP, Cosby said simply, "There is no comment about that."
Cosby's lawyer, John Schmitt, released a statement last weekend, describing the women's allegations as "decade-old" and "discredited", and adding: "Cosby does not intend to dignify these allegations with any comment." Following the broadcast of Dickinson's interview, Marty Singer, another lawyer acting for Cosby, wrote to journalists to condemn her claims as "fabricated" and "an outrageous defamatory lie".
Why has nobody taken legal action against him?
Actually, Andrea Constand did just that – but when she made her allegations against Cosby back in 2005, the investigating district attorney said there wasn't enough evidence to pursue criminal charges. That's when she filed her civil complaint against the comedian, asking for at least $150,000 (£96,000) in damages. The suit was eventually settled out of court, the terms of the settlement were not disclosed, and the 13 women who had offered to act as witnesses were never called to testify.
It is extremely unlikely that legal action could be taken against Cosby for any of the other alleged incidents, at least in part thanks to the statute of limitations on cases of rape and sexual assault that pertain in most US states. In California, for example, such cases cannot be prosecuted more than 10 years after the alleged offence, while in Pennsylvania the statute of limitations is 12 years.
So these allegations cannot be examined?
Perhaps not in a court of law. But he is certainly being punished in other ways, whether he deserves to be or not. The streaming service Netflix has indefinitely postponed the release of the comic's latest stand-up special, Bill Cosby 77, which had been due to debut online on 28 November. NBC, the network that broadcast The Cosby Show, has scrapped a planned new sitcom starring Mr Cosby. And the TV Land channel has cancelled its scheduled Thanksgiving marathon of Cosby Show repeats. At 77, and on the verge of a late career renaissance, Cosby may instead be forced to retreat from the limelight for good.
Register for free to continue reading
Registration is a free and easy way to support our truly independent journalism
By registering, you will also enjoy limited access to Premium articles, exclusive newsletters, commenting, and virtual events with our leading journalists
Already have an account? sign in
Register for free to continue reading
Registration is a free and easy way to support our truly independent journalism
By registering, you will also enjoy limited access to Premium articles, exclusive newsletters, commenting, and virtual events with our leading journalists
Already have an account? sign in
Join our new commenting forum
Join thought-provoking conversations, follow other Independent readers and see their replies