Bono bicycle accident: U2 singer undergoes five hours of facial and reconstructive surgery
The 54-year-old singer's worst injuries were a "facial fracture involving the orbit of his eye" and a bone "tearing through his skin"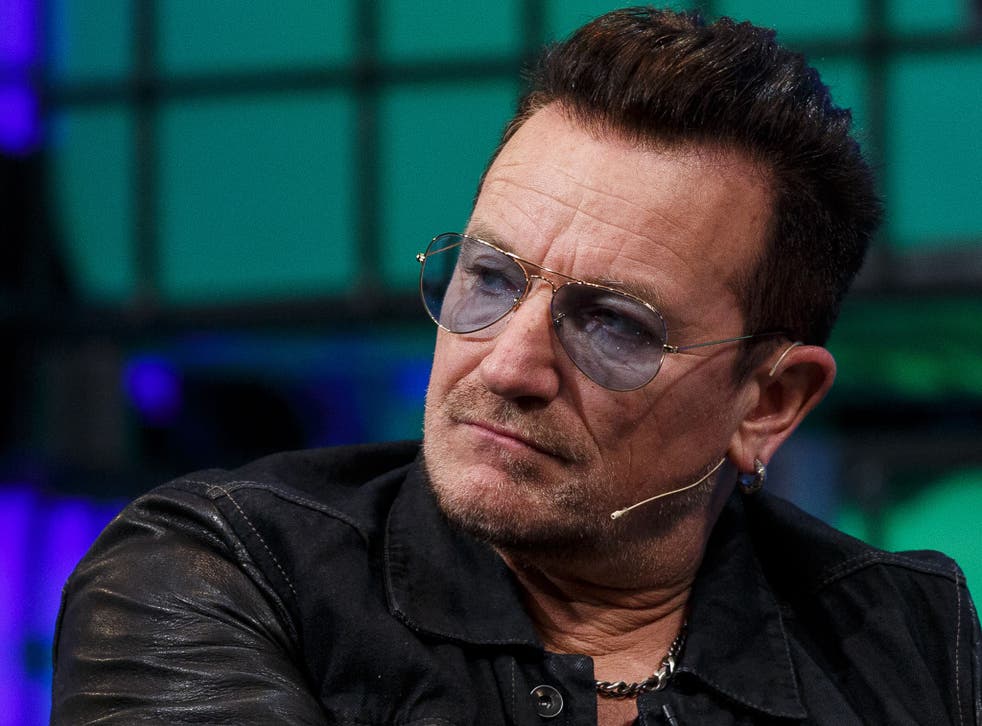 In the latest episode of "Bono gets stuck in Final Destination loop", the full extent of the injuries he suffered after falling from his bike in New York on Sunday have been disclosed.
The U2 frontman was forced to undergo a gruelling five hours of reconstructive surgery to repair facial fractures, a shattered shoulder and a broken arm.
The 54-year-old singer was rushed to hospital after the "high energy bicycle accident" in Central Park. After numerous X-rays and a CAT scan, he was left needing three metal plates and 18 screws to patch up the damage – the worst of which included a "facial fracture involving the orbit of his eye" and a bone "tearing through his skin".
Dean Lorich, Bono's Orthopaedic trauma surgeon, told Rolling Stone magazine: "He was taken emergently to the operating room where the elbow was washed out and debrided.
"A nerve trapped in the break was moved and the bone was repaired with three metal plates and 18 screws."
He returned to the New York Presbyterian/Weill Cornell Medical Center the day afterwards to have his little finger reconstructed by surgeons.
Doctors expect the musician to make a full recovery, but only after intensive therapy.
The accident, which saw the premature termination of the band's week-long residency on NBC's The Tonight Show, happened a day after Bono had jetted to London to record his line of the Band Aid 30 single, which aims to raise money to combat the spread of Ebola in West Africa.
It also happened days after he narrowly avoided a mid-flight disaster when the door fell off the private jet he was travelling in, scattering his and his friends' luggage somewhere over Germany.
Bono was making a two-hour trip from Dublin to Berlin on board a Learjet 60 D-CGEO with four friends heading to the Bambi International Music awards when the accident apparently took place.
When the aircraft reached the German coast, the tailgate at the rear of the plane became detached.
"He was extremely lucky, the plane could have gone down" a source is quoted in the Irish Daily Mail as saying.
"About an hour into the journey they heard a big thud coming from the rear of the plane.
"They were startled for a bit but they continued on and made the descent into Berlin airport.
"When they landed they were horrified to learn that the compartment at the rear of the plane had completely detached.
"The entire door along with Bono and his companions' luggage had fallen out mid-air. They don't know if the door and the contents landed over water or land but they were extremely lucky.
"They were at an altitude where anything could have happened and they are all feeling very lucky to be alive."
Authorities at the airport in Berlin confirmed to the publication that the jet had landed with a damaged tailgate.
Register for free to continue reading
Registration is a free and easy way to support our truly independent journalism
By registering, you will also enjoy limited access to Premium articles, exclusive newsletters, commenting, and virtual events with our leading journalists
Already have an account? sign in
Register for free to continue reading
Registration is a free and easy way to support our truly independent journalism
By registering, you will also enjoy limited access to Premium articles, exclusive newsletters, commenting, and virtual events with our leading journalists
Already have an account? sign in
Join our new commenting forum
Join thought-provoking conversations, follow other Independent readers and see their replies