Brian Williams: British news executive facing credibility crisis over NBC anchorman's lies
Former ITV boss forced to endure fierce criticism over Williams' combat 'record'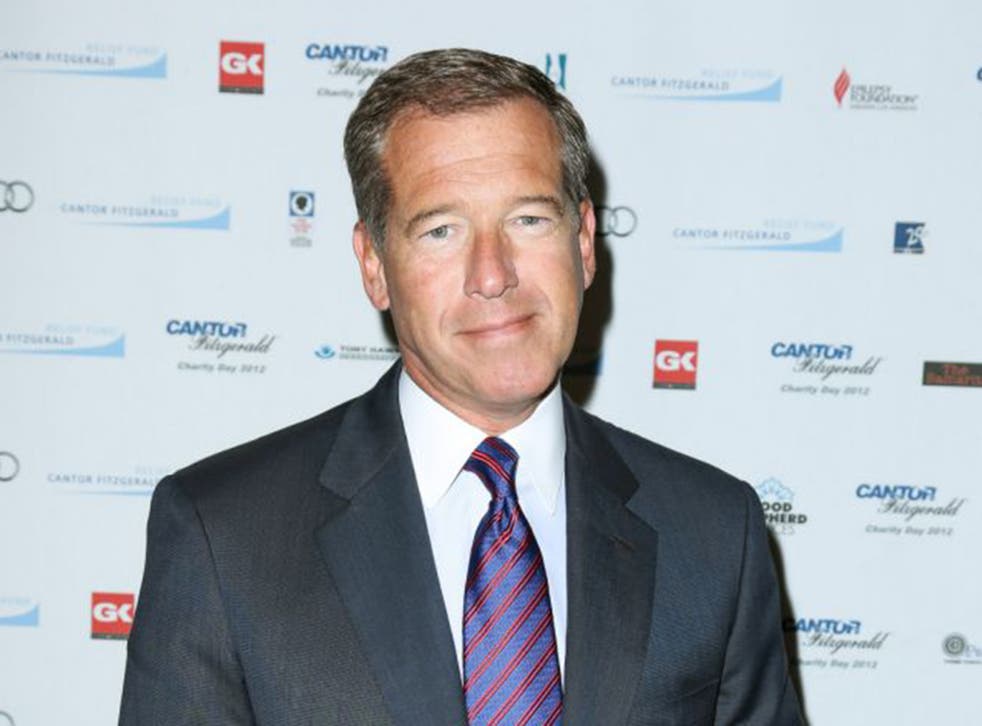 A deep unease at NBC News has taken hold since Brian Williams, its nightly news anchor, came under attack for making up a story about a life-and-death escape in Iraq. And caught squarely in the maelstrom is Deborah Turness, a Briton who left ITV to become President of NBC News just eighteen months ago.
What started as a red-face moment for Mr Williams has turned into an all-out credibility crisis not just for him – and there are now serious questions about whether he can hold onto his job – but for the network as well as for its corporate owners, Comcast.
Ms Turness was once the first female editor of ITN News. Ms Turness has found herself dealing with one calamity after another at NBC News. NBC Nightly News remains number one in its slot but nobody knows how it will fare with its star anchor in self-imposed detention.
'Meet the Press', its once all-conquering Sunday morning political show, was plunged in disarray last year when its anchor, David Gregory, was fired and its breakfast programme, 'The Today Show' also under her wing, has also been sputtering.
Ms Turness has asked the head of NBC News' own investigative unit to investigate Mr Williams. But even the credibility of that move is under fire since that unit depends on the goodwill of Mr Williams to get their reports on air.
On Monday night, NBC prepared to air its flagship nightly bulletin with a replacement reader.
Storm clouds continued to gather at the weekend. On Saturday Mr Williams issued a statement saying he would step back from his Monday-Friday anchor role for the "next several days".
Brian Williams Misremembers memes

Show all 6
Monday night was when his awkward absence was set to be nationally noticed. And on Sunday he said he changed his mind about making a Thursday might guest appearance on the late night David Letterman talk show on CBS. The affair was ignited a week ago last Friday when Mr Williams introduced a segment about a special tribute at an ice hockey game to retired military officer who, he recalled, once helped to save him in 2003 when he was aboard a Chinook helicopter flying over Iraq that was "forced down" into enemy territory by a rocket propelled grenade, RPG.
Vivid stuff, except it never happened. Soon aviators involved in the operation were posting messages on the NBC News Facebook page that while a Chinook had been hit by an RPG that day Mr Williams and his team were in fact aboard a different helicopter that had made the same journey some time later.
Those corrections were then picked up by the Stars and Stripes, the newspaper of the US military.
By Monday, additional stories of possible fabrications by Mr Williams, who replaced Tom Brokaw as NBC's chief anchor in 2004, had started to bubble up. Some had been knocking about in the ether of journalistic gossip before.
Notably, was Mr Williams telling stories when in 2006 he said he saw a body floating past him in the French Quarter of New Orleans during Hurricane Katrina the year before?
Questions were also being asked by different accounts he has given over time about another helicopter flight this time involving rockets being fired by Hezbollah towards Israel in 2006. Each time he told the story, the rockets got ever close to a helicopter he was flying in. In 2007 he told a student newspaper in Connecticut the rockets passed "just beneath the helicopter I was riding in".
In an interview with the Stars and Stripes newspaper published on Monday, Mr Williams said he would "not have chosen to make this mistake".
"Because I knew we had all come under fire, I guess I had assumed that all of the airframes took some damage because we all went down," he said.
Telling stories is what reporters – and especially anchors – are employed to do. And always there is the temptation to give stories a bit of additional "wing" to maximise readers and viewers.
While the raking over of Mr Williams' record of war and hurricane reporting may have barely begun, there were also signs of some journalists coming to his defence last night.
Among them was Joe Klein, a veteran of Time Magazine and author. He said he found "the judgments about whether Williams should be fired, from pundits who never saw the inside of a Chinook helicopter, self-righteous and gagging".
If journalists overstate their derring-do at their peril, the same goes for politicians.
In either profession damage to your reputation for trustworthiness or credibility can spell disaster.
In 2008, Hillary Clinton famously spoke of landing at an airport in Bosnia during the Balkan War and coming under sniper fire.
"We just ran with our heads down to get into the vehicles," she said in one speech. The story was quickly debunked by other witnesses. Mrs Clinton said she had "different memory" of what had transpired.
Register for free to continue reading
Registration is a free and easy way to support our truly independent journalism
By registering, you will also enjoy limited access to Premium articles, exclusive newsletters, commenting, and virtual events with our leading journalists
Already have an account? sign in
Register for free to continue reading
Registration is a free and easy way to support our truly independent journalism
By registering, you will also enjoy limited access to Premium articles, exclusive newsletters, commenting, and virtual events with our leading journalists
Already have an account? sign in
Join our new commenting forum
Join thought-provoking conversations, follow other Independent readers and see their replies