Antonin Scalia: Conspiracy theories fly as officials say Supreme Court Justice died of 'natural causes'
The 79-year conservative judge was found dead in Texas on Saturday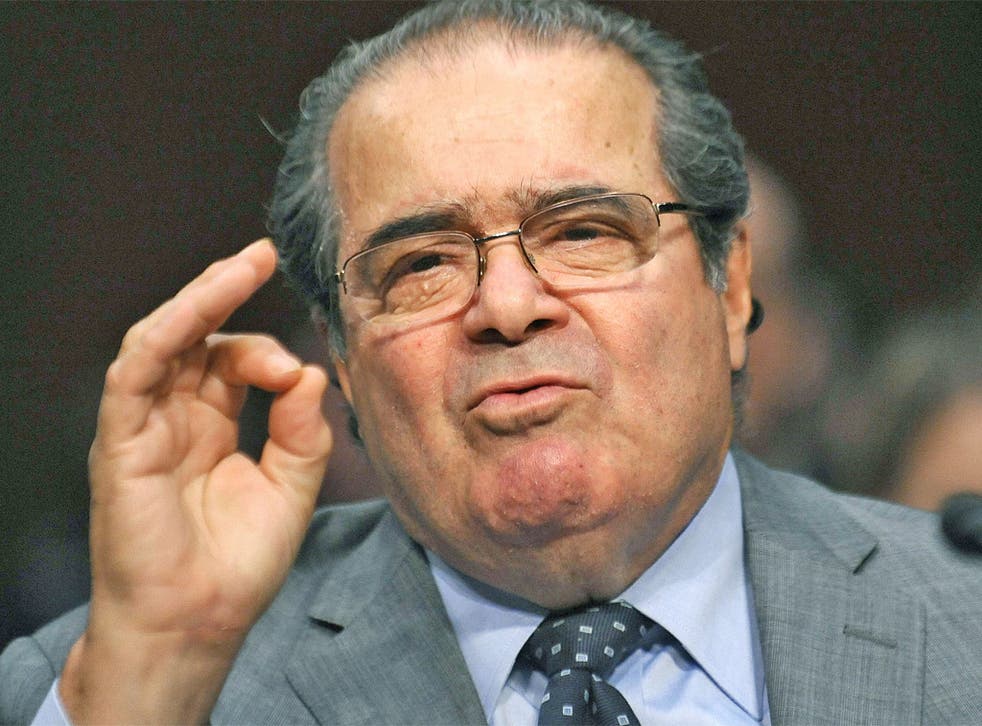 It didn't take long.
Barely hours after it was announced that Supreme Court Justice Antonin Scala had been found dead in Texas, rumours and conspiracy theories began to swirl and there was no shortage of people suggesting his death was not quite so straightforward.
Given the impact Mr Scalia's death will have on the political landscape in Washington as President Obama and Republicans prepare for battle over his successor, it is not perhaps surprising that some were skeptical.
But officials did not help provide clarity by providing confusing and conflciing details about this death. It was initially reported the outspoken jurist had died from a heart attack.
Indeed, the Washington Post said the aftermath of the 79-year's death had been marked by "chaos, confusion and conflicting reports".
The body of the late judge was flown to northern Virginia from Texas late on Sunday after investigators determined there was no foul play in his death.
Jose Amezcua, a manager at Sunset Funeral Homes, told Fox News that he had personally loaded Mr Scalia's casket onto a private plane bound for Fairfax, Virginia at El Paso International Airport. Terry Sharpe, assistant director for operations at the airport, told the Associated Press a private plane carrying Mr Scalia's body departed at around 8pm.
Presidio County Judge Cinderela Guevara said she had determined Mr Scalia had died of natural causes, but not from a heart attack.
Ms Guevara also said that she had spoken to local investigators and US marshals, as well as Mr Scalia's family and personal doctor, before determining that an autopsy was not necessary. Texas law does not require such a post-mortem test.
Ms Guevara said Mr Scalia's doctor told her that the justice was suffering from minor ailments, but did not elaborate further.
The owner of the Cibolo Creek Ranch, the West Texas resort where Scalia spent his final hours, told reporters Sunday that Mr Scalia was part of a group of about 35 weekend guests and had arrived at the ranch at around noon on Friday.
John Poindexter said Scalia ate dinner with the group and was his "usual, personable self". According to Mr Poindexter, Scalia retired to his room at around 9pm, saying he wanted a long night's sleep.
Mr Scalia was found dead in his room Saturday morning. Mr Poindexter said he was found "in complete repose" and said he had "passed away without any difficulty" in the night.
Yet there was no shortage of people to raise questions about Mr Scalia's death
William Ritchie, former head of criminal investigations for Washington DC police, wrote on Facebook that he thought there was more to Mr Scalia's death than the public was being told.
"My gut tells me there is something fishy going on in Texas," he wrote.
"As a former homicide commander, I am stunned that no autopsy was ordered for Justice Scalia. You have a Supreme Court Justice who died, not in attendance of a physician."
He added: "You have a non-homicide trained US Marshal tell the justice of peace that no foul play was observed. You have a justice of the peace pronounce death while not being on the scene and without any medical training opining that the justice died of a heart attack. What medical proof exists of a myocardial Infarction? Why not a cerebral hemorrhage?"
On Saturday night, the online radio host Alex Jones, considered one of the country's most enthusiastic conspiracy theorists, was already convinced something was afoot.
"My friends, it"s Saturday night, this is an emergency transmission," he began his broadcast.
"The question is, was Antonin​ Scalia​ murdered? And the answer to that is, has the Bill of Rights and Constitution been murdered? Has it been reported that members of the Supreme Court have been blackmailed? Yes it has."
He added: "And I wish it was natural cause, but man, my gut tells me no. And if this is an assassination, this signifies that they are dropping the hammer."
The Conservative trendsetter Matt Drudge also jumped on the conspiracy wave. He posted a line with a headline that yelled: "Scalia found dead with 'pillow over head'."
Join our new commenting forum
Join thought-provoking conversations, follow other Independent readers and see their replies