Czech President welcomes Donald Trump's first wife's bid to become US ambassador
'They could not send a better US ambassador to Prague,' says the Czech President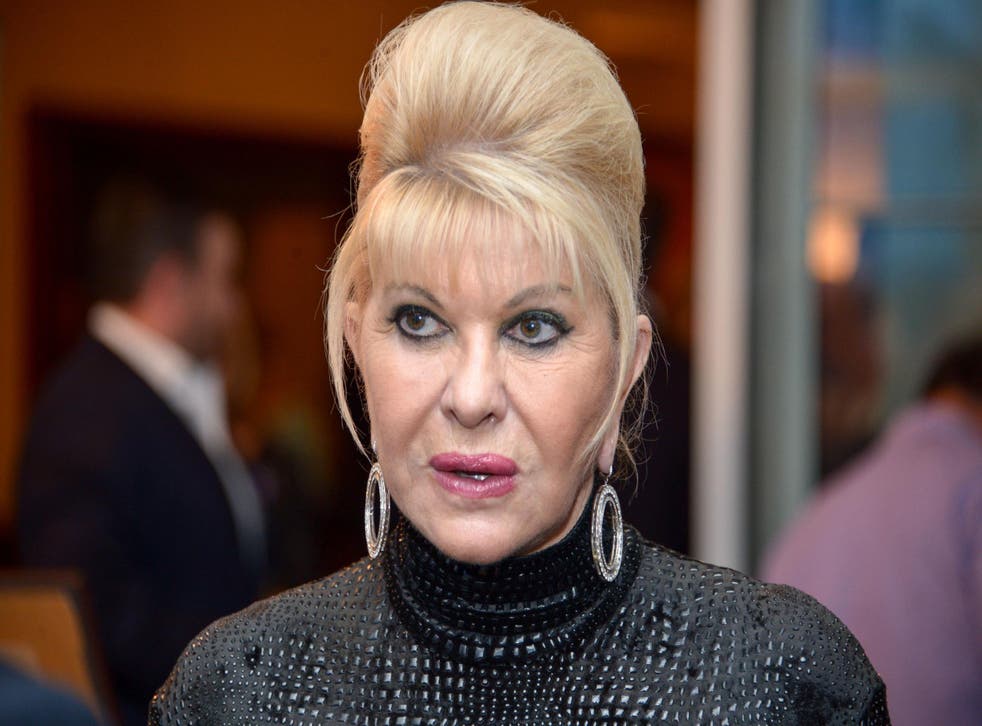 Ivana Trump's expertise might lie in modelling, professional socialising and of course Celebrity Big Brother but the Czech-American businesswoman is now keen to try her hand at international diplomacy. The first wife of the President-elect, who is the mother of his three children, recently announced she wanted to become an ambassador for the Czech Republic under Mr Trump's presidency.
To her no doubt delight, the President of the Czech Republic has now expressed his support for her bid. According to a statement released by the President's office, President Milos Zeman informed Ms Trump of his enthusiasm in a phone call on Wednesday. "They could not send a better US ambassador to Prague," Mr Zeman told her.
He also told Ms Trump that her bid for ambassador had made him "feel very happy" and he was looking forward to meeting her alongside his wife who is also called Ivana.
President Donald Trump life in pictures

Show all 16
The Prime Minister of the Czech Republic also applauded the news, saying Ms Trump's role could strengthen connections between the country and Mr Trump. "If Ivana feels up for it and decides to do so, it would be a nice way to underline the link between the Czech Republic and Trump," he told Czech Radio.
Ms Trump, who was born in Zlin at the time it was called Czechoslovakia, expressed her eagerness for the role on Sunday.
"I will suggest that I be an ambassador for the Czech Republic," Ivana, who is the mother of Ivanka, Donald Trump Jr, and Eric, told The New York Post.
"[It] is where I'm from and my language and everybody knows me. I'm quite known all around the world. Not only in America," she continued. "I have written three books, and they were translated in 40 countries in 25 languages. I'm known by the name Ivana. I really did not need the name Trump."
Mr Zeman, a populist politician who previously urged the international community to take military action against Isis to defend itself against a "super-holocaust", was one of the few European politicians who was explicitly pro-Trump during the election.
"Today, I congratulate the newly elected president of the United States Donald Trump. I hope you visit soon to the Czech Republic, where are you I have the honour to invite. Once again congratulations," a post on his Facebook read.
The Czech Prime Minister Bohuslav Sobotka has also expressed his support for Mr Trump in the wake of his victory. "Trump, unlike some of his predecessors, at least knows where the Czech Republic is located," he tweeted.
If Ms Trump, who is revered as a local girl done good in the country, were to become the ambassador, she would not be the country's first so-called celebrity diplomat of her time. Shirley Temple went from child star to Czechoslovakian ambassador, being appointed to the role by President George Bush in 1989.
Register for free to continue reading
Registration is a free and easy way to support our truly independent journalism
By registering, you will also enjoy limited access to Premium articles, exclusive newsletters, commenting, and virtual events with our leading journalists
Already have an account? sign in
Register for free to continue reading
Registration is a free and easy way to support our truly independent journalism
By registering, you will also enjoy limited access to Premium articles, exclusive newsletters, commenting, and virtual events with our leading journalists
Already have an account? sign in
Join our new commenting forum
Join thought-provoking conversations, follow other Independent readers and see their replies