Dame Anne Warburton: Britain's first female Ambassador who later became an inspirational President of Lucy Cavendish College
In addition to high standards and integrity, Warburton was also kind and encouraged women to do their very best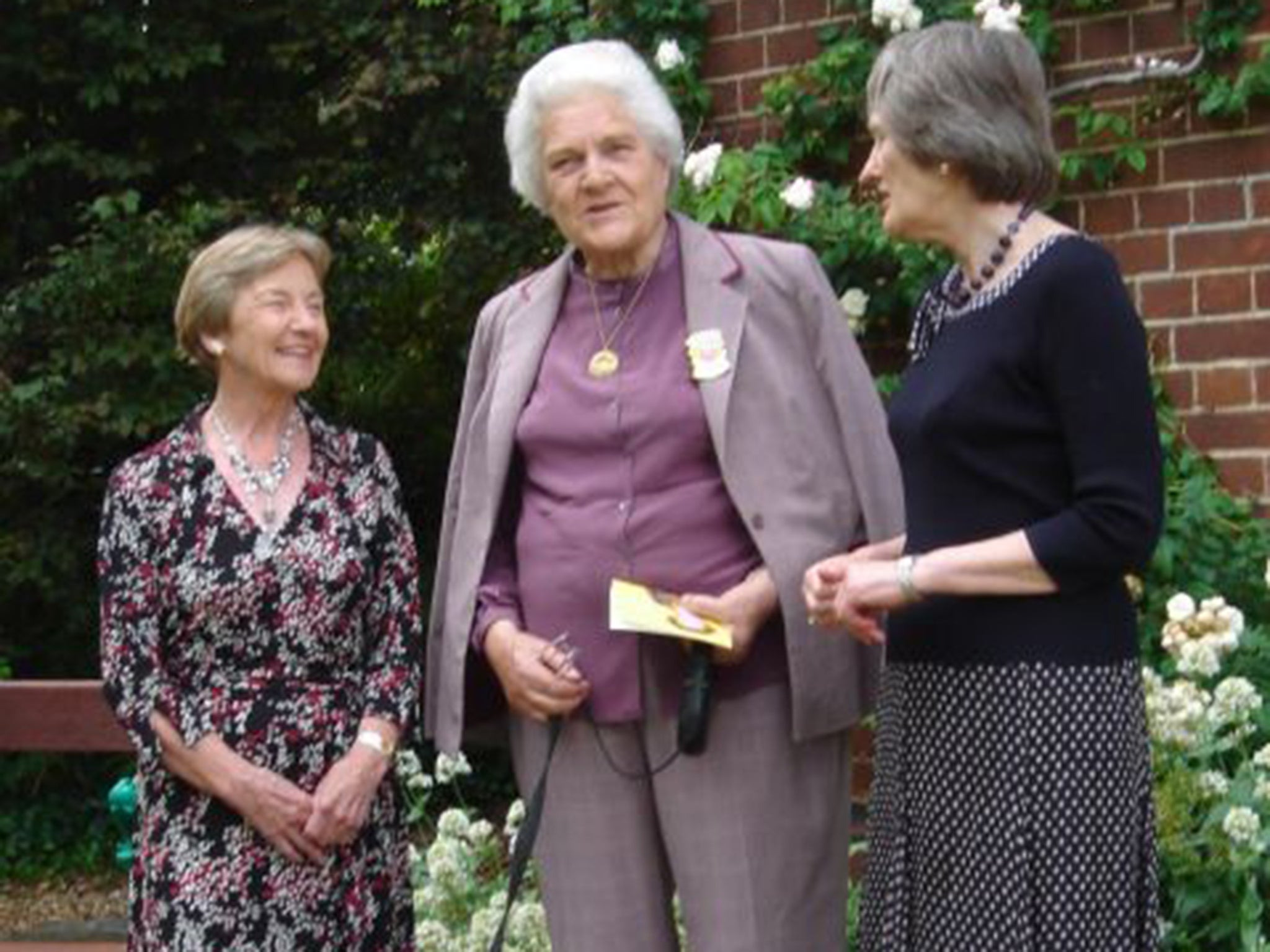 Although Barbara Salt was appointed Ambassador to Israel in 1962, illness prevented her from taking up her post. So Dame Anne Warburton was Britain's first serving female Ambassador, in Copenhagen from 1976-83, then as British Permanent Representative to the United Nations in Geneva from 1983-85. Retiring from the Diplomatic Service, she was the forward-thinking President of Lucy Cavendish College, Cambridge from 1985-94.
Warburton's father, Captain Eliot Warburton MC, was British but her mother Mary Thompson was American, so in 1942 she was able to take refuge from the war in the US. She graduated at 18 in Government and Economics from Barnard College, part of Columbia University in New York, and then returned to Britain to read PPE at Somerville College, Oxford.
For the next eight years she worked as an economist on the Marshall Plan in London, the Nato Secretariat in Paris and then briefly back in London with the merchant bank Lazard Freres. Her ambition to become a diplomat was fulfilled in 1957 when she joined the Foreign and Commonwealth Office, and for nine years she represented Britain at the UN, starting as First Secretary in New York and rising to Permanent Representative to the UN in Geneva.
The Foreign Secretary James Callaghan was eager to change the culture of the FCO, and in 1976 appointed her as Ambassador to Denmark; until 1973 women were made to leave the civil service if they married. Warburton put her career first and remained single. She later admitted that a husband might have been socially useful in an embassy but she thrived without one. "The only difference in being the first woman was that it made it important on other people's account," she said.
Warburton was a popular ambassador in her seven years. She travelled to all corners of Denmark, including the Faroes and Greenland, and became an expert on Danish agriculture, when Denmark was establishing exports of pork and bacon to Britain. After the Queen's state visit in 1979 she was awarded a DCVO.
At the half-way point of the UN Decade of Women in 1980 she hosted the British delegation to the conference in Copenhagen. Five years later, as deputy head of the British delegation to the closing conference in Nairobi, she confessed herself to be puzzled by the noisy flamboyance of the British feminists of Wages for Housework and the King's Cross Prostitutes Collective. Her own method of breaking glass ceilings was quiet determination and always doing the best job she could.
That year she took early retirement to become the fourth president of Lucy Cavendish College, Cambridge. Then only 20 years old, the college for mature women had only 50 students and lacked confidence in male-dominated Cambridge academia. Warburton liked to make things happen, and throughout her nine-year tenure her purposeful approach reaped lasting results.
She encouraged more diverse admissions and built up the college's strengths in medicine, law and engineering. She created links with other colleges and women's organisations and the number of students and research fellows doubled. She fostered a sense of community and mutual support among staff, students and fellows. Her greatest reward was to observe how nervous new undergraduates left three years later saying, "Now I can do something."
She built up finances and planned several new buildings. The magnificent dining hall, designed by female architects in the van Heynigan & Haward practice, was named Warburton Hall. Her two great loves – Lucy Cavendish and Denmark – were combined when the Cambridge-educated Queen Margrethe of Denmark accepted her invitation to become an Honorary Fellow of the College. The current President, Professor Janet Todd, remembers of Warburton: "She was a wonderful role model, carving out a brilliant career when it was difficult for women to rise to the top. She was impressive without being overwhelming."
In 1992 Prime Minister John Major, then president of the European Community, invited her to chair a team to investigate sexual abuse against Muslim women in Bosnia. She met many victims and their harrowing interviews formed the basis of a landmark report in the efforts to reduce sexual abuse in warfare.
A formidable woman, Warburton sat on the Cambridge University Senate and the boards of the British Library, the Fitzwilliam Museum and the English-Speaking Union and was an Equal Opportunities Commissioner.
In addition to high standards and integrity, she was also kind. Her successor at Lucy Cavendish, Baroness Perry of Southwark noted: "Dame Anne was friendly, warm and considerate which made the hand-over easy when it could have been so difficult." Warburton named her beloved golden retriever Lucy.
After her retirement to the Danish-style home she built in Suffolk in 1994, she joined Lord Nolan's Committee on standards of conduct in public life. Determined to the end, she refused dialysis when told that her kidneys would fail within weeks, and she lived another two years. She did not try to persuade others of her atheism. If she had a belief, it was encouraging women to do their very best.
JANIE HAMPTON
Anne Marion Warburton, diplomat and educationist: born 8 June 1927; CVO 1965, CMG 1977, DCVO 1979; died 4 June 2015.
Join our commenting forum
Join thought-provoking conversations, follow other Independent readers and see their replies