The Independent's journalism is supported by our readers. When you purchase through links on our site, we may earn commission.
Donald Trump has $800 million wiped off value in one year, according to Forbes
Property tycoon plummets 35 places on list of America's richest people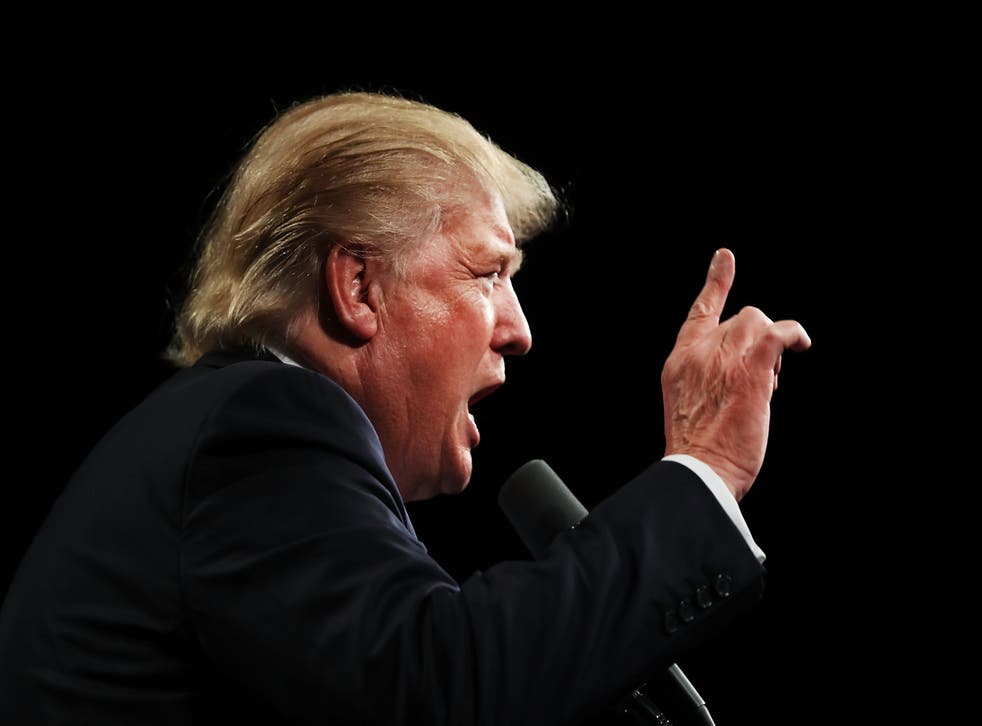 Donald Trump has haemorrhaged $800 million (£630 million) of his wealth this year, according to an annual ranking of America's richest people.
The loss is the real estate magnate's second financial misfortune to be revealed in one week, after the New York Times published his tax return from 1995. The document revealed he had lost $916 million that year – meaning he could have used a loophole to not pay any federal income tax for almost two decades.
Mr Trump's loss in 2016 has caused him to plummet 35 places on the list of the world's richest people, according to Forbes.
The tycoon is now worth $3.7 billion (£2.9 billion), down from $4.5 billion (£3.5 billion) in March, the business magazine said. Forbes' new total sends him crashing into 156th place on the rich list.
The new analysis also widens the already substantial gap between what Mr Trump has boasted he is worth on the campaign trail – $10 billion (£7.9 billion) – and what financial experts say he is.
Forbes wrote that a "softening of New York City's real estate market" was the major factor in Mr Trump's loss.
Revelations about the state of the billionaire's finances and tax affairs have prevented him regaining his footing after a shaky performance in the first Presidential Debate against Democratic rival Hillary Clinton.
Forbes' analysis of the Republican's wealth examined 28 of the different kinds of assets Mr Trump holds. They found that 18 of them had lost value. Among them was Trump Tower: his trademark 58-floor skyscraper, a symbol of his influence.
The tower – in which the billionaire lives in a three-storey penthouse – is worth $159 million (£125 million) less this year due to an estimated 20 per cent drop in the building's net operating income.
The complex is estimated to have lost another 8 per cent because of falling real estate values in Manhattan.
Mr Trump also made losses on Manhattan's Fifth Avenue, 40 Wall Street and Mar-a-Lago, his private beachfront club in Palm Beach, Florida.
Trump: I have used tax laws 'brilliantly'
The businessman has given his presidential campaign $7 million (£5.5 million) and loaned it an extra $48 million (£37.7 million) of his own money – Forbes said it did not expect the Republican to get this back.
Analysis of the newcomers to the Forbes 400 list this year show that they overwhelmingly inherited their fortunes. Of the 22 new entries on the list, more than two-thirds were given at least part of their immense wealth.
The Clinton campaign has sought to capitalise on the benefits Mr Trump had in establishing himself as a wealthy businessman.
"You know, Donald was very fortunate in his life and that's all to his benefit," Hillary Clinton said during last week's debate.
Trumped! The best cartoons on 'The Donald'

Show all 28
"He started his business with $14 million, borrowed from his father, and he really believes that the more you help wealthy people, the better off we'll be and that everything will work out from there. I don't buy that. I have a different experience."
Mr Trump retorted: "My father gave me a very small loan in 1975 and I built it into a company that's worth many, many billions of dollars with some of the greatest assets in the world
"I say that because that's the kind of thinking our country needs."
Without Mr Trump's audited accounts, which he has refused to release, estimates of Mr Trump's net worth have varied slightly. In February, The Economist said the tycoon was worth $4 billion (£3.1 billion).
Join our new commenting forum
Join thought-provoking conversations, follow other Independent readers and see their replies