Donald Trump declares 'the Hispanics love me – they were chanting for me' after being met by protesters at US-Mexico border
The business magnate's four hour appearance was as controversial as expected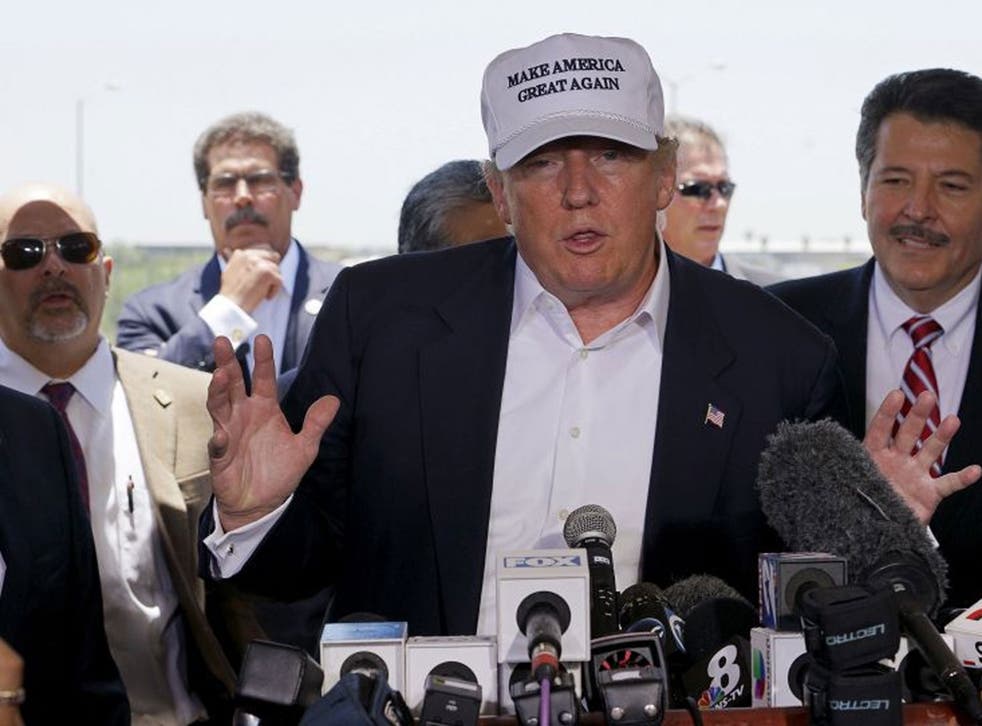 A defiant Donald Trump declared "the Hispanics love me" and once again refused to apologise for his remarks about undocumented Mexican immigrants being rapists and criminals as he arrived at the US-Mexico border.
Trump's highly publicised trip was never going to be an uneventful affair, particularly after the union representing border patrol agents pulled out at the last minute.
The outspoken tycoon was met by a group of about 50 Hispanic protesters as his plane landed in Texas but told reporters that people were actually gathered there to show their support. "They were chanting for me at the airport," he insisted.
When a reporter told him there were "plenty" of people chanting against him, Trump was unfazed: "I didn't see them."
"I'll take jobs back from China," he went on. "I'll take jobs back from Japan. Hispanics are going to get those jobs, and they're going to love Trump, and they already do."
"I think I'll win the Hispanic vote," he concluded, insisting that the Hispanic community was not insulted by his comments.
The tycoon was sporting an oversized white cap with "Make America Great Again" emblazoned across it as he arrived in Texas for his four-hour visit.
Despite his many assertions about Mexican immigration and crime, Trump was apparently unfamiliar with the fugitive Mexican drug lord Joaquin "El Chapo" Guzman. "Who?" he responded when asked about how he would deal with the security threat created by El Chapo's escape from prison.
When the reporter explained who El Chapo was, he replied: "I don't know anything about it" and moved onto the next question.
Register for free to continue reading
Registration is a free and easy way to support our truly independent journalism
By registering, you will also enjoy limited access to Premium articles, exclusive newsletters, commenting, and virtual events with our leading journalists
Already have an account? sign in
Register for free to continue reading
Registration is a free and easy way to support our truly independent journalism
By registering, you will also enjoy limited access to Premium articles, exclusive newsletters, commenting, and virtual events with our leading journalists
Already have an account? sign in
Join our new commenting forum
Join thought-provoking conversations, follow other Independent readers and see their replies