The Independent's journalism is supported by our readers. When you purchase through links on our site, we may earn commission.
Donald Trump's ex-wife's claim he 'raped' her resurfaces in new documentary
The allegation comes from a sworn deposition reported in a 1993 book, describing a 'violent assault'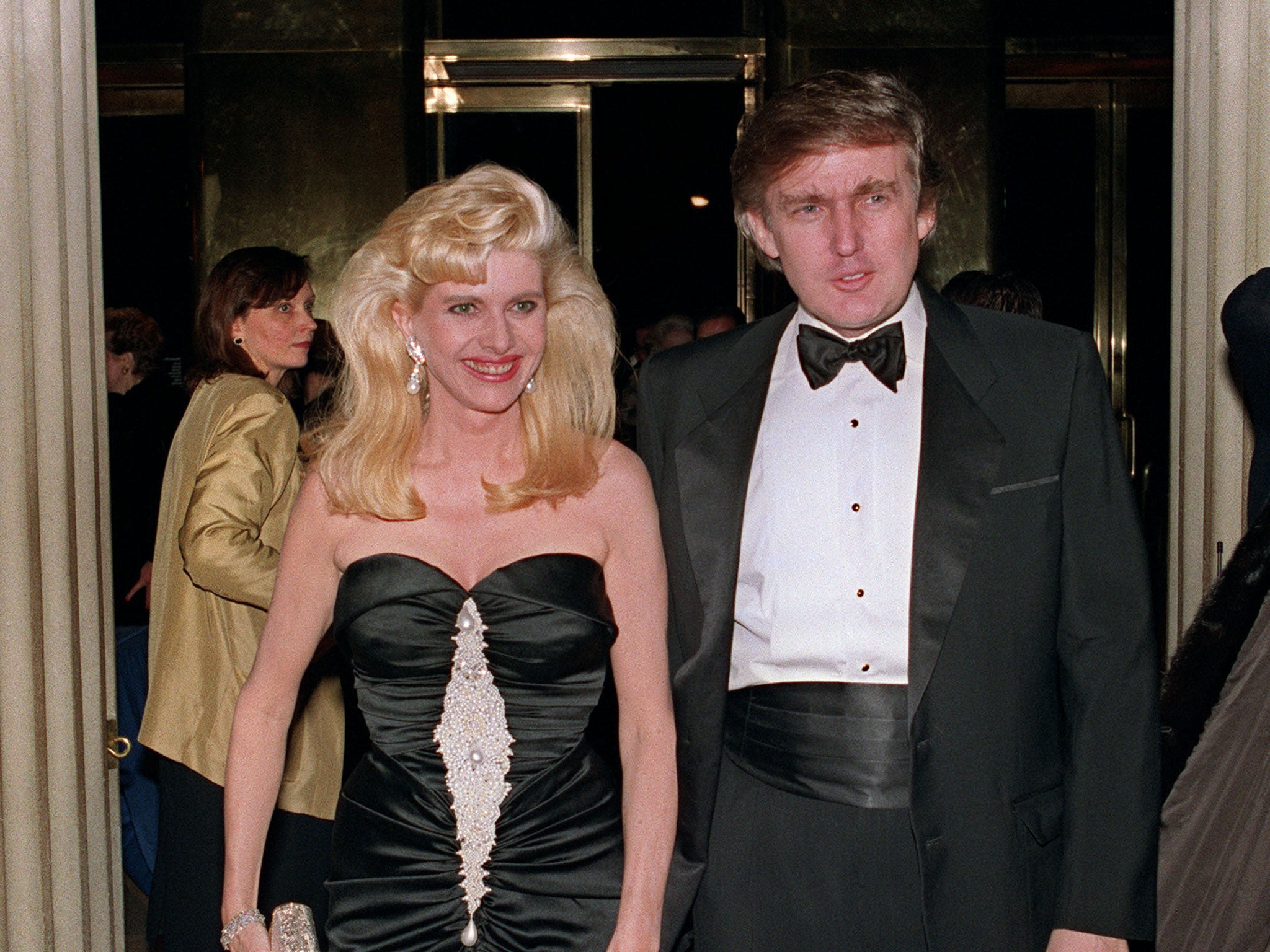 During their divorce in 1991, Donald Trump's ex-wife Ivana accused him of "raping" her three years previously. But she has since clarified it was not in "a literal or criminal sense".
The allegation resurfaced in Matt Frei's Channel 4 documentary The Mad World of Donald Trump.
The allegation appeared in a sworn deposition made by Ivana Trump reported in the 1993 book Lost Tycoon: The Many Lives of Donald J. Trump, by Harry Hurt III.
According to Lost Tycoon, Ms Trump accused him of rape after he allegedly attacked her in a "violent assault".
He is alleged to have ripped off her clothes to have sex with her.
The book claims she told her friends: "He raped me."
Donald Trump's best quotes
Donald Trump denied the allegation of rape and said he had not had scalp reduction surgery in 1993, telling Newsday: "It's obviously false."
When the claims were reported by The Daily Beast in July last year, Michael Cohen, special counsel at The Trump Organisation, said: "It's not the word that you're trying to make it into."
He said Ms Trump was talking about how "she felt raped emotionally... She was not referring to it [as] a criminal matter, and not in its literal sense, though there's many literal senses to the word."
He then added: "You're talking about the front-runner for the GOP, presidential candidate, as well as private individual who never raped anybody. And, of course, understand that by the very definition, you can't rape your spouse.
"It is true. You cannot rape your spouse. And there's very clear case law."
In New York, the marital rape exemption law was struck down in 1984.
When Lost Tycoon was about to be printed in 1993, Mr Trump and his lawyers provided a statement from Ms Trump, published beneath the allegation of rape.
Donald Trump's most controversial quotes
Show all 14
It read: "During a deposition given by me in connection with my matrimonial case, I stated that my husband had raped me.
"I wish to say that on one occasion during 1989, Mr Trump and I had marital relations in which he behaved very differently toward me than he had during our marriage.
"As a woman, I felt violated, as the love and tenderness which he normally exhibited toward me, was absent. I referred to this as a 'rape,' but I do not want my words to be interpreted in a literal or criminal sense.
"Any contrary conclusion would be an incorrect and most unfortunate interpretation of my statement which I do not want to be interpreted in a speculative fashion and I do not want the press or media to misconstrue any of the facts set forth above.
"All I wish is for this matter to be put to rest."
After The Daily Beast ran their story about the rape allegations made in the book, Ms Trump released a statement to CNN to say: "I have recently read some comments attributed to me from nearly 30 years ago at a time of very high tension during my divorce from Donald. The story is totally without merit.
"Donald and I are the best of friends and together have raised three children that we love and are very proud of.
"I have nothing but fondness for Donald and wish him the best of luck on his campaign. Incidentally, I think he would make an incredible president."
The divorce case between Donald and Ivana Trump was granted on the grounds of his "cruel and inhuman treatment" of her, according to a report in the New York Times in December 1990.
Ivana Trump was also subject to a gag order, which stops her from talking about her marriage to Donald Trump without his permission.
In The Mad World of Donald Trump, English television presenter Selina Scott claimed Mr Trump became "extremely abusive" and wrote 13 letters attacking her when he realised he wouldn't have control over a profile film she was making about him.
She said: "It surprises me that any woman in America can vote for this guy."
Join our commenting forum
Join thought-provoking conversations, follow other Independent readers and see their replies