The Independent's journalism is supported by our readers. When you purchase through links on our site, we may earn commission.
Donald Trump reveals his plan for Syria to the New York Times – off the record
The President-elect went off-the-record to discuss a matter of global concern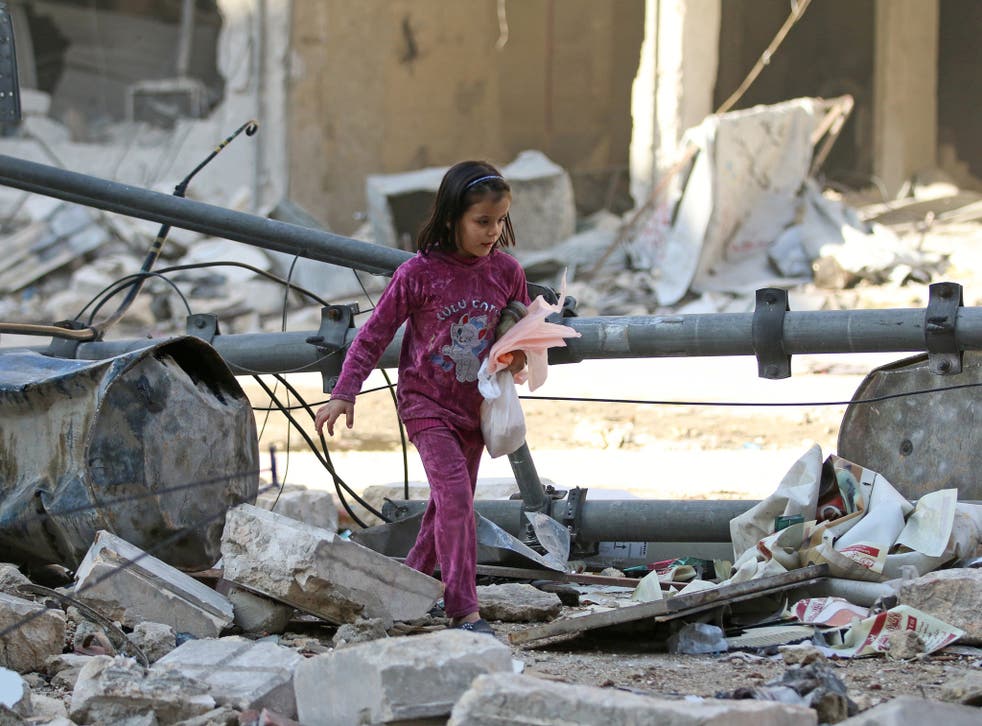 When Donald Trump was on the campaign trail, he made a point of refusing to provide too many details on how precisely he would confront the challenge of both Isis and Syria, as not to give an advantage to the enemy. He said of the ongoing coalition operation to retake the Iraqi city of Mosul: "Why can't they make it a sneak attack?"
Now that he is the President-elect, and has been fully read-in on the intelligence on the war in Syria, a conflict that has killed up to 500,000 people and displaced more than 12m, Mr Trump is a little more measured, if equally secretive.
In a meeting with reporters from the New York Times on Tuesday, a meeting that was on-the-record, the 70-year-old asked to go off-the-record to discuss a particular aspect of the Syrian situation.
"I can only say this: We have to end that craziness that's going on in Syria," Mr Trump said. "One of the things that was told to me - can I say this off the record, or is everything on the record?"
He added: "I don't want to violate, I don't want to violate a …."
At that point, publisher Arthur Sulzberger, the newspaper's publisher who was also chairing the meeting, said Mr Trump could indeed talk in confidence and the conversation continued for several moments. The details were not included in the newspaper's subsequent transcript.
The incident was noticed by several commentators, including Jon Williams, the former BCC World Editor, who now lives in New York where he is Foreign Editor of ABC News.
Mr Williams wrote on Twitter: "DonaldTrump signaling a big shift on Syria - but transcript shows he goes off the record to discuss."
During the campaign, Mr Trump gave some clues as to what he would do about the Syrian civil, a conflict now in its fifth year, and the leader of the Syrian regime, President Bashar Al-Assad.
He indicated that fighting Isis should be America's first priority in the country, rather than ousting Mr Assad. The Obama administration has sought to get rid of the Syrian leader, while also opposing Isis, at the same time.
"I don't like Assad at all, but Assad is killing Isis. Russia is killing Isis and Iran is killing Isis," he said in one debate.
Carey Mulligan: The Syrian conflict is at crisis point
In an interview earlier this year with the Wall Street Journal, he said: "I've had an opposite view of many people regarding Syria. My attitude was you're fighting Syria, Syria is fighting Isis, and you have to get rid of Isis."
He also made clear his wish to "bomb the sh*t" out of Isis's oil operations and said it could take up to 30,000 US troops to defeat the group.
While he has not committed to sending that many US troops to the region, he has has proposed changing international rules that forbid the military's use of torture. He also proposed killing the family members of terrorists to serve as a deterrent to others.
And in comments that caused no small controversy in the US, Mr Trump has indicated he could be more flexible in his approach to Russia and welcoming its own efforts against Isis, even while Vladimir Putin works to main Mr Assad, a long-time ally.
Before going off-the-record with the New York Times, Mr Trump said it was essential "to solve that problem because we are going to just keep fighting, fighting forever".
"I have a different view on Syria than everybody else. Well, not everybody else, but then a lot of people," he said. "I have some very definitive, I have some very strong ideas on Syria."
"I think what's happened is a horrible, horrible thing. To look at the deaths, and I'm not just talking deaths on our side, which are horrible, but the deaths - I mean you look at these cities…"
Andrew Tabler, a Syria expert at the Washington Institute, told The Independent Mr Trump has indicated previously that he would likely end funding for anti-Assad rebels in Syria.
He said he believed Mr Trump may be open to dividing the country in two, an idea that has a lot of support in Washington. He said having been read in on the current US intelligence, Mr Trump would now know that Mr Assad has only 25,000 spare troops for trying to retake territory that is currently in the hands of Isis or rebels opposed to him.
"I think he will look for a diplomatic agreement with Russia," he said. "He has some options. But he will know nothing is clear."

Join our new commenting forum
Join thought-provoking conversations, follow other Independent readers and see their replies