Dylann Roof 'wrote second racist manifesto' while awaiting trial for Charleston church shooting
The 22-year-old faces a total of 33 charges over the June 2015 shooting
Andrew Buncombe
New York
Tuesday 23 August 2016 14:11 Comments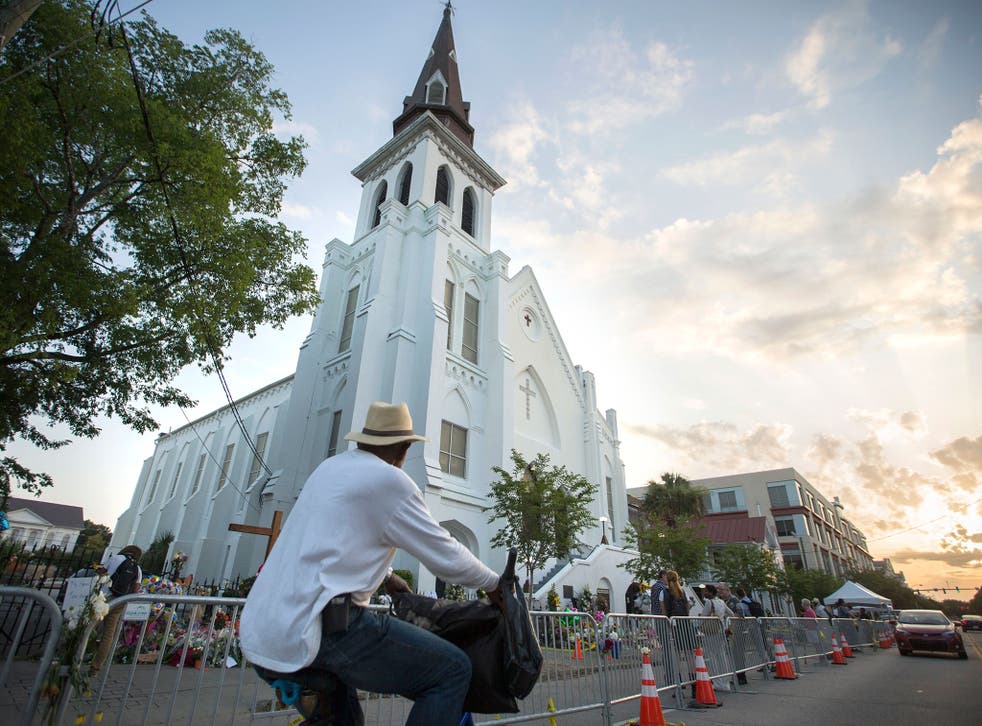 The young man charged with nine counts of murder for an attack on a black church wrote a second, white supremacist manifesto while awaiting trial, prosectors have said.
Documents filed in court in Charleston, South Carolina, claim that Dylann Roof wrote two manifestos in which he outlined his views on race and race relations. Prosecutors said they would use both of them as part of their case against him.
Roof, 22, faces 33 federal charges for the attack to which he has entered pleas of not guilty. Witnesses for the prosecution will be called to testify, including handwriting analysis experts and white supremacy extremism experts.
"The evidence in this case relating to defendant Roof, including his readings, writings, statements, use of symbols and other expressions, as well as his criminal and related actions, are consistent with the adoption of many of the central tenets of white supremacy extremist ideology, including the belief that violent action is necessary to further the goal of white supremacy over non-white peoples, particularly African Americans," the document filed on Monday said.
According to CNN, it added: "More specifically, the evidence relating to defendant Roof is consistent with the adoption of the belief that 'white' people are superior to 'non-white' people, particularly African Americans, and therefore should be dominant over non-white people, particularly African Americans."
Roof was charged after an attack on the historic Emanuel AME Church in Charleston that left nine people dead. In the days after his arrest, an online manifesto was discovered in which Roof outlined his radicalisation and his beliefs about white supremacy.
Video of Dylann Roof's arrest
Also discovered were a series of images of Roof posing at Confederate battleground cemeteries, former slave plantations and other sites associated with white supremacists. Roof also posted images of himself posing with a Glock pistol, the weapon he is alleged to have used to attack the church.
Prosecutors said in the court filing they will use all the race-related writings to build a case that gives evidence Roof committed a hate crime when he alleged killed nine black churchgoers near the end of a Bible study session at the church.
According to the documents, Roof laid out a list of churches and his "selection of victims," describing the defendant's "decision making and specific choice to target churchgoers attending Bible study in order to magnify the societal impact of his crimes".
Roof, 22, who is white and a high school dropout, allegedly told investigators that he wanted to start a race war.
Prosecutors said they believe that the young man, from Columbia, South Carolina, had become more radicalised in the months ahead of the attack.
He faces the death penalty if convicted.
Register for free to continue reading
Registration is a free and easy way to support our truly independent journalism
By registering, you will also enjoy limited access to Premium articles, exclusive newsletters, commenting, and virtual events with our leading journalists
Already have an account? sign in
Register for free to continue reading
Registration is a free and easy way to support our truly independent journalism
By registering, you will also enjoy limited access to Premium articles, exclusive newsletters, commenting, and virtual events with our leading journalists
Already have an account? sign in
Join our new commenting forum
Join thought-provoking conversations, follow other Independent readers and see their replies