Ellen Page confronts Ted Cruz over LGBT rights in heated exchange at Iowa State Fair
The actress took on the presidential candidate as he flipped burgers on a BBQ
Roisin O'Connor
Saturday 22 August 2015 12:21 Comments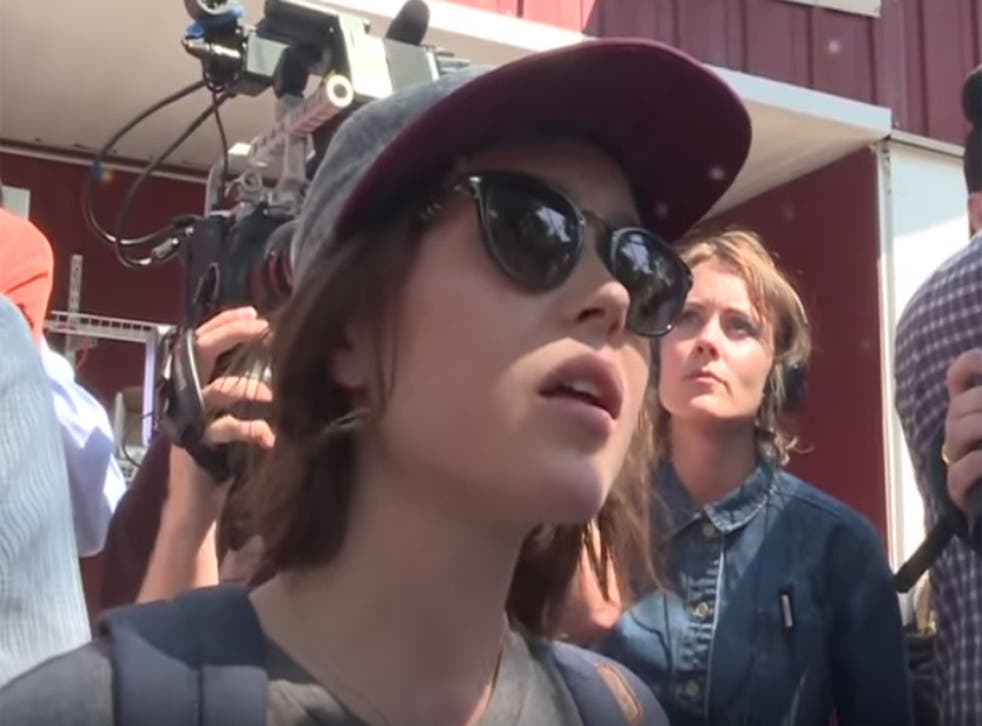 Ellen Page has been filmed confronting Texas senator Ted Cruz at the Iowa State Fair, in an exchange that saw the actress ask him about "the persecution of gays in the workplace".
As the presidential candidate flipped burgers at a barbecue, the actor asked him about his opposition to legislation which would ban discrimination based on a person's sexual orientation.
The 28-year-old, who came out as gay last year, can be heard asking: "What about the question of LGBT people being fired for being gay-trans?"
Mr Cruz responded: "Well, what we're seeing right now, we're seeing Bible-believing Christians being persecuted for living according to their faith."
The 44-year-old senator argued that "no one has the right to force someone else to abandon their faith and their conscience", comparing their situation to that of "a Jewish rabbit forced to perform a Christian wedding".
"We are a country that respects pluralism and diversity, and there is a liberal intolerance that says anyone who dares follow a biblical teaching of marriage must be persecuted, must be fined, must be driven out of business," he said.
He also attempted to argue that gay people face most discrimination from Isis and Iran, to which Ms Page noted that gay people are received with violence and discrimination from "Christians in Russia, Christians in Uganda, Christians in Jamaica".
"Murder is murder and it is wrong," Mr Cruz responded, adding: "There is a difference between a community like Jamaica which has different standards; it may not have gay pride parades but they aren't murdering people."
Inspirational quotes about LGBT rights

Show all 29
Ms Page said: "A lot of gay people are getting killed in Jamaica."
An NGO Human Rights Watch report from 2014 found "unchecked, intolerable levels of homophobic violence" in Jamaica, noting that LGBT citizens can be driven from their communities by neighbours and family members.
Mr Cruz ended the exchange shortly afterwards. Questioned by an ABC reporter after the debate, it appeared he had not realised his challenger was the Oscar-nominated actress.
Register for free to continue reading
Registration is a free and easy way to support our truly independent journalism
By registering, you will also enjoy limited access to Premium articles, exclusive newsletters, commenting, and virtual events with our leading journalists
Already have an account? sign in
Join our new commenting forum
Join thought-provoking conversations, follow other Independent readers and see their replies