Emily Ratajkowski accuses Project Runway host who branded her 'vulgar' of showing birkini ban hypocrisy
Actress says Western men want to prevent women from covering up on the beach and force them to cover up their bodies at home 
Heather Saul
Wednesday 14 September 2016 15:15 Comments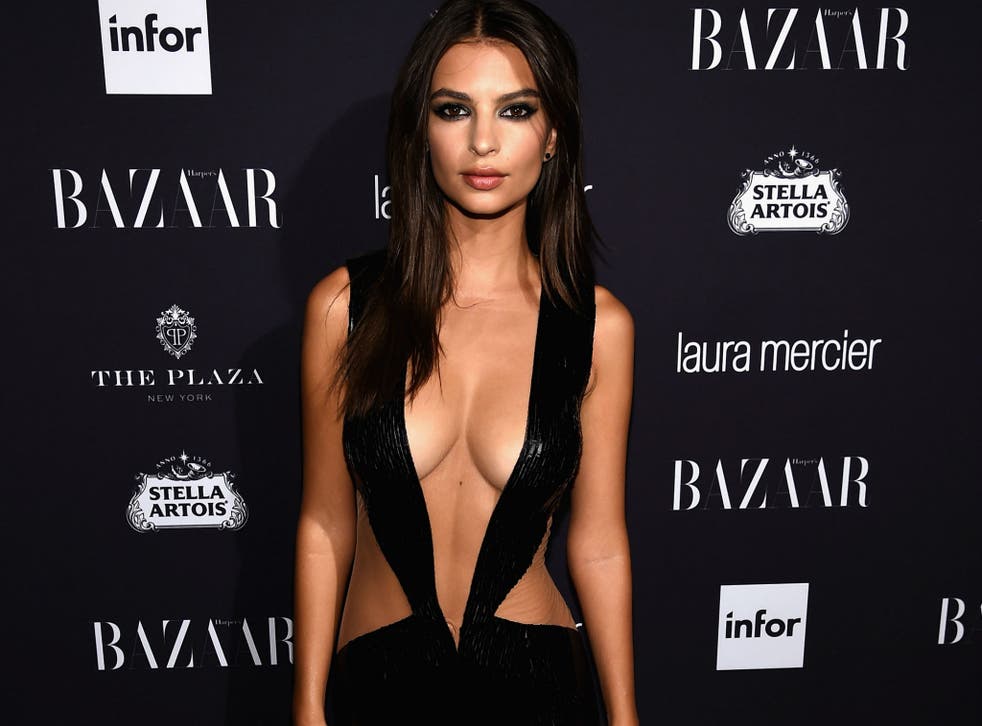 Emily Ratajkowski has accused a Project Runway panelist who called her "vulgar" for wearing a revealing dress of displaying the same kind of hypocrisy shown by proponents of the controversial birkini ban in France.
Recent debates surrounding swimwear and attempts to police female dress and sexuality have been sending increasingly controlling messages about how women should dress and/or cover-up.
Ratajkowski was the target of familiar, gendered criticism after her appearance at Harper's Bazaar Icons party by Project Runway host Tim Gunn, who branded her cut-away dress "appallingly vulgar and repugnant".
"Why wear anything?" he asked. "Why not just take it off?"
Feminist parody of Robin Thicke's 'Blurred Lines' removed from YouTube for being 'inappropriate'

Show all 5
The actress, feminist and staunch defender of a woman's right to own her own sexuality drew parallels between his dismay over her outfit and the men who backed a ban on women being allowed to wear full body swim suits on French beaches.
"Western men in 2016: want to ban women abroad from voluntarily covering themselves at the beach," said Ratajkowski.
"Then want women to cover up their 'vulgar' bodies at home. Who controls women's bodies in 2016? It's 2016. Why keep trying to dictate what women can wear?"
Headlines about the 25-year-old are typically prefaced with allusions to her 'ample' chest or sex appeal, while her Wikipedia page says the art graduate is known for "her sex appeal and fashion sense". Ratajkowski has been told her political opinions are invalid because of her nude selfie and her identification as a feminist is routinely ridiculed because of her overt sexuality.
The derision she was subjected to for speaking out in support of Bernie Sanders is something she addressed in an essay for Glamour, where she said the biggest insult thrown at her was 'attention seeker'.
She wrote: "After posting a picture of myself at the rally and a video of my speech about Bernie's positions on equal pay, maternity leave, and economic inequality, I was trolled heavily. Commenters said I had 'an excess of beauty and lack of brain' and told me to 'shut up and show us your tits.'
"But I was also criticised in a very specific way— for seeking attention. We've internalised this trope. Our society tells women we can't be, say, sexy and confident and opinionated about politics. This would allow us too much power."
The timing of her essay was something she addressed in light of Gunn's comments. "When I wrote my Glamour article, I was just thinking of men who call women attention seeking for being sexy.
"I wasn't even thinking of the hosts of nationally televised shows who call women 'vulgar' because they can see their stomachs."
Register for free to continue reading
Registration is a free and easy way to support our truly independent journalism
By registering, you will also enjoy limited access to Premium articles, exclusive newsletters, commenting, and virtual events with our leading journalists
Already have an account? sign in
Join our new commenting forum
Join thought-provoking conversations, follow other Independent readers and see their replies